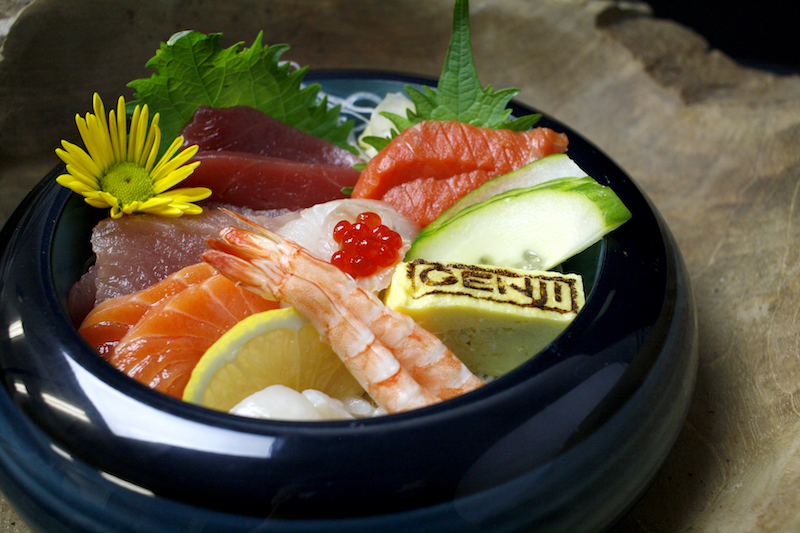 Peace Dining leads the way when it comes to sustainable fishing practices and hopes its business model will cause a shift in the industry over the next decade.
Genji started as a single sushi restaurant in Philadelphia that built its foundation on uncompromising quality, freshness, authenticity and customer appreciation. It was that unwavering dedication that led it to expand from a single restaurant into one of Whole Foods Market's largest sushi providers.
Japanese foodservice provider Peace Dining Corp. acquired Genji in 2005 and brought a new corporate energy to the company by creating a central kitchen in New York City and establishing a distribution center in Allentown, Pa. Today, Peace Dining operates sushi bars in more than 200 Whole Foods Market stores in the United States, as well as in other supermarket chains, universities, hospitals and corporate offices.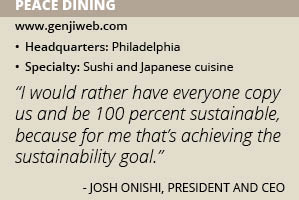 As the grocerant – a freestanding restaurant within a supermarket – experience continues to increase in popularity, Peace Dining's staff of 1,300 chefs focus on bringing new products to market quickly. "Being corporate owned we can be more innovative and take a more custom market approach to differentiate consumers' experiences," President and CEO Josh Onishi says. "We have a dedicated R&D team and our goal is to provide a new concept once a month on the sushi side."
Peace Dining's new products include paleo- and vegan-friendly rolls and items that are 500 calories or less to meet consumer demands. The company also "has a lot of fun" with new trends like sushi donuts and burritos, and is also able to get those to market quickly, says Bill Rosenzweig, marketing and creative director. "We try to be inclusive and customer-focused," he adds. "We listen to our clients and develop a concept for a store or market for a direct need."
Peace Dining's chefs undergo rigorous training to reach the top of their craft, continuously maintain exceptional food safety scores and deliver unparalleled customer service. "We have better control in terms of food safety being corporately owned and have recall programs with traceability throughout the whole process," Onishi says. "It's all about high-level food safety and controlling the environment."
Consumers have higher expectations for and greater trust in the quality of sushi at supermarkets today than they did 20 years ago, Onishi says. "People are expecting to see high-end restaurant-quality sushi and people are willing to spend more money for it at the supermarket, but expect better quality," he adds. "With these expectations, we need to be innovative. We train our chefs better, bring them more new products and control the food safety and handling of raw fish better at the store. Our corporate-owned structure helps us drive trends much faster than our competitors."
Sustainable Practices
Sustainability is one of the deciding factors for millennials as to whether or not they will purchase an item. Recognizing the future is moving towards sustainable seafood, two of the largest supermarket chains in the United States have recently committed to source 100 percent sustainable seafood by 2020 and 2022. Peace Dining is positioned well, being 100 percent sustainable since 2011.
Peace Dining is the first sushi provider in the United States to achieve ISO 14001:2004 certification. The company only purchases seafood that is ranked "green" or "yellow" by Seafood Watch and other eco-labels such as Marine Stewardship Council and Best Aquaculture Practice certification. "For example, our yellow fin tuna is ranked yellow," Onishi says. "I went to the Philippines and spoke to the fisherman who told me they go out into the ocean with about 13 small canoe boats on one main boat. They use the small boats to fish for tuna. They do not use longline fishing techniques, which we know is not sustainable."
"It's impressive that these boats are still catching tuna with hand lines, one-to-one, the old-school way," Rosenzweig says. "The companies that use the longlines are catching so many other types of fish and destroying the environment. This is an important statement we are making about our commitment to sustainable sourcing. We're thrilled to bring these kind of ingredients to our customers."
Communicating Change
Sustainable sourcing is Peace Dining's top priority. The company believes its customers have the right to know more about where their food comes from and how it is made. Sourcing from responsible suppliers allows Peace Dining to track most of its species back to the boat or farm.
"Our main challenge is how to communicate the importance of sustainability and where our fish comes from," Onishi admits. "I'm trying to be out there more talking about sustainability and attending trade shows like the Seafood Expo North America. Our competitiors are also now tackling sustainability. This is great to see. I would rather have everyone copy us and be 100 percent sustainable because, for me that's achieving the sustainability goal."
Less than one percent of all U.S. restaurants and four percent of Japanese cuisine restaurants are serving sustainable seafood, Onishi says. "It's really challenging because it's more expensive and customers may be looking for exotic fish that can't be sustainably sourced," he explains. "We want to lead the sustainability charge and we plan to educate through demonstrations and grassroots campaigns to help people understand the importance."
Peace Dining's mission is to increase its healthier sushi offerings to help improve the American diet, but sustainable practices have to be a factor in doing so. "Japanese cuisine, especially sushi, is considered a good diet and reduces the obesity and heart disease rate," Onishi says. "I want to provide the most reliable and freshest sushi available throughout the United States to supermarkets, colleges and hospitals so more Americans can have the option to eat sushi as their ultimate meal choice. We want our consumers to live a happy and healthy life."
To achieve that mission, Peace Dining plans to continue to focus on increasing awareness about seafood sustainability. "We shouldn't say in 20 years we shouldn't fish anymore," Onishi says. "I really want to have an impact for the sake of the greater good and future generations. I was born and raised in Japan and I love Japanese and exotic foods, but I can compromise not to eat some food for the sake of future generations. To me, sustainability is very exciting and challenging, and I am passionate about this goal."