Pecan Deluxe works with its clients to deliver great-tasting products.
Employees think about quality every day at Pecan Deluxe Candy Co., owner Jay Brigham says. "Being a quality-driven company, providing premium products in this day and age is very important for our customers, as well as the consumers in the niche in which we serve," he says, noting that the company focuses on its speed of service, flexibility and customization.
With its headquarters in Dallas, Pecan Deluxe manufactures ingredients for the food and beverage industry, including ice cream, savory and snack items, beverages, candies, yogurts and cereals. It also provides baked goods such as cakes, cookies and brownies.
Brigham's grandfather, J.C. Brigham, started the company in 1950, after working in the retail ice cream business, where he made his own ice cream and candy. Jay Brigham's father and company chairman, Bennie Brigham, took over the company in 1965 and grew the retail ice cream store business to 65 locations. In 1983, he sold the ice cream business to focus solely on selling ingredients.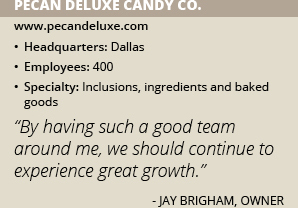 "We made the decision to produce ingredients for all ice cream manufacturers," recalls the younger Brigham, who joined the firm in 1991. Under his leadership, the company began diversifying the product portfolio and thus expanding into other markets.
"Today, Pecan Deluxe touches the cereal industry, beverage industry, dairy industry including ice cream and yogurt, quick-serve restaurants and fast-casual restaurants," he says. Pecan Deluxe has approximately 3000 SKUs, but a significant portion of the business is custom products. "We consider our relationship with our customers more of a partnership. We enjoy having our customers come to our facility, work in our lab with our R&D staff and tailor a product that works for their system. We've also found that this process can speed the development process significantly," Brigham says.
Innovation is important for Pecan Deluxe's business, Brigham says. The company employs 21 people in its R&D department in Dallas, 12 in England and seven in Thailand to help the company stay current.
"We're also looking for new products and flavors that the customers [want]," he says, noting that the company keeps track of trends with the help of Mintel Group Ltd. "Our marketing and culinary innovation team makes sure we know what's out there in the market and try to utilize [it], whether it's building a cluster from deconstructing a popular dessert or developing a chipotle almond for a salad."
Sales Spikes
Based on the busy lifestyles of consumers, snacking is at an all-time high and the company is realizing a spike in sales of yogurt ingredients. The combination of convenience, portability and high protein makes yogurt a good choice for a snack, and with the addition of innovative and creative mix-ins the consumers are able to enjoy an indulgence as well. That seems to be the balance consumers all want to achieve: both health and indulgence.
Pecan Deluxe is also seeing strong business on the beverage side, where it works with many key players in the foodservice industry. "Many of our customers are utilizing toppings and inclusions to provide visual and textural appeal," Brigham says. "We are definitely developing products for a consumer with a more sophisticated palate. They are craving more of an experience with many layers of flavors".
Brigham notes that the donut market is strong as well. "Taking a familiar format such as a cupcake or donut and using that as somewhat of a blank canvas, to add fillings, icings and toppings to create a masterpiece is trending right now," he says. "It's also a convenient format for limited-time offers and seasonal offerings." For example, "We're doing a key lime donut for a notable convenience store chain headquartered in Dallas," he adds.
Up to Date
Pecan Deluxe invests significantly and focuses strongly on keeping its plants up to date and staying in front of regulatory and customer requirements, Brigham says. "We have recently increased our baking capacity by 25 percent as well as completed many structural, quality and safety improvements to help ensure both wholesome products and a safe work environment for employees," he says. "We're also about to break ground on 50,000 more square feet of manufacturing space in Dallas."
The company is also in the middle of facility improvements to its location in the United Kingdom. "We're consistently investing resources, be it time, people or finances into our European market," he states.
In Thailand, "We're about to outgrow the current plant and will be looking into a new facility," he says, noting that business has been growing in Asia. "We're starting to see movement over there."
A Common Purpose
Food safety is an important focus for Pecan Deluxe, making its relationships with suppliers critical. "We work with suppliers that share our commitment to producing quality products," Brigham says.
"We're continually improving our vendor and food safety programs," he continues. "Suppliers are continually assessed and approved from a food safety standpoint, prior to providing materials to us."
The company's supplier and material risk management program emphasizes elements such as strong manufacturing processes, food safety tests, continual improvement quality programs, manufacturing site visits, preemptive check lists and contingency plans. "We also strive for transparency and building and maintaining strong supplier partnerships," he says. "Our main common purpose is for Pecan Deluxe and our vendors together to offer our customers great, high quality and great tasting products."
Promoting Health
"As important as it is to re-invest back into the business, we believe it is equally as important to give back to our community and invest in our greatest asset: our employees," Brigham says.
Pecan Deluxe Candy Co. takes pride in giving back to its community, which has included contributions to the University of Texas MD Anderson Cancer Center, Dallas Metro, United Way, Ocular Melanoma Gateway, the Wounded Warrior Project and The Salvation Army. The company also has employees take part in efforts to promote health and wellness, Brigham says.
Pecan Deluxe has a team of employees who take part in charitable walks on a regular basis, as well as an outside company that comes in every week to mentor employees on health and wellness. "We also have our annual health fair events, which include health screenings," he says.
A Tremendous Team
Brigham is proud of Pecan Deluxe's employees, who have shown loyalty to the company. "The average tenure here is eight years," he says, noting multiple employees with 20-plus years of service and one employee with 35 years with the firm.
Their key people, he notes, include General Manager for APAC and EMEA Graham Kingston, who has been with the company for five years. "He's turned around our U.K. business with a great philosophy and adopted our business practices over there," Brigham says.
COO Mike Cavin carries 22 years with the firm. "He's done a phenomenal job with our facility in Dallas and has helped overseas as well," Brigham says.
Executive Vice President Mike Morris has 11 years with the company. "He does a lot of our work in regards to regulatory [matters] and stays on top of everything," Brigham says, also highlighting Vice President of Sales James Bruce, who has 11 years with the company. "He's done a tremendous job leading our salesforce."
Brigham predicts a strong future for Pecan Deluxe as it continues servicing customers internationally and grows to new markets in the United States. "I see big things," he says. "By having such a good team around me, we should continue to experience great growth. We believe our sweetest successes are yet to come."