Even a prolonged Texas drought could not dry out Pecan.com's growth as a specialty retailer.
The Texas state tree is the pecan tree, its state nut is the pecan and in 2013 the Texas House of Representatives chose pecan pie as the state's official pie. Like everything else, pecans are bigger in Texas.
DeWayne McCasland, owner of Pecans.com, has been a major part of the industry for the past 40 years. McCasland began working with pecans in 1972 after he and his father, Homer McCasland, purchased a ranch in Mills County, Texas. The two originally intended to raise chickens, cattle, turkeys and goats on the land, and had no interest in the hundreds of pecan trees that graced the property.
But by luck, they were forced into the business. "We had the pecans but nobody to gather them so we started picking them ourselves," McCasland says.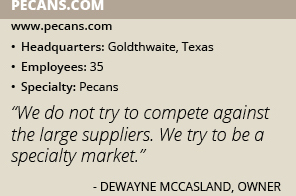 The family decided to sell the pecans they collected and soon discovered it was more profitable than their livestock business. McCasland founded Southern Nut and Tree (SNT) Equipment Co. in 1978 and began selling pecan-harvesting equipment. In the mid-1990s, he purchased the URL for pecans.com – back before every one-word domain name was scooped up – and the company began selling its pecans online.
The company has grown to include 35 employees and sells certified-organic pecans to all 50 states. It operates a 1,000-acre orchard and is the largest distributor of pecan harvesters and shakers in Texas. In addition to the equipment is distributes, Pecans.com manufactures cleaners, elevators and other support equipment through SNT. The company's wholesale operation can shell as much as 10,000 pounds of pecans a day, each of which must be cracked individually, unlike almonds or walnuts.
Goldthwaite, Texas, where Pecans.com is headquartered, is a town of about 1,800 people, too small to support a large pecan retailer on its own. But Pecans.com operates a 12,000-square-foot store at its facility that caters not only to locals but also the motorists traveling along the three highways that intersect with the town.
In addition to its brick and mortar ship, the company sells some of its pecans at wholesale, but most of the business is through online sales, smaller grocers and bakeries. "We do not try to compete against the large suppliers," McCasland says. "We try to be a specialty market."
Outlasting Drought
The country's environmental focus has been on the persistent California drought for the past several years, but Texas saw a similar scarcity of water between 2010 and 2015, according to the U.S. Drought Monitor. Within two years of the beginning of the drought, the state lost 301 million rural trees, according to the Texas A&M Forest Service.
This impacted growers across the state. Some shut down while others, such as Pecans.com, saw production decline. "We lost over 1,000 huge, pretty trees just because they didn't have the water," McCasland says. The company hasn't had a profitable year in its farming operations since 2010. The trees are beginning to recover, but McCasland says they still aren't producing the same size nuts as before the drought. He likens the recovering to getting over an illness. "If you're real sick in the hospital and you get out of of the hospital you're looking better, but that doesn't mean you're over it."
Pecans.com fought the drought by babying its trees. The company sprayed trees with fertilizers, kept insects out of the trunks and cleared away competing plants and weeds. Still, the quality of the pecans harvested did not match the company's high standards for its retail nuts. Its own farm grows pecans for volume, not quality or size. Most of its homegrown nuts are sold through wholesale.
Instead, nuts for the retail operation are sourced from other growers in the region who can furnish bigger nuts with more flavors. "We had to search real hard to find the kind of quality we like to use in our retail store and mail order," McCasland says. Pecans.com considers its pecans, pies and candies as specialty high-end products, so only the best nuts are used. "People expect when they come in and buy from us they're going to get the quality they're paying for – and they do," he adds.
Fostering Loyalty
Even as the Internet has expanded Pecans.com's reach, the company has not lost its small-town values. McCasland believes that a handshake is a bond and is fiercely loyal in the way he conducts business. "If we tell somebody we'll do it, we'll attempt to do what we agreed to do to the best of our ability," he says.
Surviving Texas' drought years was as much about business relationships as it was caring for the trees. Pecans.com does not have an accounts receivable department. When a bill comes it, it pays it right away and expects its customers to do the same.
The mutual confidence in each other allowed Pecans.com, its vendors and customers to pull each other through the lean years. "During that drought, you don't sell equipment to people that don't have anything to harvest," McCasland says. "They still supported us in lots of ways and still paid their bills." Pecans.com's reputation among fellow businesses in the industry has given the company stability even through challenging times. That stability, in turn, creates opportunities to grow.
Pecans.com acquired three different companies to complement its own business: Texas Collectible Tins, which makes specialty tins for packing pecans; Turbine, a wholesaler of hummingbird feeders and nut-gathering tools; and E-Z Tower, a maker of deer blind tower brackets.
Those acquisitions signaled Pecans.com's desire to get into new markets. Earlier this year, the company hired its first marketing representative to develop its wholesale market and transition from a seasonal business to one with steady sales year-round. The new employee is helping to introduce the company's high-quality specialty pecans to more grocery store chains, bakeries and restaurant groups.
"We don't want to do business with large entities," McCasland says. "We're trying to stay with the smaller companies so it's more that handshake [agreement] and you're not competing against all the other suppliers of pecans."