DeWayne McCasland, owner of Pecans.com, thinks he just lucked out getting into the pecan industry. "I wasn't a pecan grower the first 25 years of my life," he concedes. His father and he just bought a ranch they thought looked attractive because of its trees. "We were cowboys and raised chickens and turkeys and things," he recalls. "We didn't know anything about growing pecans. We bought this place, and it had lots of trees on it. It just looked pretty, and we thought we'd take care of it."
Many of the trees bore pecans, and the next year, they gathered the nuts and realized when they sold them that they were more profitable to sell than cattle. "You could actually make some money out of them," he marvels. "So we just kept doing that. After four or five years, I became a manager of the co-op. We were trying to find a better market for them, and from then on, it's just grown, and we've done a lot of things."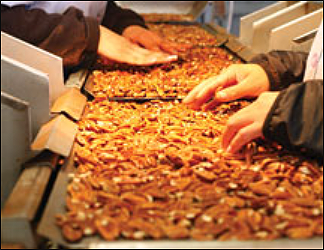 McCasland joined the pecan business in 1972. In 1978, he founded the Southern Nut and Tree Equipment Co., which sells and services pecan harvesting and processing equipment.
"Pecans are cracked one at a time, not like walnuts and things that can be rolled and processed by volume," McCasland emphasizes. "Every nut has to be picked up by a machine, cracked and dropped. That makes it unique. The big users will do 500,000 to 600,000 pounds a week. We don't try to compete against those people."
What's in a URL?
Pecans.com also sells pecans, pecan products and pecan processing equipment for homeowners and growers through its website. Prominent on the home page are coated and flavored pecans, pies, gift packs, 30 different varieties of fudge, nutcrackers, pecan candy – enough to fulfill any squirrel's fondest dreams. McCasland credits his son with encouraging him to buy the URL for Pecans.com.
"My son is a computer guru – he does networking for banks and various things," McCasland beams. "He has a company of his own. When he was in college, he told me I had to get this URL, pecans.com." After explaining to his father what a URL was, he offered to purchase it for him. The cost was $100 for 10 years. "He said, 'You've got to do this – some day this will be worth something,' and it has proved to be without a doubt one of my best investments. We've done very well with it. We sell equipment all over the world – South Africa, Brazil, Chile, Israel – it's amazing. They'll see us on the Internet and want to buy a pecan cracker or a small harvester – all kinds of things."
McCasland's other business activities include selling pecans in a retail store in the headquarters of Goldthwaite, Texas, that is separate from the company's processing facility located in that town. McCasland Farms Inc. grows pecans on more than 1,000 acres, and through Pecan Producers Inc., he sells the harvests of other growers. He and his wife are the sole owners of all four companies.
The Retail Pecan
McCasland emphasizes that Pecans.com is not a wholesale shipper like the large industrial users. "That's not our niche in the market," he explains. "Our niche is small mom-and-pop bakeries and people that use smaller amounts on a regular basis." He shies away from the term "gourmet" because he does not want pecans to be considered only for special occasions or as indulgences.
"We try to use the highest quality we can buy," he stresses. "The USDA has a fancy pecan, but we go one step further that we call a retail pecan – which is the best you can buy or produce – to sell through our retail stores." His facility in Goldthwaite shells between 8,000 to 10,000 pounds daily.
McCasland insists that pecans have taken their rightful place has a healthy, natural food. "They're natural, but they're not organic," he notes. "Pecans in the shell went on the first trip to the moon. You can take pecans in the shell, crack them out and eat them right there – you don't have to cook them or anything."
The harvest season for pecans is from October to February. McCasland recommends storing pecans in or out of the shell in the dark under refrigeration or freezing, and claims he did so for 20 years and could tell no difference between them and fresh ones. "I think we've got a very unique product," he concludes. "We're gifted to be able to raise it and market it to people that like it as well as we do."