From sustainable practices to high-quality production, Pederson's Natural Farms produces natural meat products to promote a healthier lifestyle for families.
Pederson's Natural Farms has been producing fresh and smoked natural meat products with the mantra of "real people making real food using natural meats raised with humane and environmentally safe practices." The company listens to its customers and knows that they want something that is not only delicious, but also produced with a healthier diet in mind.
Pederson's offers products that are nitrate, MSG, gluten, sugar and lactose free, grass-fed, with reduced sodium and made without the use of artificial ingredients or preservatives. The company was founded in 1992 with the mission of promoting the health and well-being of the everyday consumer by producing food they can feel good about feeding their families.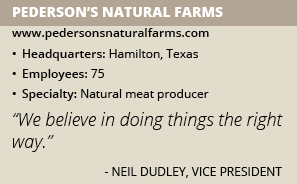 "What we do the best is listen to our customers and find out what they're looking for and try to make it," Vice President Neil Dudley says. "We want to be the most trustworthy owner and producer of real food, and the only way we get there is through people telling other people about their great experiences with us. Those experiences must be easily defined as good, trustworthy, honest, and respectable."
Pederson's began as a small operation, but it has grown to become a respectable natural meat producer. It sells to both retailers and through distributors, filling the void between manufacturer and retailer in 33 states and more than 645 stores. "We do business all over the country," Dudley notes. "And luckily, I get to keep adding areas instead of subtracting areas."
Niche Market
Dudley believes that part of Pederson's success comes from its ability to overcome the perception that a small company can't operate in a cost-effective way. "But we are able to do business in our industry and our niche at a very competitive cost," he says.
The company's niche market is growing in popularity, and Dudley believes it is a positive thing that consumers are trying new healthy eating lifestyles like Paleo and Whole30, which are very meat-based. "We found quite a good consumer base in those areas that weren't getting much attention," he says. "Now, they're starting to get more attention, but we were paying attention a year before anyone else."
Some of its efforts to appeal to its market have included turning some of its natural, high-quality product into more consumer-friendly items. For example, bacon is loved by most people, but some people don't like that it can be greasy, splatters when you cook it on the stove and takes quite a long time to cook. Thus, Pederson's has developed a new line of fully cooked bacon and breakfast sausage.
"We're getting quite a bit of interest with this new line through the foodservice, fast-casual and white tablecloth service sector that we haven't been operating in," Dudley adds.
Farm Raised
One of the challenges Pederson's faces is having enough raw materials to produce its products. Therefore, in 2017, Pederson's will operate its own pig farms again. Before it was buying the meat from others, but now the company will be its own supplier. "People raising non-antibiotic, non-GMO, organic pigs are fewer and far between," Dudley says. "Finding and sourcing and getting a position in the line to get our hands on that product was difficult; that's why we own our own pigs now."
Pederson's works with real farmers on self-sustaining family farms rather than industrial farms because it adds a more personal touch, which ties into the family feeling of the overall company. Not only do the farms raise pigs in a natural way in open pens, but also the farmers feed them grain they farm themselves, which allows for higher-quality, well-monitored feed free of animal byproducts that might contaminate the pigs.
The company believes that not using hormones, steroids or antibiotics allows the pigs to grow naturally, producing the highest-quality pork for its consumers. "Consistent quality is what we have to deliver daily," Dudley says. "We believe in doing things the right way."
That belief not only ties into its products, but also in how Pederson's looks at its Hamilton, Texas, community. Every year, the company throws a celebration called the Bacon Bash Texas, with all proceeds going to charity. In 2014 Pederson's Natural Farms was able to donate more than $20,000 to charity — a 300 percent increase from the previous year's event. And in 2015, Bacon Bash Texas was able to donate more than $30,000 to charities. "That stuff makes you smile and feel good about what you do," Dudley says. "We committed to staying true to the values that are part of what made us who we are."
Although the company hopes to continue to grow, it holds true to its family environment – literally, in some cases. Dudly's wife Stacy is the vice president of marketing, and President Cody Lane's wife, Chrissy, is the front office manager. "We've got fathers and sons, moms and daughters, moms and sons working here in the plant with us," Dudley says. "Part of my satisfaction is being a decision-maker in this company and knowing that there's people making a living better than average working for Pederson's. They're part of our family now and we try to treat them as such.
"I'm most proud of our team and the products we make. There's nobody that has a better team that is committed to and feel passionately about the products. And I hope we never lose sight being real people making food for real people."