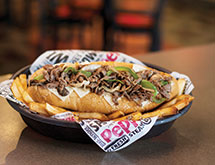 PepperJax Grill is known for making the best Philly cheesesteak sandwich its customers have ever had, thanks to founder and President Gary Rohwer's patented meat process. "Why are we known for America's Best Philly?" Rohwer asks. "It goes back to the 1980s when I was developing a better Philly steak product for flavor, moisture and cook time."
The story is incredible of how the Omaha, Neb.-based restaurant got its start. It goes back to 1981 when Rohwer first entered the restaurant business with a fast-food concept specializing in the Philly steak sandwich. The restaurant chain was successful, but he was never satisfied with the performance of what he believed was the best steak meat he could buy at the time. "I was in five states in five years and started out with good success," he adds. "I had a problem with the performance of my steak. I knew I must improve the quality of my steak meat. It took too long to cook and didn't have that knock out flavor."
Deciding he could do better, Rohwer began working with the University of Nebraska's Meat Science Department. After three years of trial and error, he obtained a patent on his unique, vertically sliced Philly steak meat. He started a new company, Heartland Beef, selling his product, which he called "Steak-EZE," to restaurants across the United States. He thought he could make more money selling his meat to the food service industry than selling Philly's to his restaurant customers. Therefore, he sold his restaurants to concentrate on selling his product to the food service industry.
"I spent 10 years building the Steak-EZE brand into a national company across the United States, Canada and Mexico until I basically hit my financial 'homerun' and sold my companies in 1998 to Advance Foods, a large meat processing company in Oklahoma, and retired," said Rohwer.
Instant Inspiration
For three years, Rohwer enjoyed retirement and built a cabin on the lake in the Rocky Mountains. That all changed when he stopped into a Chipotle for the first time in the summer of 2000 after he got a call from Chipotle's senior architect, who told him to check one out on his way to the cabin. "He said it was going to be a large national chain some day and I promised I'd check it out. My wife Linda and I walked into the side door, saw a Chipotle for the first time and it didn't take me more than a minute until I instantly visualized PepperJax Grill," Rohwer said. And incredibly, Rohwer's patented Steak-EZE process that took him out of the restaurant business, brought him back in again.
The production line in Chipotle inspired Rohwer to create PepperJax Grill with steak from his newly formed meat processing company called Glenn Valley Foods because the meat cooks in about 40 seconds. After watching the success fast-casual restaurants were having, he was convinced there was a void in the industry because no restaurants cooked steak to order in front of the customer. "I thought oh my goodness, I could take my patented steak product and grill it right in front of customers for my Philly cheesesteak, Giant Burritos, Gourmet Rice Bowls, Fresh Salads along with offering chicken and shrimp," he remembers.
PepperJax Grill expects to be the next Chipotle of the Philly Cheesesteak category because it is the only quick casual concept that claims with conviction to be the best in its respective category across the country. It not only understands it has the best Philly in America, it takes it one step further. It leverages its brand with what it calls the "thrill of the grill," that experience of seeing your order grilled in front of you.
Finding a Niche
"I'm a firm believer that to be successful you have to bring value to the marketplace," Rohwer says. "What that means is you can't do what everyone else is doing. You don't just get into the restaurant business. You have to be unique and different; differentiation is huge."
Rohwer explains that in the 1980s, the Philly cheesesteak was really only found on the East Coast – in Philadelphia, mostly. He knew people in Lincoln, Neb., could not drive down the street to find a Philly cheesesteak and his dream of offering the best sandwich was born. Rohwer visited Philadelphia to survey the market and learn all he could about the Philly cheesesteak.
PepperJax Grill now offers a $5 gift certificate to customers who do not think the restaurant's Philly cheesesteak sandwich is the best they have ever tried. "What we are saying is that we have 'America's Best Philly' and are challenging people to try it," Rohwer explains. "There is not a restaurant chain in the country that claims their signature item is America's best. 'America's Best Philly' is a symbol we have on our building, inside our restaurants and on our paper products. This claim is made with much conviction. We want to own the category across the country."
Plans to Expand
PepperJax Grill has over 30 locations in seven states today. It spans north to Grand Forks, N.D., east to Davenport, Iowa, south to Belton, Mo., and west to Grand Island, Neb. The Grand Island location was the first PepperJax Grill to offer drive-thru window service, which is a new concept for the fast casual restaurant chain. "We expect that the new drive-thru restaurants will be a game changer for PepperJax Grill. We're the only fast casual restaurant chain in the country that offers drive-thru 'fresh grilled made to order' Famous Phillies, Giant Burritos, Gourmet Rice Bowls, and more with great speed of service," said Rohwer.
The company plans to add 6 new locations by the end of the year and 15 new locations next year. PepperJax Grill's target demographics are families and adults ages 18 to 54.
Rohwer's dream moving forward is to take PepperJax Grill across the United States by partnering with an equity capital company, which has not yet been identified. "PepperJax Grill is going to be the next Chipotle of the cheesesteak category in eight years," he predicts.
To become the Chipotle of the cheesesteak category, Rohwer is working to select an equity partner to restructure the company and duplicate the concept throughout the country. "We are working to take the company across the country and one scenario includes possibly going public in about four to five years with approximately 200 restaurants," Rohwer says. "That's the plan for the future."