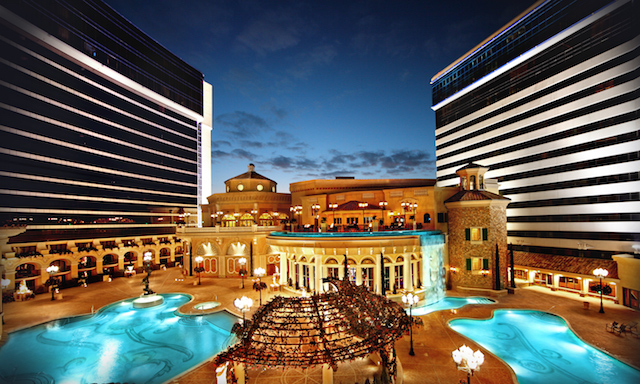 Peppermill Resort Spa Casino
Peppermill Resort Spa Casino caters to residents of a thriving, changing region as well as to tourists.
If you aren't a connoisseur of casinos, you might assume that the towns of Reno and Las Vegas are very similar, given that they both rely heavily on the gaming industry.
But they are not alike; in fact, Reno, Nevada is very different from its flashier neighbor in the southern part of Nevada. Dubbed the "Biggest Little City in the World," Reno and the surrounding area have grown immensely in the past few years as high-tech companies have found the area favorable to adding operations.
In the desert just outside of Reno, Tesla has been building its Gigafactory, designed to be the largest factory in the world. That site will eventually churn out batteries to fuel its cars. Google has also announced it has purchased 1,210 acres just a few miles south of Tesla's site, in hopes of building a data center and to eventually test self-driving cars. And Apple announced recently it was investing $1 billion to expand its data center in nearby Reno Technology Park.
For Jim Moritz, assistant general manager for Peppermill Resort Spa Casino, it has been an exciting time to be in Reno. Moritz himself grew up in the area and has seen his share of boom and busts, including the 2007 downturn that devastated the area.
"We've had local unemployment as high as 15 percent and but now it's down to 4.7 percent," Moritz says. "With all of the expansion in the area, it's great to see a demand for labor and higher wages."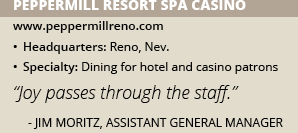 As the region continues to thrive, so does the Peppermill. And though it does serve tourists, its approach is a little different from many of the hotels and casinos in Las Vegas. "I think that Las Vegas represents more of a once-in-a-lifetime feel," Moritz says. "Whereas with our hotel and resort, we would really like that guest to come back. We would like for them to say, 'Wow, that was great! It's just like Vegas only they were nice to us and knew our name and knew we were coming.'"
To broaden its appeal, the Peppermill strives to please both tourists and an ever-growing community of local clientele. "We don't really focus on one or the other," Moritz notes. "We can accommodate both, because it's a great spot for both vacations and stay-cations."
Though Reno has begun to take off, the memories of the Great Recession remain fresh for Moritz, who believes those challenging times serve as motivation to outperform its competition. "Because we've seen such difficult times, we know what can happen to Reno," he says. "We know that you could go out of business, so extra care and attention is paid to make sure guests have a great experience."
Humble Beginnings
The resort's approach to treating customers with exceptional care goes all the way back to its beginnings in 1971. That's when Bill Paganetti and Nat Carasali, two lifelong friends, opened the Peppermill Coffee Shop and Lounge. In 1980, the pair entered the gaming arena in northern Nevada when they opened a small casino and motor lodge. To say they have expanded since then is an understatement.
Since that time, the Peppermill has undergone nine major expansions and grown to 1,621 hotel rooms, 599 suites, 10 restaurants, including a 24-hour café and 106,000 square feet of convention space. On top of that, the resort features 15 themed bars and lounges, including EDGE Nightclub.
If you're in the mood to pamper yourself, there is also Peppermill's Spa Toscana, a 33,000-square-foot spa retreat with northern Nevada's only indoor caldarium, including a leisure pool and wraparound sundeck. 24 treatment rooms and a full-service salon are also available. The property also houses a 9,900-square-foot health club, two geothermally heated, resort-style pools with private cabanas and an outside bar.
Expansion and Innovation
Perhaps the greatest achievement for the hotel was the completion of its 2007 expansion, just as the area was starting to face one of the most challenging economic climates ever.The $400 million project converted most of the property to a Tuscan-themed resort. This included the largest poker room in Reno with 19 tables and a VIP room, renovations to restaurants and a remodel of the casino floor. The project also added a second 19-story tower to the complex.
Moritz says the aggressive expansion signified management's desire to continually improve the resort, and to try innovative ideas to solve problems. In fact, in 2009, the Peppermill began a project to heat its property with geothermal energy. A geothermal well was drilled just north of its Tuscany tower that tapped into a reservoir of hot water 4,421 feet deep, averaging 170 degrees F.
The project was completed in 2010, and the Peppermill is now the only resort in the United States deriving all of its heating from a geothermal well, saving some $2 million annually. "It has been friendly to the budget and the environment," Moritz says, noting the resort has four large boilers that are never turned on anymore.
There have also been initiatives to create a healthier experience for guests and employees. The Peppermill launched a clean air program with technology that removes 123,400 cubic feet per minute of smoke-laden air from the casino floor through a recovery ventilation system that replaces stale air with fresh air mixed from outside and inside sources. The end result has been dramatic energy cost savings, and the American Lung Association honored the program in 2016.
For Moritz, the Peppermill's efforts to continually innovate reflect management's willingness to take chances to improve the guest experience. "As the economy crashed, we expanded" Moritz recalls. "And since that time, we have flourished and improved."
Increased Competition
Reno and the surrounding area are increasingly competitive as many casinos have opened and closed in the past few years. For the Peppermill to stay on top of its game, Moritz knows the resort has to keep reinventing itself and continue coming up with fresh approaches to enhance the experiences of its guests.
"We're fortunate that our management team is very engaged and always willing to listen to our suggestions," Moritz says. "In fact, we almost have to be careful – if you ask for something, you're going to get it." The resort has introduced amenities such as tableside craft cocktails served from a cart at Bimini Steakhouse, as well as a whiskey wall at the Terrace Lounge, now home to 237 varieties of rare and sought-after whiskeys.
The outstanding guest experience includes the restaurants as well. Because guests stay a bit longer, typically three to five days, there is a constant effort to make sure they have a variety of options. Among the restaurants in the resort are a steakhouse, all-you-can-eat buffet, seafood and sushi, a sports deli and fine-dining Italian cuisine. And of course there is Café Milano, the 24-hour coffee shop where Peppermill began.
The positive energy the ownership exudes is passed down to employees. "Joy passes through the staff," Moritz says. "We want guests to return here two, three and even four times."
Peppermill has been awarded the AAA Four Diamond rating for its hospitality excellence, and is continually voted as one of Reno's best resort hotels by industry and gaming publications. If industry experts are any indicator, guests should continue to return time and again.