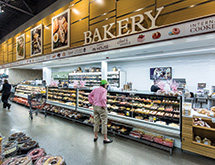 Becoming a regional enterprise wasn't in the original vision for Pete's Fresh Market when it began as a produce stand in the 1970s. But thanks to the opportunities presented and the potential within previously underserved areas, it now has 12 locations throughout the Chicago area with even more in the pipeline.
Despite this growth, Pete's remains family owned and operated, which gives it an authenticity and special touch that other big-box retailers might not have, according to Executive Officer Vanessa Dremonas, daughter of its founder and owner. "The owner of Pete's will go to every one of our stores daily and make suggestions, mentor employees and give a level of personal attention that is rare nowadays," she says.
Pete's prides itself on going above and beyond for its customers. Our buyers fight daily to get the best prices, Dremonas says, so that we can pass those savings on to the customer. Quality is also an important component to Pete's reputation as it has "Fresh" in its name. The company wants to ensure it lives up to its name and brings only the best-quality products to families' tables. The Dremonas family wouldn't sell or serve anything it wouldn't put on its own table, she notes.
This is especially important given the growth of healthy lifestyles, which translates directly into the kinds of products customers want to purchase. More people are looking for non-GMO, organic, specialty and gluten-free foods. "We're hoping to change the way America eats," Dremonas says. "We've always focused on produce, but in the center of our store, we're aiming to provide healthier options because customers are asking for them. Junk food and pop just aren't selling as much anymore. Even the conventional grocery labels are starting to create healthier options within their brand. The quality we stand behind and put our name on is becoming a part of our new tradition."
Focusing on international foods is another important trend for Pete's. Its newer stores have aisles dedicated to Indian, Chinese, Middle Eastern and Mexican foods, among many others. "As American culture becomes more diversified, people are trying new cuisines and appreciating what others are eating around the world," Dremonas adds.
Precise Design
Building a new Pete's store is a precise endeavor, considering no two stores look alike. Everything is strategically placed, from the hand-carved woodwork to the perfectly stacked apples. Dremonas says one customer described the stores as an "OCD person's heaven." Although each store looks different, "our foundation is the same, with an aesthetically pleasing, clean, beautiful and architecturally sound store," she says.
Pete's opened an Oak Park, Ill., location on Sept. 2. Its twelfth location took over an old Dominick's grocery store after some community members were vocal in requesting the company seriously consider taking over the vacant spot. This isn't new, though. Dremonas says the customer service manager receives about 10 e-mails per week from loyal customers who want a Pete's in their community. A thirteenth location is planned for Willowbrook, Ill., in the coming months.
With these new locations set, Pete's is in stabilization and renovation mode. It is revisiting older stores and giving them facelifts. "We never want to be stagnant," Dremonas explains. "We don't want people seeing one of our stores and thinking it's an older store, even if it opened 20 years ago."
Some newer stores offer a fully stocked bar that serves alcohol to make the grocery trip a little more exciting. Other new areas include a more extensive hot food bar, sushi bar, taquería and carving station, as well as ovens and smokers for tenderizing ribs and brisket. "The beauty of being a small business is that we can pivot quickly," Dremonas says.
When Pete's opened its Oak Park location, it followed a 30-page list of suggestions from eager customers. Pete's has been diligently working its way down the list to create a store that community members want to see. And by listening to customers, the company can curate its stock to what's selling and what isn't.
"We want to create a new vision for Pete's with new services offered," Dremonas says.
Thanks to this dedication, Pete's has won the "Talk of the Town" award for several years in a row, which celebrates businesses that excel in high-rated customer service.
Always Fresh
Fruits and vegetables are a universal product, but Pete's knows that it all comes down to how its product is selected and presented and, ultimately, how customers experience it when they're in the store. Dremonas has found that people don't mind traveling a bit farther if they know their experience will be a pleasant one. Because of this, many of Pete's customers visit from word-of-mouth rather than through traditional marketing.
"People come and have the Pete's experience and then tell their friends and family about it," Dremonas says. "We retain them by taking care of them. We don't just provide dinner suggestions or teach customers how to prepare the meat they bought. We have actually had employees jumpstart a customer's car or escort customers through the rain with an umbrella. We have that extra level of care. Although we have to become more 'corporate' due to our growing size, we are working hard to maintain that mom-and-pop feel."
The internal culture is always evolving. Pete's is standardizing its practices because it now has about 1,700 employees across its locations. Even with a growing workforce, the company looks at each employee as an individual with skills that can add something great to the operation. Dremonas says that if an employee is hired thinking he or she wants to work in a specific department, but finds out it's not such a great fit, Pete's will help that person find another home in the store.
Pete's is also an advocate of promoting from within. As a result, its stores have buyers who started as drivers, managers who were once bag boys and butchers who used to clean the bandsaws and grinders. "Most companies don't take the time to invest in their people and get them to their full potential," she says. "That creates a love for Pete's and the Pete's family. It's an investment in your career and in your life."
Pete's also gives back to the communities in which it operates. It invites preschool classes to tour the local store for lessons on nutrition and how to properly shop for fruits and vegetables. The company also works with Chicago-based nonprofit organizations and donates food, water and other goods for walks or special events. "We like to keep within the community to have a direct impact on the people who invest in us," Dremonas says.
For Dremonas and the rest of the company, seeing Pete's take root in different Chicago communities is very special. "It's watching the American dream play out in real life," she says. "It's humbling to see pictures of the original stores, knowing that my dad came here as an immigrant, had a vision and worked extraordinarily hard to build what is now a small grocery empire. Being a part of this story and helping promote its growth and development is something really special and rare. It means the world that people are so supportive. When we opened the Oak Park location, one customer came in and kissed the ground! Just seeing the impact our stores can make on our community adds another level of 'wow' for us."