A family farming for its community
You can find the Pfenning's farm burrowed in the curve of the Nith River just outside New Hamburg, Ontario, where the German family lead sustainable agriculture with the mantra of 'local first'. This belief encourages their active support of both their own farmers and local neighbors; from the people who make up the teams in the fields, packing lines, warehouse and office, to the people who choose the produce for their tables, because the people working with Pfenning's Organic Farms are the cornerstone of the business's success.
The Pfenning family name has been intertwined with farming since the late 1600s, back when everyone farmed organically because chemicals had not yet been introduced into the industry.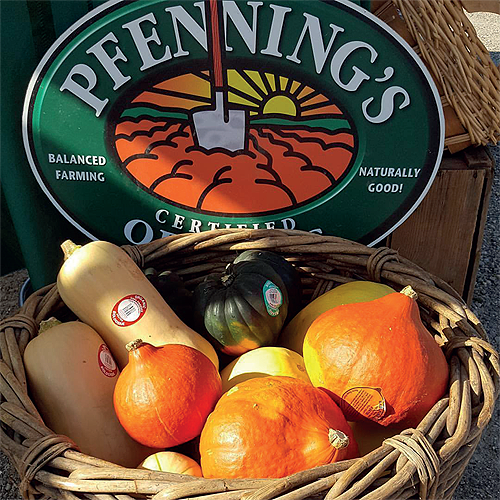 According to Jenn Pfenning, Co-Owner and Director of Human Resources of Pfenning's Organic Farms, when these changes became more available to farmers, Adam Pfenning and his son Wilhelm had embraced modern farming techniques. However, by 1950 Wilhelm had realized that the chemicals being used were having an adverse effect on his health and the nutritional value of the crops he was growing.
In his attempts to transition back to more natural farming methods, his life took an unexpected turn. "In 1978, the German government expropriated the Pfenning family farm to build a highway bridge," explains Jenn. Unable to find farmland to replace the fields that were expropriated, Wilhelm and his partner Barnhild decided to uproot the family to greener pastures in Canada. "By 1985 their reignited passion to move back to organic farming fueled Wilhelm to join other farmers, academics, and food system advocates to form the first organic certification body in North America, the Organic Crop Improvement Association," she continues.
Range of produce
Today the farm is managed by Wilhelm's children, Wolfgang and Ekkehard, who, even after Wilhelm's passing in 2011, continue to practice their father's wisdom and experience to sustain the success of their family name.
"The business now operates as a full service organic produce distributor and farm," Jenn elaborates. "Specializing in root crops, Pfenning's Organic Farms grows beets, parsnips, rutabagas, turnips and many more smaller acreage roots, with carrots being a signature item. Added to the basket are leafy greens and other cooking vegetables such as leeks, broccoli and cauliflower."
Pfenning's works closely with other local growers on whatever it does not grow in its own fields to continue Wilhelm's 'local first' legacy. This also allows the farm to offer local tomatoes, melons, peppers, squash and much more, rounding out its selection. When the local season ends, it brings in fresh produce from farms in California and Mexico. A particular favorite is Lakeside Organic Gardens, which is based in California where there is a more temperate climate suitable for year-round harvests.
It comes as no surprise that the farming industry is subject to an array of changing circumstances – unpredictable weather or seasonal disruptions for example – which means that the Pfenning's are experienced in tackling hardships that are out of their control. Although 2020 was understandably a difficult year for their business, the family were determined to put the wellbeing of their staff at the top of their priorities. The farms in Ontario rely heavily on migrant labor, which proved to be exceptionally challenging when Covid-19 swept into the area in the early months of 2020, affecting the majority of their workforce. However, Jenn Pfenning notes that everyone worked diligently to avoid exposure risks and the farm was very fortunate to have been spared the outbreak: "While we took every precaution we could reasonably imagine, it would be foolhardy and arrogant to believe that we were entirely responsible for this fortunate outcome. Being in a rural area with lower overall infection rates certainly contributed to that as well," she further explains.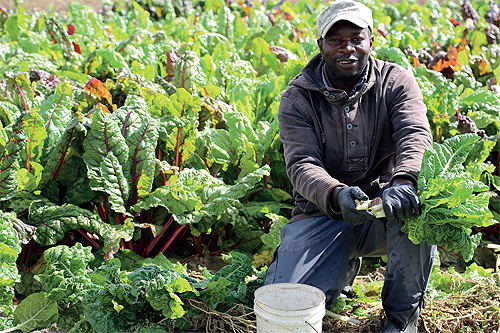 Exciting outlook
The unprecedented consequences of the pandemic have also made the company especially conscious of the state of each of its member's mental health. To help alleviate some stresses, it is hoping to provide a mobile vaccination clinic on the farm as a convenient access for workers in order to avoid unnecessary travel.
There are also other developments within the company which make for an exciting outlook. Currently, conversations around ambitions for the next generation are underway. While the present ownership and management is perhaps a decade or so away from retirement, the business hopes that engaging in early dialogue will build toward a smooth and positive transition. Jenn also adds that it is exploring crop diversification and plans to introduce strawberries into its list of home-grown crops.
Hard work has always been vital to the success of Pfenning's Organic Farms and its values resonate with people who have strong beliefs in labor rights, environmental sustainability and ethical business practices. This is how the business has come to be based on serving and building its community, both within its immediate neighborhood and those considered to be part of its extended family: the sellers and buyers of its produce. "Pfenning's clear authenticity in the farming industry makes it easy to share our enthusiasm and excitement because we are truly inspired by the idea of growing food that feeds our community," Jenn concludes. D
www.pfenningsfarms.ca