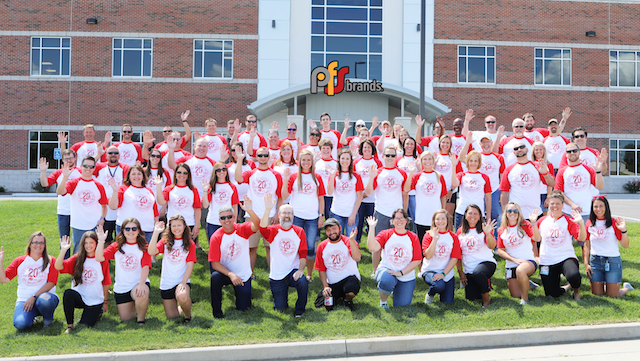 PFSbrands continues to enjoy double-digit growth as it innovates new products and services to offer to its retail customers.
Over the past 20 years, PFSbrands has continued to expand its foodservice and equipment programs to better meet the needs of its convenience and grocery store customers. "For PFSbrands, this is just the beginning," CEO Sean Burcham says. "We are a company committed to continuous improvement and we plan to bring even more value to our retail partners."
Burcham and his wife, Julie, founded Pro Food Systems in 1998 as a coffee company based out of their garage in Willard, Mo. One year later, the husband-and-wife team launched the flagship Champs Chicken brand and has been adding foodservice programs and services ever since. As a result of that growth, Pro Food Systems moved to Holts Summit., Mo., in 1999 and changed its name to PFSbrands.
Today, PFSbrands is the parent company of foodservice brands Champs Chicken, Cooper's Express and recently added BluTaco. These turnkey hot food programs, as well as several other of the company's recognizable private label brands can be found in the delis of more than 1,400 convenience and supermarkets in 38 states.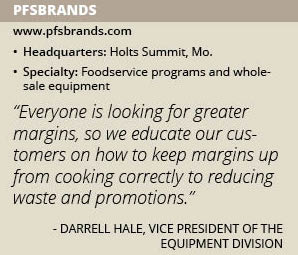 "We are completely turnkey and fully integrated, so we can come in and help our customers with the layout of the deli, provide them with all the equipment, digital menus, training and products," says Darrell Hale, vice president of the equipment division. "We are very proud of our flavor profiles, people and service."
Foodservice Programs
Champs Chicken has become one of the industry's fastest-growing major foodservice programs and fried chicken franchise in 38 states with more than 400 locations. To add to its chicken offering, PFSbrands acquired Seattle-based Cooper's Express in 2014, which offers a "kicked-up" flavor profile in the breading and sauces lines. "What makes Cooper's Express such a win for retailers is not only the brand's appealing taste, but also its very low cost of entry," Burcham says.
BluTaco is the company's newest foodservice program that launched in February, helping its retailer customers set themselves apart by bringing "Blu" alive. BluTaco features a blue corn tortilla that offers authenticity and flavor. Blue corn has existed for centuries and used by many ancient civilizations, the company says. When blue corn is ground, it results in high-protein flour that has a sweet flavor. "The BluTaco brand also stands out because of its simplicity," Hale adds. "All the products are premade, pre-seasoned and need boil in a bag to bring back up to temperature. One employee can run a BluTaco brand as consumers choose their own ingredients for tacos, burritos or bowls. It's a simple application and customers can get in and out."
PFSbrands' customers say BluTaco is easy to operate and allows them to provide a consistent product, Hale says. The brand also has its own POS system to easily track sales, profit margins and waste. "We are seeing the food business grow and have not seen a downturn in sales," Hale says. "Everyone is looking for greater margins, so we educate our customers on how to keep margins up from cooking correctly to reducing waste and promotions. We are all about helping them run their business correctly."
Equipment Division
In 2015, PFSbrands launched its equipment division to further elevate the company's emphasis on commercial kitchen equipment. Lead by Hale, the division offers hands-on, in-store training that leads to improved food quality and efficiencies for the deli and kitchen areas.
For the past 17 years, Hale has led the company's supply of equipment, which includes hot cases, auto-lift fryers, breading tables, combi-ovens, convection ovens, warmers, hot sandwich sliders and more, to more than 3,000 supermarkets and c-stores. "Our field team and I will continue to assist retailers in four primary ways: selecting the right equipment to maximize their return on investment, optimizing layout for kitchen and deli areas, teaching efficient operational procedures and troubleshooting equipment as issues arise," he says.
"This level of customer service, from servicing equipment and parts to ongoing equipment training, has set us apart," Hale continues. "PFSbrands has taken this exceptional customer support and experience and launched its own proprietary commercial kitchen equipment brand, KitDel – premier kitchen and deli equipment."
Expanding its Reach
The company also recently launched a blending facility at its campus and a new 27,000-square-foot headquarters in Holts Summit. PFSbrands unveiled its new headquarters in July and noted the space allows for room to expand. The company could fill the new facility in six to eight years if growth expectations are met, Burcham says.
PFSbrands expects to continue the more than 10 percent annual growth it has maintained throughout its history. To continue achieving this growth, the company is in the research and development phase on a couple new foodservice programs that will potentially debut next year. It also recently launched GRITT Business Coaching, a new division to help its customers successfully scale their business.
"The GRITT division is responsible for advising customers on anything from accounting to business strategy to employee engagement," says Josh Anderson, digital marketing manager. "Maybe they want to transition to an employee stock ownership plan (ESOP). We can show them the way as we just went through that last year."
As the company expands its services and into new markets, it will continue to rely on its more than 70 distributors who have been key partners and add new for its equipment division. "The impetus behind PFSbrands' continuous, rapid growth is a company culture that thrives on making its retailers successful," the company says. "To do so, retail partners are provided unparalleled levels of professional support by a dedicated and enthusiastic company staff and through generous programs, well-honed processes and absolutely delicious products."
Driven to Succeed
PFSbrands became an ESOP in 2017, allocating shares of company stock to its 150 employee owners each year. "As the company continues to grow and perform well financially, the enterprise value of the company increases," CFO Trevor Monning explains. "Accordingly, each employee benefits from the higher price of the shares they own."
"I'm really excited to provide every one of our employees with the unique opportunity to earn stock in the company where they work," Burcham says. "We believe the ESOP is the ultimate business structure because it turns employees into employee owners who have a real stake in the outcome of their company's business.
"The shares we allocate to our employee owners through the ESOP do not require a monetary investment on their part," he continues. "But of course, the hard work these employees contribute and the results they achieve most certainly influence the value of their shares."
Hale describes the culture at PFSbrands as very employee-oriented. "We hang our hat on our employees," he says. "If we didn't have these people and their drive to come in, enjoy what they do and think up new ideas all the time, we wouldn't be where we are today. Everyone deserves a pat on the back."