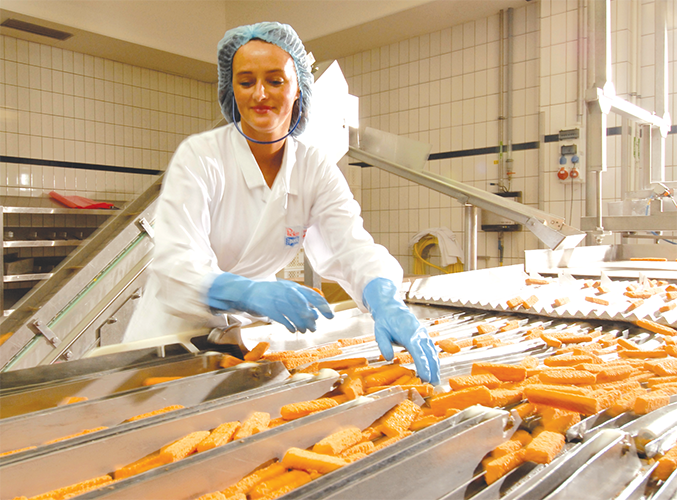 Pickenpack – Hussmann & Hahn Seafood
Net profit
Pickenpack – Hussmann & Hahn Seafood (PHHS) is a specialist in the production of deep-frozen fish
Over the last 100 years PHHS has been developing a reputation and establishing itself in the deep-frozen fish sector. Founded in 1906 as Pickenpack, this year the company is celebrating its centenary, and today the former familyowned business is one of the biggest European companies focusing on the production and distribution of private label deep-frozen fish and caviar.
Almost every year since its foundation, PHHS has introduced an innovation or expanded its facilities in order to stay at the forefront of the market and as a result of this forward thinking it has become a very creative supplier of fish products. The most significant developments included a relocation of the HQ, a new majority shareholder, a significant merger with Hussmann & Hahn, changing its name from 'Pickenpack' to 'Pickenpack – Hussmann & Hann Seafood GmbH' (PHHS) and most recently, becoming part of the Icelandic Group, which enabled the company to expand its position on the international market.
PHHS has always based its operations on a culture of total quality management. As fish is a natural product of high value, quality has to go before quantity, and to maintain just-caught freshness PHHS buys only shock-frozen fish from selected suppliers. The product enters an unbroken frozen chain before eventually arriving in the supermarket freezers. Shock freezing serves in preserving all the constituents needed to make a food tasty and healthy, including valuable proteins and minerals, a number of unsaturated fatty acids and high levels of vitamins.
Finnbogi Baldvinsson, CEO of Icelandic Europe, explained: "Fish is a healthy natural product. Not only that, by shock freezing our fish we keep it an incredibly fresh product." Dr. Norbert Engberg, the new managing director of PHHS continued: "Our objective is to make products that are special for customers through innovation and top quality."
PHHS is among Germany's largest producers with an average market share of 25 per cent for fish fingers, fillets and fish meals. PHHS's annual sales for 2006 will be around 250 million euros, with annual production running at 70,000 tonnes of fish and 700 tonnes of caviar. Sixty-five per cent of this is destined for the domestic German market; the remaining 35 per cent goes to the rest of Europe. Accounting for more than 80 per cent of sales, the foodretailing trade ready-made products is the largest market by far. This is followed by bulk consumers (food service) and homedelivery services.
Germany is PHHS' most important market and Dr Engberg explained that the company invests a lot in researching what consumers are looking for, both in Germany and further a field. He said: "We have been following the increasing interest among German consumers for 'one-stepfurther products' with great interest. Both in the refrigerated and frozen sector we have been witnessing a change towards evermore practical and quick-to-prepare recipes that draw on ready-to-cook meals with fresh ingredients."
Dr Engberg continued: "We are just launching new deep frozen products in a test market in southern Germany. Our three new fish dishes – one of which is a reduced-calorie product – can be steamed and are ready-to-serve within ten minutes. We are very optimistic about the prospects for these products."
Wolfgang Kohls, joint MD continued: "Our product development activities are still heavily focused on German customers with their tendencies towards traditional recipes. Having said that, however, we are also very much involved in the development of new products such as convenience products. Fish is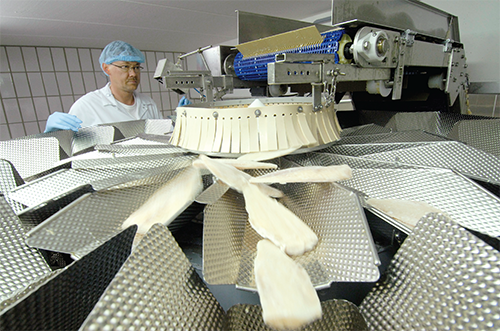 purchased in 85 per cent of households. Our aim is to increase purchasing regularity. We have also been drawing on our substantial know-how to increase our presence in international markets. Another area in which we are active is the development of products for our international customers, who have differing tastes."
Dr Engberg commented: "As a member of the Icelandic Group, we are excellently represented at an international level. Our enterprise is based in Lüneburg, Germany but we are connected to the entire world via Iceland. It's an excellent match simply because the Icelandic Group is more involved in the trading side, while PHHS' focus in on production."
Finnbogi Baldvinsson explained the benefit of being part of a large group: "Competition in this industry is fierce. PHHS' annual turnover is 250 million euros; the Icelandic Groups is 1.4 billion euros. These are unusually high figures for today's fish industry. Some companies in other areas of the food industry, however, have a turnover of more than five billion euros annually. Our customers are getting bigger and bigger, too, which means that we are facing ever-greater challenges as a supplier. And it is set against this background that Icelandic's takeover of PHHS in 2005 was so important. In this industry, size is essential for survival."
PHHS' raw material, fish, is a valuable natural product that is not inexhaustible. Therefore the company is actively involved in promoting sustainable fishing, that involves requirements such as purchasing contracts with suppliers, which require that they work according to all relevant national and international laws set to ensure the ustainable development of the fishing industry. Baldvinsson commented: "Raw materials are becoming more and more expensive. Our task is to make sure that the balance between fish and other protein products such as meat and poultry is maintained. I have no doubts about our ability to achieve this." Kohls continued:
"The foundations for our future success are based on sustainable fishing. We demand legal fish caught within the legal framework such as FAO quotas from all our suppliers. There are no compromises in this regard. We are faced with the challenges associated with increased costpressure on a day-to-day basis. Our task is to lower production costs by introducing new processes and technologies. I'm certain that we will continue to do this successfully."
PHHS has access to the very latest production technology, which is exemplary in Europe. All of its divisions from its rawand finished-goods storage facilities to its production lines are subject to comprehensive quality management systems over and above HACCP and IFS/BRC standards. Its very high expectations and continual internal investment means that the company already goes far beyond the very strict regulations laid down by the EU. The substantial know-how of PHHS's deep-frozen fish specialists flows into the company's private label activities. Retailing chains have established themselves as brands and the company is well aware of its responsibility with regard to the private labels that have been entrusted to it. Dr Engberg commented: "We pride ourselves on being private label experts. The market has changed considerably in the recent past. Retailing chains have become brand names. We produce products that meet the high-quality standards set by these brands. PHHS carries a great deal of responsibility with regards to the brands for which it produces."
To expand the traditional PHHS portfolio on offer to clients, PHHS established Trading Floor in 2006. This is a new business area, with the objective of including commercial goods such as single fillets in exotic fish varieties, prawns, fish skewers and barbeque items in the product range. As it pursues this aim, PHHS will be able to draw on the wideranging experience of Icelandic Germany.
Developments continue apace at PHHS, with September 2006 seeing another acquisition. Icelandic Group gained a French subsidiary known as Pickenpack Gelmer S.A.S. and thanks to this, PHHS is now ideally placed to cover Europe in logistical terms. The 300 extra staff members will enable the company to serve customers in the southern and western areas of Europe – from the United Kingdom to Spain – from this base in the north of France. Annual production output is also set to rise by over 50 per cent to 26,000 tons. The two production plants will generate a combined annual output of 100,000 tons of fresh-frozen products for fish lovers throughout Europe.
Speaking at a press conference to mark the company's centenary, Baldvinsson concluded: "Not many companies live to be 100. The Pickenpack family had an excellent nose for business – conditions have changed completely over the decades and the company has adapted. Germany's fishing areas aren't very big, so the Pickenpack family went from being a fishing company into deep-freezing, then relocated their operation, moved into fish processing and became a partner to the retail sector, to food service and home service companies. They made all of these transitions seem effortless. That progression from tradition to modernity is what PHHS is all about."