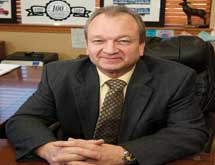 Being honest, honorable and having integrity – according to Richard Barry, are the keys to the longevity of a company. As president and CEO of Pier Fish Co Inc., a seafood processor that has been in business for 100 years, Barry should know.
Founded by James Barry in 1910, Pier Fish was originally located on Atlantic Avenue on Boston's industrial waterfront. James' son Jim took control of the business in the late 1930s, and it is currently under its third generation of Barry management with Richard and his four brothers: vice presidents Jim, Michael, Kevin and John. The headquarters moved to New Bedford in 2001, and Richard's daughter Jessica currently makes up the fourth generation, acting as vice president of research and development.
"You need people that live and breath it," Barry says, explaining why it is important to Pier Fish's success to be a family-run business. "You need to get up in the morning and enjoy going to work. If that doesn't take place, the business will not survive. I'm fortunate enough to have my daughter here and a son coming in after college. It's exciting to have a fourth generation and that gives me a reason to get up in the morning."
And along with the importance of having employees that enjoy coming to work, Barry again stresses that companies must be straightforward. "It's about honesty," he says. "What customers want is what we want: a relationship like a friendship. It goes both ways – if we say we are delivering a high-quality, grade A, No. 1 product, we will, and they can trust it's worth the money."
Customers First
Pier Fish says it has developed supply lines for quality products from around the world. The company produces seafood products in its processing plants, in addition to the products it brings in from its relationships with multiple producers. Through these relationships, it's able to provide customers with one stop shopping that does not sacrifice quality or availability, the company notes.
Barry says the best way customers know they are receiving a high-quality product is from Pier Fish's own word of mouth. "We stand behind everything we do," he emphasizes. "If it's questionable, my instructions are 'Throw it out the door.' If we have to think twice about something, then it's a "no." We only put out what's No. 1."
Along with being a seafood supplier, Pier Fish also performs custom labeling and packaging, product inspection, blast freezing and shipping. "We work with the customers so we have a good relationship," Barry says. "We have high expectations for customer service. It means a lot to us and it's the way we were brought up."
The priority at Pier Fish is to use the highest quality product and offer it at as fair and competitive a price as possible. The company does this by focusing on product shelf life to maintain quality throughout all distribution channels. It has sales offices in Buffalo, N.Y.; Columbus, Ohio; and Parrish, Fla., which it opened in 1997, 2002 and 2006, respectively.
Building Pier Fish
Pier Fish has a long and rich history. It was able to operate during World War II and became incorporated in 1947.
During the 1960s, Pier Fish notes that things began to change along Boston's waterfront as residential housing started to go up. With the influx of the general public on the waterfront for both living and recreation, retail businesses – along with restaurants and taverns – were built. Pier Fish reports that many traditional marine businesses moved to the area across the Fort Point Channel in South Boston, including Pier Fish, which relocated to 145 North Avenue in 1968.
The third generation of Barrys began to establish themselves in the 1970s, as Jim Barry's sons took on various roles within the company. Pier Fish says it added hospitals, schools and other institutions to its
traditional customer base of restaurants and retail markets. "The business serviced customers who came into the market to purchase goods, as well as providing delivery when the situation demanded," Pier Fish says.
In 1976, a new law changed the fishing market in the United States. The Magnussen Act created a 200-mile exclusive economic zone off the U.S. coastline, meaning foreign vessels that once fished off of the U.S. shoreline were no longer permitted to fish in the restricted waters. Pier Fish says this new law brought a new local fleet of vessels into the fishing industry at a rapid pace. In addition, it says the ports of Gloucester and New Bedford began to grow, but Boston maintained as the center of commerce in the seafood industry for the New England region.
"These circumstances created a new opportunity for Pier Fish in the whole fish trade," the company says. "As one of the original members of the New England Fish Exchange – the cooperative seafood auction located on the Boston Fish Pier – the company was well positioned to start managing the unloading of boats that chose to sell their catch through the auction."
Expanding Business
Pier Fish says the 1980s were booming years in the seafood industry with reports of health benefits associated with consumption of seafood fueling market demand. The demand meant an increase in the amount of fish landed and prices for seafood products, it adds. Also, the company says the Boston market received millions of pounds of seafood from the Atlantic provinces in Canada.
"The combined surge of product in the marketplace prompted the establishment of many new seafood processing companies," Pier Fish says. "The majority of the fish came into Boston from other locations necessitating local brokers to manage the sales of fish. These brokers worked on a percentage of the sale, but also provided credit terms, making them a source of working capital for new startup firms – most of them undercapitalized.
"Pier Fish Co. had traditionally managed their finances extremely conservatively, leaving the business with a solid foundation of retained earnings to serve as working capital for the business," it continues. "This strength permitted the business to enjoy a period of unprecedented growth and profits."
The company says the industry began to change, and the  hot economy began to cool down with consumers becoming more resistant to the high cost of seafood.
"Lower cost proteins such as chicken and turkey were taking a chunk of the market share for seafood," Pier Fish says. It notes that at the same time of the slowing of seafood sales, landings began to shrink, leading to environmentalists and government regulators to pay close attentions to what was occurring along the coast.
"It was determined that pressure from a larger domestic fleet coupled with a relaxed approach to regulations had inflicted injury on numerous valuable commercial species of fish," Pier Fish says.
Sweeping changes came to the industry, the company states, with the federal government approving regulations focused on reducing the harvest of seriously depleted stocks of fish. In addition, Canadian officials were facing a similar crisis with a depletion of fish stocks in the country's waters, causing them to limit harvests, as well.
"These actions had a major effect on the Boston seafood market," Pier Fish says. "In a fairly short period of time, there was substantially less product to buy and sell. This was a major blow to the seafood brokers who were dependent on substantial volumes of fish to support their profits."
At the same time, Pier Fish explains that local banking was suffering from the collapse of the Boston real estate market. "These circumstances prompted the banks to establish severe limits on the ability of these seafood brokers to borrow working capital," the company says.
The brokers placed limits on credit terms and focused sales toward established companies, which Pier Fish notes led to the closing of many startup seafood companies from the 1980s that were dependent on credit. However, this left Pier Fish in a favorable position. Although it experienced a decline in its whole fish business, the company  says it remained healthy. Because of its strong independent financial position, Pier Fish says that it was able to purchase whatever fish it needed to serve its traditional customer base.
"In fact, this end of the business began to grow with increased demand from new customers," it says. "As many of the upstart businesses from the 1980s closed their doors, Pier Fish Co. stepped in to fill the void."
'Important Source of Supply'
In 1995, to make way for the new connector road to the Ted Williams Tunnel and an expansion of the Mass Transit System in Boston, Pier Fish's operating facility was taken by eminent domain.
The company says its sales were expanding to include supermarkets at the time, so it required more processing and packaging. Its previous space was too small, and it took over the next-door facility. The company says it wanted to remain on the South Boston waterfront, but with the changes in the area, it found no alternative sites to relocate the business.
With an immediate need to move, Pier Fish purchased and renovated a building at 10 Newmarket Square in 1997. However, Pier Fish soon outgrew the facility. It began a long series of negotiations to purchase the adjacent property owned by the Massachusetts Bay Transportation Authority for expansion. The negotiations fell through, and the property was opened up to a public bid.
Pier Fish says it began to look in a new direction to accommodate its need for facility expansion. While maintaining a presence in Boston, the company purchased its current home in New Bedford.
"New Bedford is the largest fishing port on the East Coast, and with steady improvement being realized in the condition of the fish resource, the city will be an increasingly important source of supply," Pier Fish points out. "A facility in both Boston and New Bedford would certainly help tackle the ongoing quest for quality seafood for [our] customers."
Ensuring Quality
With 100 years of experience and industry knowledge, Pier Fish has created two state-of-the-art facilities for its operations in Boston and New Bedford, in addition to its sales offices in the eastern part of the country.
"We reinvest almost everything we make back into the facilities we have," Barry stresses. "We just spent a quarter-million dollars on a new epoxy floor. We have a separate crew that cleans and washes the facility down. It's a good feeling to walk into a place that doesn't smell of fish in the morning, and you know you're in a good, healthy environment."
Pier Fish utilizes an ozonated-chilled water spray system that supplies 99.9 percent bacteria-free water at a temperature of 36 degrees. The company also participates in the voluntary Seafood Inspection Program sponsored by the U.S. Department of Commerce. The program provides random product quality inspections and audits, which assures that products and facilities are of the highest quality.
Barry mentions that Pier Fish also volunteers for annual OSHA inspections. He says the company calls OSHA to set up an inspection and makes sure to check the company's entire facility, correcting any recommendations that OSHA makes. "I don't think too many of our competitors can say the same," Barry comments.
Pier Fish also specializes in customized packaging for its customers' needs. In addition, the company has a large storage capacity, which it says enables it to purchase product at the right price at the right time.
Staying Focused
Barry emphasizes that it is Pier Fish's honesty, integrity and follow-through that distinguishes the company from its competition. "It's [all about staying] honest," he says.
"No one has time for headaches," he continues. "We follow through on our promises, and that is why we are successful."
Pier Fish has a strong belief in giving back to the community. It participates in several charitable organizations and sponsorships. The company has donated more than 100,000 meals to SeaShare, a nonprofit organization providing food assistance to those in need throughout the country. Barry notes that the company is the largest donor of seafood to the Greater Boston Food Bank. He explains that Pier Fish's charitable efforts have been passed down through the generations of Barrys that have run Pier Fish.
In 2009, Pier Fish begin a sponsorship of a $1,000 scholarship to a graduating high school senior planning to attend college. To be considered for the award, students must be accepted into an accredited college program and have a parent working in the New Bedford seafood industry.
Pier Fish presents the scholarship with  Downtown New Bedford Inc., a non-profit organization that represents New Bedford stakeholders, such as property owners, business people and residents. The group says its goal is "to make the heart of our city an economically healthy, welcoming, vibrant place to work, live, shop, dine and visit.
Although the company keeps an eye on the present, it stays focused on the future. "If you get too rambunctious, things fall apart," Barry states. "You have to pay attention and focus on what you are doing right now."