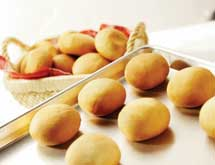 Despite the weak economy, Pierre Foods' product line distinguishes the company in the marketplace, CEO Bill Toler says. "Our company is dedicated to producing high quality food products that provide unparalleled taste, convenience and value," he says.
Founded in 1946, Cincinnati-based Pierre Foods uses high quality, USDA-inspected meats and hearth-baked breads to produce a wide variety of fully cooked frozen sandwiches and other products for schools, military, foodservice, retail, vending and convenience store markets. Toler notes that the company is a leading frozen food provider to schools and club stores nationwide and the top provider of sandwiches for the U.S. military.
"We offer hundreds of different types of frozen sandwiches that are made with USDA-inspected, high-quality, fully-cooked beef, pork or chicken on our hearth-baked bread," he says. "And as the nation's No. 1 military sandwich provider, Pierre Foods is dedicated to providing high quality, nutritious products to men and women in the U.S. Armed Forces worldwide."
Along with quality, the company's ability to follow and adapt to industry trends has led to further success. "Pierre Foods has a state-of-the-art test kitchen, where new menu items are being developed every day," Toler says. "Pierre products are made with the customer in mind. We do extensive consumer research and testing to ensure that our products meet specific consumer needs at the right price, the right size and with a taste that meets and exceeds their expectations."
He notes that one recent trend is an affinity for miniature versions of popular foods and Pierre has responded to that trend. In July 2009, Pierre Foods launched Pierre Minis – a line of mini sandwiches – to meet the demand for snack-sized foods from schools to warehouse clubs, and vending to convenience store markets.
Growing Markets
Like most companies, Pierre Foods has been impacted by the slowed economy. "The weak economy caused commodity prices to come down and one of our customer sectors – the vending industry – certainly has realized declines over the past few years," Toler says. But the company's product and customer diversity helps it to succeed even in tough times.
"There has been growth in club store business because there is value in quality," he adds. "We have also grown our business with schools. When the economy worsens, some parents can't afford to provide meals for their children everyday, but kids can get a free or reduced-price meal at school, so there's greater demand for our products in schools."
Schools can depend on Pierre to provide the quality food that students need and want to eat. "The Pierre Foods products purchased by each school district meet federal nutritional guidelines as well as the applicable nutritional guidelines of their state," Toler says. "And our foods are a particularly safe choice for schools because all items are fully cooked and quickly frozen, which reduces the potential for food-borne illness."
Focused on Growth
Samuel Dinerman, who was a young lawyer in Cincinnati, loved to eat and  cook. His culinary talents earned him the nickname "Pierre" from friends and family. When he founded this business selling frozen food products to restaurants in 1946, he lent the company his nickname and Pierre Foods was born. His sons Ira and Robert eventually took over the company's operations. "They built it from a small, local business to a national powerhouse," Toler says.
Pierre Foods has been recognized as an industry leader for its products. The National Automatic Merchandising Association has named Pierre's mini cheeseburgers as its "product of the year," Toler says.