Pinehurst Resort takes pride in the different culinary experiences it can create for its guests after they spend a long day on the golf course.
While golf is the main reason people come to the Pinehurst Resort with its nine golf courses, guests find much more. A three-time U.S. Open site, Pinehurst is well known among the golfing aficionados of the world, but what about the time they're not spending on the green?
Dining at Pinehurst has become a true staple of the resort, from the gourmet Southern flavors of the Four-Diamond 1895 Grille to the casual atmosphere of the Ryder Cup Lounge. These options, coupled with the 100-plus culinarians ready to create an unforgettable meal, keep guests coming back time and again for more than just a round of golf.
"Many people come and do their golf trips here," Executive Chef Thierry Debaileul says. "We're considered a bucket list of many golf places. And we have a lot of talent in the kitchen. Everyone brings a different flair. Through our specials and seasonal menus, people really enjoy it."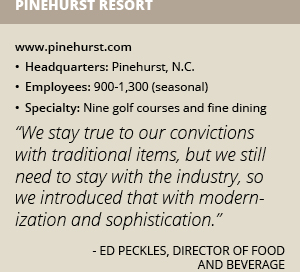 Ensuring guests want to return to the Pinehurst, N.C.-based resort is just a small part of it because the guests have already made the decision to go to Pinehurst for one reason or another. "We've already won them over 51 percent – all we have to do is insist that 49 percent," Food and Beverage Director Ed Peckles says. "The odds are in our favor. That 49 percent must reiterate and emphasize why they made the right decision to come here."
Pinehurst does this by accommodating the guests in a number of ways, including keeping a restaurant open an extra 15 minutes in case someone staying in the hotel overslept or putting a plate together and sending it to their room. Pinehurst is host to 9,000 members, who all frequent the restaurants – some for 20 to 60 years. "We have to be careful not to be complacent," Debaileul says. "In our menus, we have tried-and-true items like Veal Oscar that would have an impact if we removed them. At the same time, we have to show we're edgy and also part of the farm-to-table movement, and you see that throughout the menus as we connect with the local community and farmers."
All in all, the Pinehurst staff must understand the mind of the golfer and play to their strengths. "Some play 36 holes and are tired, so they just want a drink afterwards," Debaileul adds. "In that sense, they don't want to spend two or three hours eating dinner and just want a beer at The Tavern."
New World
Pinehurst's accommodations and restaurants have been updated and renovated multiple times since 1895. "Through the ages, things need renovations, but we try to take care of it as a landmark," Debaileul notes.
The resort is in the process of renovating guestrooms. In addition, the Ryder Cup Lounge completed a $3.5 million renovation about five years ago to make it more vibrant and casual, changing from a tablecloth setting to wooden, contemporary tables. "Our 1895 restaurant is 4-star, but we wanted to make our other restaurants more guest-friendly," Peckles explains. "We added more seats and draft beers. You look at the sales over a three-year period and they've gone up 150 percent. We look at the product and adjust to the industry."
Peckles says the days of having only a couple different beers to serve are long over. But Pinehurst adapted, thanks to two microbreweries in the area. The resort also partnered with Highland Brewing Company to create its own beer, the Pinehurst Pale Ale. It was a gamble, but the resort has sold more than 60 barrels in five months.
"People come to an area and they want to try the local flavors," Peckles continues. "Everyone is more educated as far as dining and have their preferences. We stay true to our convictions with traditional items. But we still need to stay with the industry, so we introduced that with modernization and sophistication."
The 18th hole at Pinehurst directs guests back into the clubhouse. After a long day of golfing, most people don't want to travel to another section of the resort for food or cocktails, so it is opening a restaurant called The Deuce in August or September. "You'll be able to go right into the bar/restaurant once you're done," Peckles says. "We have 10 craft beers, small-batch bourbon, craft cocktails. We're going back to the old-world bartending and trying to revive some of the neat nuances of when we all grew up by bringing those nuances into a new product we're proud of."
Team Spirit
Much of Pinehurst's culinary staff began as interns who loved working at the resort so much they stayed on. "From the moment you start with us, we'll challenge you with creativity," Debaileul says. "There's a lot of pride here. It's something that stays with you; you don't just turn a page and it's over. We're a great petri dish of experimentation with interns who build their careers here. There is a great freedom to try new things with great management."
"We're blessed to have someone like Thierry," Peckles adds. "He's really made a difference, elbow to elbow with his fellow workers and fostered a team mentality with them."
The freedom to be creative and experiment with the menu is what keeps things fresh and exciting for Debaileul and his culinary team, as well as for repeat guests. "We're always pushing forward, trying to improve and do better, with better food, better kitchen environment, better management," he adds. "I like when we can improve things.
"If you stay in the resort for a few days, you should be able to eat in four different restaurants and get a new experience with different flavor profiles," he continues. "We're daring but creative. We take chances but we want what's best for the guest."
Many people who come to work at Pinehurst end up staying for their entire careers, and whether they are part of the culinary team or hotel staff it can be a major part of their lives.
Peckles says one staff member just celebrated his 50th anniversary as a Pinehurst employee. "That really is something special for the guests who have been coming for years," he continues. "They walk in the lobby and are hugging staff who've been here for years. It doesn't get better than that. The staff tries to identify with the guest and take the extra step to show the guest we really care."