Pinehurst Resort steps up its game by enhancing its property and the Village of Pinehurst's offerings to remain a best-in-class destination.
Pinehurst Resort is known around the world as a golf resort. It is home to nine golf courses, including the famed No. 2 golf course, and is a three-time U.S. Open site. Although its name has become synonymous with golf, Pinehurst refuses to stay content with the status quo and continues to expand its offerings.
"Pinehurst has continued to make sure we are not viewed as a complacent resort that's not progressing," says Eric Kuester, vice president of sales and business development. "We have to make sure that while we will always have one eye on our legacy and history, we are making significant investments to elevate the customer experience and fuel growth so we can remain a relevant destination to future generations."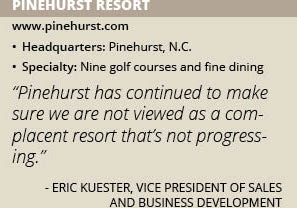 Founded in 1895, Pinehurst is located in the heart of the North Carolina Sandhills and features three historic hotels, a Forbes-rated four-star spa and other amenities such as tennis, lawn sports, shopping, biking and fine dining. As competition continues to increase among golf course resorts, Pinehurst has been focusing on making improvements to stay a leading, best-in-class golf destination.
"We are seeing unequivocal evidence that we are back to pre-2008 levels and the recession is a distance memory," Kuester notes. "Most consumers are feeling like they have discretionary income again and are not as guarded on spending those dollars on leisure golf outings. Pinehurst is a bucket-list golf destination; it's those trips that are the sacred ones where you find a way to travel because it's an experience that creates memories for a lifetime."
Crafting Experiences
Pinehurst Brewery will open in September in the Village of Pinehurst. It will occupy the 7,000-square-foot original steam plant building that was built in 1895. Much of the building's character, including the original brick façade, will remain, as well as the steam plant's signature 40-foot-tall smokestack, which the resort says will serve as a welcome beacon for guests seeking a unique drinking and dining experience.
"Microbreweries have been growing in popularity for the last several years, in particularly here in North Carolina where this state is becoming a known microbrewery destination," Kuester says. "We are very intentional on creating a very authentic vibe to it from a brick-and-mortar standpoint as well as a brand identity. We'll have a restaurant in the space featuring flat breads and a pit master in the back for BBQ craft style creations. This is another way we can modernize & differentiate our experience while honoring our past."
The Pinehurst Brewery will be within walking distance of all resort hotels and will feature on-site brewing and comfortable indoor/outdoor seating, including a beer garden. A trellis that is designed to mimic the original trolley track that brought coal into the steam plant will cover a portion of the outdoor seating. The design will incorporate the original pylons that held the track in the early 1900s.
Additionally, The Deuce restaurant opened in September 2016 and has been a major attraction for guests as it overlooks the historic 18th hole of Pinehurst No. 2. Golf Inc. Magazine voted it the "Best New Restaurant in Golf," serving lunch until 3 p.m. and small bites through dusk. "We are bringing golf and food and beverage together like we never have before," Kuester says. "We can open the windows and allow folks in The Deuce to enjoy the sights & sounds from the 18th green of No.2. We now have a proper ending (a 19th hole) for players to settle bets, continue their fellowship and enjoy our craft cocktails and brews in a comfortable and fun environment."
Successful Alternatives
To appeal to younger generations that may not want to commit to 18 holes, Pinehurst unveiled The Cradle, which is a nine-hole short course. "Where a traditional course takes four hours of your time, this short course takes 45 minutes to play and nullifies the negative connotations sometimes attached to golf," Kuester says. "Since it opened in mid-September 2017, we have had 6,000 rounds played through last December. On the weekends there are people waiting at the starters hut to get on The Cradle and we definitely have tapped into the demand for a fun and quick way to play golf at Pinehurst. This past March we added speakers for mood music. It's a total success."
Designed by golf architect Gil Hanse, the Golf Channel calls The Cradle "the most fun 10 acres in all of golf." It's located steps away from the Resort Clubhouse and in the same area where in 1898, Dr. Leroy Culver carved Pinehurst's first nine holes out of the sand.
Pinehurst is developing programming for The Cradle that will include a "Rock the Cradle" concert series this summer. The resort will serve beverages out of a wood-paneled airstream they named "Pine Cone" on a plateau that looks down upon the valley where the golf courses exist. The beverage trailer will serve custom cocktails and feature six brews on tap, including the Pinehurst very own in-house brews. "This is one way we are branding out the experiential elements of the Cradle. We can cross-promote the Microbrewery with our very own brew on tap at the Pine Cone," Kuester says.
Pinehurst also acquired the Donald Ross House last fall, which was designed and formerly owned by renowned golf course architect Donald Ross. He designed the Pinehurst No. 2 course, which is also where the home is located. "It's a phenomenal home overlooking the third green and inside guests will be immersed in golf history surrounded by an extensive collection of historic memorabilia. We will use it for private dinners, corporate hospitality, and weddings. In today's hospitality space, our audience is looking for off-site experiences that are indigenous to the area,"Kuester says. "This delivers on that front."
The Donald Ross House is a mix of traditional and colonial style, featuring a modern brick façade and arched entryway. The back is much grander with towering white columns that span from the ground to the roof.
"There are a lot of new things happening at Pinehurst and we are not slowing down," Kuester adds. "We have plans to continue expanding and renovating, including an exciting plan involving our beach club at Lake Pinehurst and we have another U.S. Open on the books for 2024. Golf is and will always be our DNA and strongest muscle, but we are building & enhancing our amenity mix like our restaurants, Microbrewery, The Cradle, and the Ross house to expand the Pinehurst brand reach. It's a fun time to be here at Pinehurst."