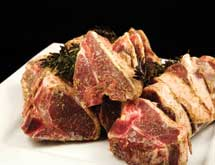 Pioneer Wholesale Meat Co.
The Army used to run commercials that said: "We do more before 9 a.m. than most people do all day." The same could be said of Pioneer Wholesale Meat Co., which works hard to process orders for its Chicago customers at the start of each day. "I always say we do 80 percent of our business between 6 and 8 in the morning," owner Bill Milligan says.
Processing orders quickly and on time is of the utmost importance for Pioneer's customers, who are mainly peddlers who deliver to local restaurants, Milligan explains. He says Pioneer's dedication to obtaining only the highest-quality lamb, veal and beef, and its ability to work closely with customers to meet their specific needs are the main reasons why Pioneer is celebrating its 65th anniversary this year.
Founded in 1945, the company has been a part of Milligan's family for almost as long. His father started out as a driver for the company in 1949, and eventually worked his way up through the ranks to become general manager. In 1970, Milligan's father bought the company, and it has remained in the family ever since. In that time, the Milligan family has moved Pioneer from its original location to its current facility in 1987, and expanded that location a few years ago. Milligan says the third generation of family leadership is currently learning the business.
"Because it is family, my two sons are working with me now, and we dedicate our whole lives to it," Milligan says.
Grade A
That dedication can be seen in the company's products, which Milligan says come from the finest meat available. Pioneer receives whole carcasses from slaughterhouses and processes them at its facility. The company cuts the meat into primal cuts such as shoulders and legs, as well as into stew meat.
Milligan says Pioneer employs 10 butchers at its facility, and takes pride in its ability to give customers greater flexibility than some of its larger national or regional competitors.
"The main thing is that we can custom-cut to our customers' specifications according to size," he says. "It's unique compared to the bigger companies, which would process everything according to a standard way."
Recently, the company ran into a bit of a snag when it comes to purchasing lamb. Until the last few years, most of the lamb processed by Pioneer came from Australia and New Zealand, but these days the imports have slowed to a  virtual trickle.
Milligan says the purchasing of whole lambs became much more difficult until Pioneer's buyers found farms in Colorado that could provide it with lamb much easier. Milligan says that now all of Pioneer's lamb is sourced from Colorado, "which I feel is the finest lamb in the world."
Branching Out
Adjusting to the market has been an important strategy for Pioneer in the past decade. Up until 10 years ago, the company handled only veal, but since then has diversified to include beef and lamb. The company also partnered with Wisconsin-based Bonewerks Culinarte, producers of sauces and entrees including lamb and pork shanks. Pioneer has been distributing those products for nearly 10 years.
Milligan says Pioneer isn't done yet, either. In the last few years, the company has taken on other products, such as Red Hot Chicago hot dogs. "We're always on the lookout for [new products]," Milligan says.
Consolidation and the weak economy have taken their toll on smaller companies in the area, and as a result Pioneer faces stiffer competition from large-scale operations, Milligan says. This means the diversification and flexibility Pioneer offers its customers is only going to become of greater importance in the future.
Although Pioneer has no intention of looking beyond the Chicago market for customers, it will continue looking for new ways to serve the needs of its existing customers. Milligan says the company wants to continue the organic growth that has been its strategy for the last several years.
"Diversification is more our goal," Milligan says.