Pitman Family Farms produces chicken and turkey free of additives and antibiotics.
Not many companies can say that they have evolved their industry, but Pitman Family Farms can. The Sanger, Calif.-based company produces high-quality chicken, ducks and turkeys that are antibiotic and anabolic free, co-owner Mary Pitman says.
Pitman Family Farms' success has driven other companies to follow in its footsteps. "We are one of the leaders in antibiotic-free and free range," she says, noting that the company even makes its own non-GMO feed for its animals. "I feel like we have the healthiest chickens out there,"
Her family's history in the poultry business began with her father-in-law, Don Pitman, who started raising chickens and turkeys in 1954. Her husband, Rick Pitman, followed in his footsteps and began raising turkeys, but the same way his father did: free-range and antibiotic free.
Pitman sold them as Mary's Free Range Turkeys, naming the brand after his wife, who long had an adverse reaction to foods with sugars, preservatives and additives. "It was a huge risk," Mary Pitman admits, but notes that the company soon won a customer in Natural Grocers.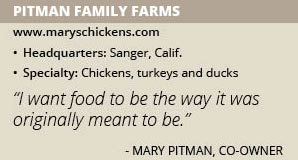 "We were the first food item that they added on," she recalls, adding that Pitman Family Farms soon followed it with Mary's Free Range Organic Turkeys and Free Range Heritage Turkeys.
When Slow Food, an organization that promotes local food and traditional cooking, asked Pitman Family Farms to raise 200 turkeys, Rick Pitman opted to take another chance. "He decided to raise 1,000 instead of 200," Mary Pitman recalls.
The Heritage Turkeys take seven to eight months to grow out, instead of ones that take three to three-and-a-half months. "We got really nervous that they weren't going to sell," she recalls.
But the gamble paid off. "They were all sold within the first two hours," Pitman says, noting that she still has a passion for the business after all these years. "Our chickens are just chickens, turkeys are just turkeys and ducks are just ducks.
"I want food to be the way it was originally meant to be, because if it isn't, I can get very sick and so can many consumers," she continues. "They thank us for raising our chickens humanely and for producing a product the way it was meant to be."
New Additions
Today, Pitman Family Farms' turkeys and chickens are sold nationwide, and the company counts Whole Foods Market as one of its retailers. "According to America's Test Kitchen, we've been the most highly recommended chicken in the United States for the last five years," Mary Pitman adds.
The company has an operation of small farms that it has contracts with or owns, as well as its own chicken hatchery. "We're totally integrated so we never have to be dependent on large companies," she says.
Pitman Family Farms' recent addition of a plant in Charles City, Iowa, allowed it to extend the reach of its chickens. CEO Richie King, who also recently joined the firm, has been a strong addition, Pitman says.
"He's family to us," she says, adding that King takes part in all of the company's major decisions. "The best decision we ever made was hiring Richie King."
King's initiatives have included reducing waste at Pitman Family Farms. "We've been out of control for so many years," Pitman says. "He's very good at making things more efficient at these plants. It's very important that we do things as efficiently as possible."
Pitman Family Farms also recently acquired Norbest Inc., a turkey producer in Moroni, Utah, where it will transplant a portion of its turkey operation. "We'd like to have the bulk of it out there so we can focus on items for the holidays, like ducks and Cornish game hens," she says. "The volume increases every year."
Doing it Differently
Pitman Family Farms completely oversees the way its chickens are raised, and uses a different method of processing them than its competitors. The company created its operation with the help of Dr. Temple Grandin, the renowned professor of animal science at Colorado State University.
Grandin, who has helped design equipment for handling cattle, aided the company in choosing its machines. When chickens are processed, Pitman notes, they are hung individually and blasted with cold air. "It helps retain the real flavor," she says. "We don't dilute them with big tubs of ice water like everyone else does."
The chickens also are not stunned with electricity. "They are processed gently with C02," Pitman adds. "They're humanely processed."
The company also has saved more money than its competitors using used equipment. In years past, Pitman recalls, plants would open in its region but would close in less than a year because of the funds they spent on new machines.
"We would save a lot of money by shopping around," she recalls. "When these other companies were going out of business, we would buy used equipment."
Living the Dream
Pitman is proud of her company's success. "I believe that this was what America was built on," she says. "You should be able to work hard and have your own business."
She also takes pride in the fact that her chicken is served at the University of Southern California campuses, as well as the San Diego elementary schools. "One by one, the schools are adding us on," Pitman says.
Pitman, who previously worked as a teacher, is pleased with the fact that students get to choose from foods such as her company's chicken, as well as organic fruits and vegetables. "Finally, there's healthy foods in the schools," she says.
She adds that Pitman Family Farms is developing new products. Recently, the company introduced duck eggs and fat and plans to launch an organic chicken hot dog, tenders, nuggets and fully cooked chicken breasts. "We're adding on items that our customers want, our vendors want and our stores want," she says.