Pizza 73's community partnerships allow it to keep its commitment to qualitiy pizza delivered hot and fresh.
Since its founding in 1985, Pizza 73 has made good on its promise of delivering a "Better Meal, Better Deal" to its customers. "Our convenience and our quality are where we stand apart from our competitors," Senior Vice President of Operations and Development Philip Goudreau says. "We are very consistent when it comes to making sure our product is at someone's home or office within 40 minutes, and our pizza is always hot and fresh."
The company delivers on its promises in part from its use of technology. The company was the first in its home province of Alberta to operate a central call center that connects customers to their local Pizza 73 location through one phone number.
In recent years, the company also gave customers the ability to order digitally including through a mobile website and smartphone apps. "We're always looking at new ideas to make ordering our product easy and convenient," Goudreau says.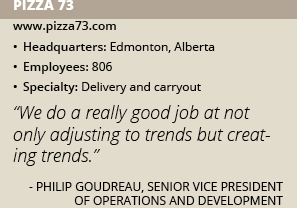 Once a pizza is ordered and ready, it is delivered in a specialized heated bag to keep each order hot and fresh for each customer, Goudreau adds.
The company's food quality differentiators includes making fresh dough in each location and also prides itself on being the only pizza chain that serves fresh chicken wings.
Pizza 73 offers more than 26 varieties of specialty pizzas as well as 23 different toppings, three styles of pizza crust and several types of sauce. Several flavors of chicken wings and a variety of side dishes including chicken bites, jalapeno poppers, poutine, curly fries, potato wedges, onion rings and salads are also on the menu.
Pizza 73's newest menu items include a sriracha chicken pizza with a honey garlic sricacha pizza sauce. Its newest seasonal items include dry ribs, which it added for a limited time last summer and plans to again roll out next year.
The company regularly introduces new menu items in response to changing tastes and dietary needs. "We do a really good job at not only adjusting to trends but creating trends with our robust in-house marketing team that picks up and pivots quickly so we get to market quicker and better than our competitors," Goudreau says, noting the company is the only pizza chain in Alberta to offer gluten-free pizza and gluten-free boneless chicken.
Community Partners
Pizza 73 was acquired in 2007 by Pizza Pizza Limited, based in Ontario. Pizza Pizza at the time was looking to expand its reach outside of eastern Canada, and decided to acquire Pizza 73 and grow the brand and to work on key synergies that will benefit all locations. Pizza 73 locations are located predominately in the province of Alberta, with some stores in Saskatchewan and northern British Columbia.
The two companies share services including accounting, marketing, finance, product development and quality assurance. Efficiency and other aspects of the companies' operations earned Pizza Pizza the distinction of being named "Company of the Year" for 2013 by the annual Pinnacle Awards.
The Pizza 73 brand today includes 76 traditional locations as well as 25 outlets in non-traditional locations including movie theaters, colleges and universities, and professional sports arenas. The vast majority of Pizza 73 locations offer only carryout and delivery, although a few locations feature small seating areas.
All of the companies traditional locations are operated under a joint venture partnership model/agreement that involves sharing all operating costs between Pizza Pizza Limited and operating partners. All new partners go through a thorough four-to six-week training program after joining the company along with daily support from the Pizza 73 team.
Many of Pizza 73's partners are families that co-manage and staff locations. "This is another one of our greatest advantages we have over most franchising models; our locations are true family businesses, with mom, dad, sisters and brothers all involved, so there's always someone with an equity stake on duty at each location," Goudreau says. "Each location means a lot to the families that operate it as it means to the company."
Partnering with local families and other community members has naturally led to involvement with a number of charitable causes including the Children's Miracle Network. The company this fall presented a $96,000 check to the Boys and Girls Club of Fort McMurray, Alberta, which had been severely damaged by wildfires earlier this year.
Pizza 73 continues to grow. The company, which intends to open its 81st location in March of 2017, plans to reach 100 locations within the next few years. "We will continue to grow while protecting our sales and profits," Goudreau says. "We want to be the best-in-class in pizza and chicken wings in the places where we do business, as well as striving to be the best-managed and operated company."