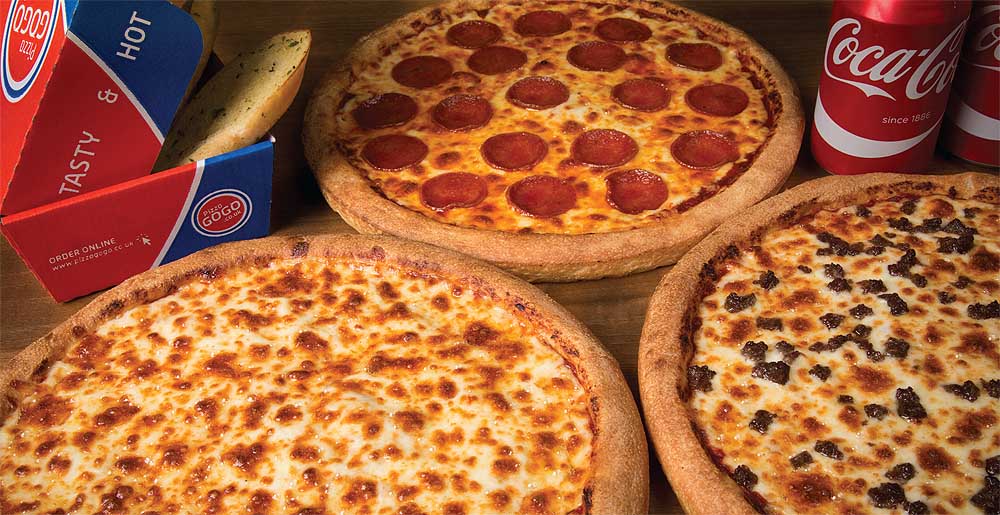 Once tried, never forgotten
High quality products, customer care, attention to detail and free delivery services. Those are the characteristics that have helped Pizza GoGo realise its goal of becoming one of the UK's leading takeaway businesses
Using data compiled by The Centre for Economics and Business Research, the Takeaway Economy Report, released in July 2017, made for incredible reading for the food industry. Within its pages
the report predicts that total spending on takeaways in the UK, which already accounts for 12.1 per cent of our total spending on food, will grow 13 per cent over the next five years, reaching £11.2 billion. In such a buoyant market, it is no wonder that the number of takeaway outlets has increased rapidly, growing by ten per cent since 2013 alone.
What this has created in turn, however, is a densely populated and hugely competitive field of rival businesses competing for our attention and our custom. This has made it imperative that brands find a way to stand out from the crowd if they are to succeed and thrive. If proof of this approach working were needed, look no further than Pizza GoGo.
"It was back in 1987 that my father, together with one of his business partners, started the business by opening its first branch on Tottenham High Road," begins Pizza GoGo's Managing Director, Fouad Haghighat. The demand for takeaway food at the time was already in the ascendancy, thus Fouad's father recognised the important of establishing unique selling points for the brand, and the result was two-fold. "Firstly, it was decided that in order to ensure only the highest quality products were served every time that we would make our dough fresh everyday on the premises, and secondly that we would become the first takeaway company to introduce free delivery."
These were initiatives that were virtually unheard of at the time and immediately attracted huge interest from customers, and the resulting demand provided the platform for the business to expand, attracting investment and interest from prospective franchisees, which led to the opening of further Pizza GoGo branches in the surrounding area of London. "In the early years of the business, the growth strategy was very much linked to the supply chain, which centred on our distribution centre at the time in Tottenham," Fouad explains. "As we grew we were able to move into a larger warehouse and distribution centre, and purchase larger trucks, which allowed us to expand further afield and out into other towns and cities in the south of England."
Today, Pizza GoGo operates from more than 100 branches, reaching out from London to locations such as Southampton, Cardiff, Leicester, Ramsgate and Norwich. In that time, its menus have expanded also, with various pizza-based creations being joined by a range of sides and salads, desserts and even a range of pastas.
The rapid growth of the Pizza GoGo name can also, in part, be accredited to the business' management being willing to embrace innovation and technology, something that Fouad can be very proud to have been a part of. His open-mindedness no doubt played a huge part in Pizza GoGo becoming one of the first chains to partner with Just Eat during the company's infancy. "When I joined Pizza GoGo in 2003, the concept of online orders was starting to pick up steam, however we did not even have a website at that time," Fouad reveals. "Having introduced a simple website design, it was almost out of coincidence that I came to meet with the then CEO of Just Eat when he was visiting chains trying to get them to sign up to the technology. Sitting with him and going through the system it was clear to me how good this system could be for us, and after inviting him for talks at our offices a deal was struck that remains in place to this day."
New technologies
An element of said deal was the creation of a white label website that uses the Just Eat system for orders to be placed by customers, before being directed to the relevant Pizza GoGo branch to prepare and send out. "We went from a system that sent orders as a fax to each store to the point where we decided, in 2014, to make a £500,000 investment in the business where every store
received brand new computers and Epos systems," Fouad continues. "We also spent a lot of time introducing our franchisees to these new systems and technologies, helping them to grow with us as a brand, which has been a very satisfying thing to witness."
Healthy options
A positive by-product of the advancement in technology is that Pizza GoGo's management and franchisees now have access to data that helps them to accurately track the tastes of their customers. "By having a centralised system, when we launch a new product or special offer we can see exactly whether it is working and where the demand is coming from geographically," Fouad enthuses. "This is invaluable information to have, and it really does help to drive us forward in the right direction."
One of the trends this data will have highlighted in recent times is consumers increasing preference for healthy and vegetarian options. It was this that triggered Pizza GoGo's decision to create a meat-free pizza alternative for its customers in 2014, which it did in connection with Quorn. The introduction of the Quorn pizza helped attract a good degree of interest in the brand and helped earn a great deal of respect within the vegetarian community for recognising their dietary requirements. Such was its success that, at the time of writing, the Quorn pizza was mere weeks away from a return to the Pizza GoGo menu and will soon be joined by another first, a unique wholemeal pizza base that the company also expects to be well received.
Repeat custom
Having spread its wings across the south of England, Pizza GoGo's attention has now turned to towns and cities in the Midlands and beyond. "We have successfully opened a new distribution centre in Birmingham, together with two stores that are now operational and a further two due to open shortly," Fouad says. "We have already been approached by a number of prospective franchisees and by tapping into their local knowledge we plan to rapidly grow across the region, with a planned target of opening a further 100 stores in five years. From there we will look to push on north, with our ultimate plan being to become a nationwide presence, as well as cracking the Scottish market, where we already have seen a great deal of interest since our appearance on the television show Undercover Boss in 2012."
Pizza GoGo has built its entire ethos on providing a quality product at a fair price, and it is this way of doing things that the company is committed to maintaining as it expands. "Since the very first Pizza GoGo store opened our customers quickly came to recognise the difference you get from our products and it is this that brings them back to us time and time again. It's because of this that we believe that as we grow, more and more people will come to agree that with Pizza GoGo, it is truly a case of once tried, never forgotten," Fouad concludes.