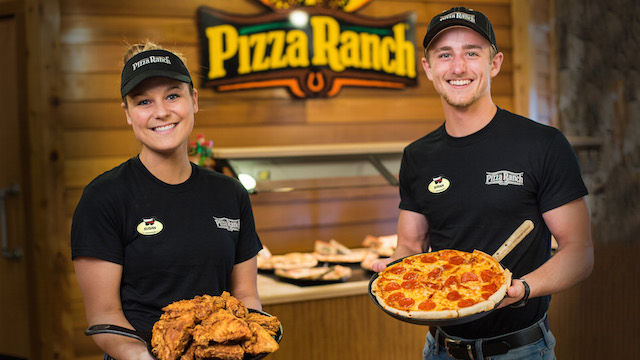 Pizza Ranch's food, service and community commitment are helping it reach a major milestone this year.
Before the year 1981, if you lived in the town of Hull, Iowa, and wanted a pizza, you had to drive out of town. In December of that year, Hull native Adrie Groeneweg, then 19, ended the town's hometown pizza drought when he opened the first Pizza Ranch location.
Shortly after its opening, the people of Hull flocked to the restaurant to try one of its six specialty and single-topping pizzas. The pizzas – based on recipes developed by Groeneweg's mother Lorraine – were made of from-scratch sauce and dough and other fresh ingredients.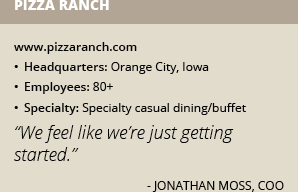 Pizza Ranch's namesake offering quickly proved to be so popular that, two years later, a second location in Orange City, Iowa, opened. That location introduced a feature that the burgeoning franchise would soon become known for: a buffet.
Today, as it prepares to celebrate its 35th anniversary, Pizza Ranch continues to be a popular community destination. The franchise has more than 195 locations in 13 states including Iowa, Minnesota, South Dakota, North Dakota, Wisconsin, Michigan, Nebraska, Illinois, Kansas, Missouri, Montana, Wyoming and Colorado.
'Craveable Food'
All Pizza Ranch locations strive to carry out the company's mission statement: to "give every guest a legendary experience." For the company, meeting this mission involves a number of things.
"We've taken time to understand what our guests desire and why they choose Pizza Ranch," COO Jonathan Moss says. "We believe our greatest strengths are our craveable food, legendary people and service from the heart, as well as the great value and comfortable environment we offer."
One of Pizza Ranch's main service offerings is its Buffet Your Way® concept. "We want to know what our guests want in the buffet," Moss says. "When they come in, we ask if there is anything special in a pizza that they want in the buffet.
"We will make that pizza, then deliver the first few slices to their table before putting the rest in the buffet," he adds. "Giving guests the pizza they crave hot and fresh shows them how much we want to give them a legendary experience."
Pizza isn't the chain's sole calling card. "Our guests tell us they love our crispy ranch chicken, which we think can stand up against any chicken brand out there," Moss says. "Our marriage of having great pizza and phenomenal chicken is a real delight for our guests."
In addition to pizza and chicken, the restaurants' buffets are stocked with flavorful family favorites. "We have what we call a focused buffet. We're not trying to be everything to everybody – everything out there has to be fully craveable," he adds. "For us, that means we want to give our guests food they remember, that they can't wait to have again and that they tell others about."
Added Efficiency
Pizza Ranch will soon offer a brand-new environment for guests to enjoy its food in. In June, the company introduced its franchisees to a prototype restaurant concept Moss says serves a dual purpose: to give guests a better experience and service while lowering the cost of entry for franchisees.
The new restaurants will be 1,000 square feet smaller than existing locations, with most of the space reduction taking place at the back of the house. The company will introduce new technology such as a new pressure fryer, as well as a kitchen display system that will track and automate orders. These additions, which were suggested by a productivity consultant, will allow Pizza Ranch locations to run more efficiently while expediting customer orders, Moss says.
Other key features of the redesign include different types of seating options, which will allow locations to better accommodate different-sized groups of customers; a single-sided buffet, which can be more efficiently stocked from the kitchen; and a Buffet Your Way® pick-up area, from which customers can pick up their requested pizzas. Guests will be given buzzers, which will notify them when orders are ready. "With this, we will be able to get requests to them even faster," Moss says.
The first new prototype restaurant will soon begin construction. Other new developments expected to roll out before the end of the year include flavor improvements to Pizza Ranch's crust and sauces and a new smartphone app. The app will enhance Pizza Ranch's Ranch Rewards program, which has more than a half million members, as well as offer online ordering.
Community Engagement
Pizza Ranch's value to the communities it serves goes far beyond its food. The company engages in several activities inspired by its vision statement: "to glorify God by positively impacting the world."
Each location hosts what the company refers to as Community Impact fundraising nights once to twice a week, during which roughly 5 to 10 percent of gross sales are donated to a community organization such as a church, school or person in need.
"Community engagement is a big part of how we live out our vision and mission, and our Community Impact events are one of the clearest examples of that," Moss says. "These events are the heart and soul of the Pizza Ranch brand."
The events are hosted by members of the beneficiary organization, who spread the word about the event as well as greet guests, bus tables and serve a dessert pizza. "It is not unusual for us to have these events booked solid six months in advance; everyone wants to be a part of it," Moss says. "These nights drive a lot of traffic in, as well as give us a tangible way to give back to the people in our communities."
The company's charitable nature also reaches far beyond its communities to Ethiopia, from where it has sourced its coffee for the past three years. The company "taxes" itself 50 cents per pound of coffee it purchases, which it then uses to help offset the costs of two schools in the African country.
Looking Forward
Groeneweg and his family remain heavily involved in the franchise organization, which owns seven Pizza Ranch locations. "He's in the office every day; having his presence and vision is one of the big pluses of our concept," Moss says. "Being a family owned franchise business allows us to do the right thing for our guests and franchisees."
The company, which typically opens 10 restaurants annually, intends to open its 200th location before its official anniversary date Dec. 21.
"We like to say that we will be 35 years young – we feel like we're just getting started," Moss says. "An exciting future is ahead for us. We have had great growth both from existing franchisees expanding their locations and new franchisees wanting to come on board.
"We're looking forward to delivering what matters most to our guests and continuing to deliver on our mission and vision."