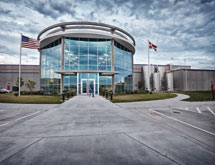 After more than 75 years, it would be easy for Plumrose USA to take a break from advancing its operations. But the premium meats company has no intention of letting its quality lapse, CEO David Schanzer says.
"We are the leading producer of private-branded sliced lunch meats in the country," he says. "We value our customers' brands as much as we value our own. You won't find that [commitment] anywhere else."
Based in Downers Grove, Ill., Plumrose's product line includes bacon, packaged deli meats, cooked ribs and canned hams. The company is a subsidiary of Danish Crown, a Denmark-based international food producer.
"Danish Crown is a cooperative of over 10,000 pig farmers," Schanzer says, noting that Plumrose has changed hands of ownership throughout its history. "We've been in this [incarnation] for the past 18 years."
Plumrose's clients include prominent retailers such as Walmart, Kroger and Safeway. "For the most part, [we provide] private-label and branded products," he says, noting that 90 percent of the company's business is for the retail market.
Working Fast
Plumrose recently invested more than $80 million in a new, state-of-the-art facility that will help maintain its status as a leader, Schanzer says. Located in Council Bluffs, Iowa, the facility spans 125,000 square feet.
Plumrose conceived the idea of the facility three years ago and started construction in December 2012. "We were literally up and running in less than a year," Schanzer says, noting that ONEsource Facility Solutions helped with the design and production of the facility. "It's one of the fastest and most efficient start-ups anyone has ever seen."
But this did not mean the facility was perfect. "We're making improvements every week," Schanzer admits. "It's coming along very well." Some of the improvements have included training for the use of new technology and equipment, and improved scheduling.
Plumrose had needed the new facility for a very long time, he adds. "We were working seven days a week in our other facilities," Schanzer recalls, noting that Plumrose has four other manufacturing facilities. "It was the right thing to do to keep [our] growth going."
Plumrose's new building significantly removes "the human element" from much of its operations, Schanzer says. "It's a very automated facility," he says, noting that this was done for worker safety and improved performance.
It features auto peelers, loaders, slicers and robotics "that put the products into the packages," he says. "It's not touched by human hands until the consumer takes it out of the package."
The facility is also LEED certified, with efficiency devices that allow it to use 50 percent less water and 40 percent less electricity than Plumrose's other locations. Additionally, "The discharge out of the facility is miniscule versus any other facility of this size," he says.
Delivering Quality
Plumrose's success is largely due to its quality products, which are produced with "old world" recipes and leading-edge technology. Its parent's methods include curing Plumrose's hams for 48 hours, versus competitors which typically cure for 10 to 15 hours. "Slow curing improves the appearance and taste of the sliced ham," Schanzer says.
Plumrose also makes bacon "the old fashioned way," with hardwood smoked processes and an old-fashioned brown sugar cure, Schanzer says. "Whether it's hickory smoked or apple wood smoked, they all deliver on taste," he says.
On each of its packages, Plumrose includes an 800-number for customers to call and make comments. Usually, "We get more compliments than complaints," he says.
Avenues of Success
A longtime veteran of the food industry, Schanzer's previous experience includes Kraft Foods, Global Fresh Goods, ConAgra Foods Inc. and Fresh Express. He joined Plumrose in 2009.
He praises the company's management team, including COO Mike Rozzano, CFO Terry Woods, SVP of Sales Dave Forte and Senior Vice President Dave Jones. "I worked with [Woods] back at ConAgra," Schanzer says. "He has really done a good job putting disciplined procedures in place."
Schanzer also praises the work of its supplier, Friesen's Inc., which serves the food processing, packaging and manufacturing industries. "They make excellent equipment and provide very good customer service," he says. "[Friesen's is] one of the top vendors we deal with."
Plumrose has enjoyed organic growth recently. "That will continue to occur," he says, noting that it is also looking at acquiring other firms, if they fit well. However, "Organic growth is most likely our best avenue for success," he says, explaining that it involves investing in people and in the best equipment to deliver the best products. "That's critical for us to be successful."