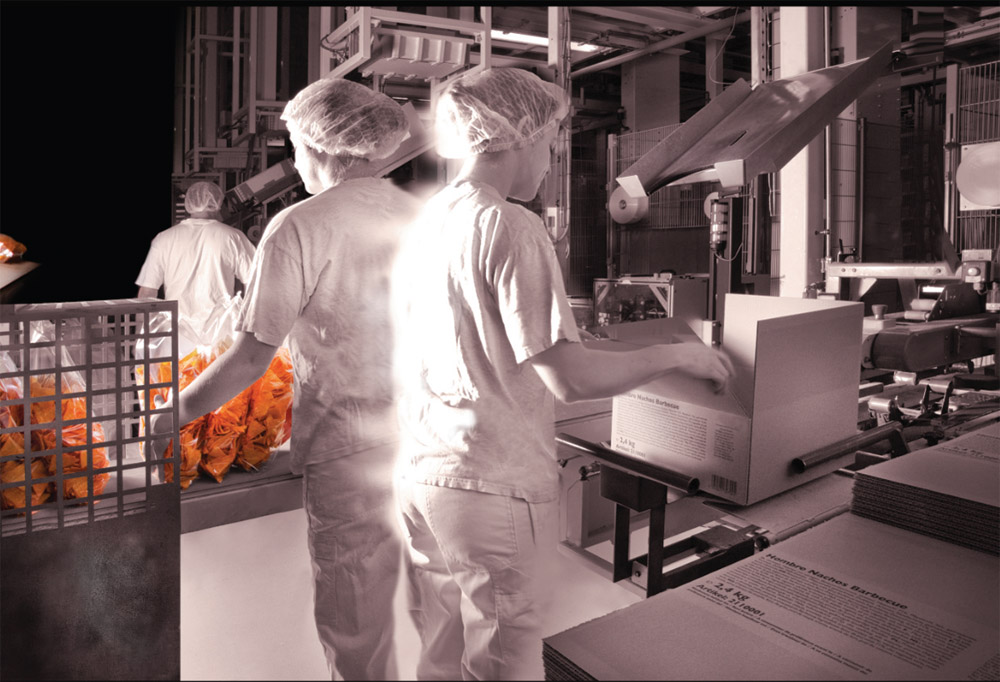 Wraps, dips & chips
By keeping an eye on the market, Poco Loco has established itself as a leading European producer of Mexican-style snack foods
Poco Loco is a Belgian manufacturer of Mexican-style snack foods, working primarily as a private label supplier. "The company was founded in 1995 by two entrepreneurs, Gerard de Brabandere and Patrick Maselis, as a private label corn and tortilla chip manufacturer," introduces Peter Denolf, managing director. "In 1998, further production lines for wheat tortillas were added. Today there has been a focus on production, investing in cutting edge facilities that has led to us becoming one of Europe's leading producers of tortilla chips, wraps and kits."


Poco Loco's product portfolio today includes: tortilla chips of assorted flavours, including a range of organic tortillas, made from organically grown corn; flour and multigrain tortilla wraps; dips including salsa, guacamole, con queso and sour cream; and fajita, burrito and taco dinner kits that contain various combinations of the aforementioned items. In addition to selling these under its own Poco Loco label, clients including notable names such as McDonald's purchase the company's products for their own purposes. Whilst it's primary markets are France, Germany, Benelux and the UK, in total it has customers in 55 countries across four continents.
European retailers
"We work with the business-to-business, the food service sector as well as with retailers," Peter says. "In terms of food service, we work mostly with wholesalers in various countries; on the retail side, Poco Loco is in partnership with a majority of all retailers in Europe and particularly the discounters such as German chains Aldi and Lidl. We are well known to chain retailers on mainland Europe and across the continent in general."
There are several key reasons for Poco Loco's widespread success as a company, perhaps the most important of which is the time and effort the company spends working with its customers. A dedicated commercial department is in close contact with the customers whilst also observing international markets trends to understand what steps the company needs to take next. Clients often bring their own propositions to meetings from which Poco Loco will identify new solutions – for example in kit products that recently have become increasingly popular, with new expectations being placed upon them.
European retailers
Another key factor is the use of state-of-the-art technology throughout its production facilities. Since the foundation of Poco Loco in 1995, the company has believed it important to maintain investment in the latest production technology available. Part of its ongoing production focus, brand new machines have benefitted manufacture by lowering overall costs whilst at the same time keeping quality and hygiene levels at their highest.
The third important reason for Poco Loco's success is that it is part of the Santa Maria group, a specialist food company that supplies retailers throughout Europe under both its Santa Maria brand as well as the name Discovery in the UK. Santa Maria is itself part of the larger Paulig Group, a Finnish enterprise invested in coffee, spices and exotic food experiences.
Fit for the fight
Peter is more acute in his analysis of Poco Loco's success: "Just like any market, if you are awake, close to your suppliers and 'fit for the fight' then there are always opportunities in the food industry but they won't come to you. We have a good commercial team that is deeply embedded in the market, making sure that we find and the secure those opportunities. We also create some opportunities internally, taking a pro-active approach by presenting new innovations to our customers, but you still have to be very much awake to what the market at large is doing."
Excellent market results
This keen awareness of the market has led Poco Loco to excellent market results, with the company seeing nearly a 25 per cent year on year growth for the last ten years. Annually it produces 45,000 tonnes of tortilla wraps alone across 11 production lines, bringing in 40 per cent of its turnover. The wide range of tortillas chips and dips accounts for the other 60 per cent. "Tortilla flour wraps were initially a Mexican speciality but have become a lot more mainstream in the last few years as a commodity to replace bread, and this has brought challenges," says Peter. "It puts a lot of pressure on us to be creative with our products and marketing, and to find other avenues of business to ensure we have sustainable, profitable growth. Tortilla chips don't have a lot of growth unfortunately, but there are opportunities to increase market share through innovation and creative thinking so that's what we will continue doing."
Solid background
Peter is incredibly new to his position as managing director, brought in to improve Poco Loco's already respectable results, and he is confident in both his own skills and the future of the company: "We have a very solid background as a company, currently employing about 400 people with a turnover of 170 million euros per year but we want to increase those figures, especially turnover and profitability. To do this we must remain a leading producer of tortilla wraps and chips, kits and dips, and grow into one or two new categories of products. That way we can stay the market leader."