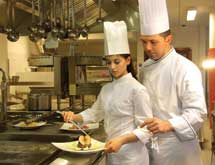 With a philosophy to develop "long-term partnering relationships with our customers," Pocono Produce Co. (PPC) strives to deliver products that are of the highest quality and provide the best value. By adhering to this mission for more than 70 years, the company says it has become one of the top-50 broadline distribution operations in the United States.
"Servicing foodservice customers of all types, our family company employs 200 associates, all dedicated to the company's founding principle 'that integrity is the foundation of our business with excellent service and consistent quality as our cornerstones,'" PPC says. "Through the years, we have demonstrated innovation and pride in our business while looking forward to the possibilities that lie ahead."
Jim Driebe founded PPC in 1940 as a wholesale fresh fruit and produce house. Five years later, Ed Driebe purchased PPC from his brother, and in 1955, he added frozen foods to the company's offering. Since then, the company has expanded to also offer groceries, paper and janitorial supplies, fresh seafood and meats, specialty cheeses, milk and ice cream.
Its operation has grown, as well – PPC started by serving customers local to its northwestern Pennsylvania location. Now, from its base in Stroudsburg, Pa., the company serves customers throughout Pennsylvania and in New York, New Jersey, Maryland and Delaware. Additionally, in 1940 it occupied a small space in the rear of an icehouse. PPC now has two locations on 54 acres, with more than 2.5 million cubic feet of refrigerated and frozen capacity, and more than 140,000 square feet of total space.
"Independently inspected annually to assure that all safety, sanitation, temperatures, procedures and processes are maintained to the highest standards, we provide our customers with the highest degree of confidence that the product they are receiving has been properly handled at every critical stage of shipping, storage and delivery," PPC says.
Technology Advances
Ensuring quality and safety in its products is key to PPC reaching its goal of being "the best foodservice distributor in the Northeast United States," but the company also enhances the rest of its operation with advanced technology.
PPC's account representatives have been equipped with laptop computers since 1991, the company says, and customers can use its online ordering systems for a number of functions, such as placing orders, monitoring inventory and costing menus. Its fleet of more than 50 refrigerated vehicles, PPC says, enables it to "achieve a dependable delivery service record without parallel in our industry."
The company uses a computerized routing system and a GPS tracking system to effectively route its trucks and maintain real-time communication with its drivers. Software alerts PPC of a delayed truck, allowing it to notify customers of potential delivery issues. Additionally, a computerized temperature monitoring system tracks the internal temperature of its trucks, helping it to ensure product integrity.
Expert Services
Working to help its customers' businesses succeed, PPC has equipped its operations with vast resources and expertise. Each year since 1997, PPC's operations have received a "superior" rating in food safety and sanitation from the American Sanitation Institute, and its operations have been HACCP certified since 1999. Additionally, PPC notes that the expertise of its employees enhances the value of its total offering.
For example, most members of its sales force are certified foodservice professionals. PPC's staff also includes:
Certified Executive Chef – With PPC since 2000, Chef Doug Petruzzi has many years of experience in the hotel and restaurant industry. He also is a certified instructor of ServSafe courses.
Certified Specialist of Wine – With knowledge in viticulture, grape varieties, wine production, wine regions and proper storage and service, Greg Hnat helps customers with staff training and wine menu development.
District sales representatives (DSR) – PPC's DSRs are all ServSafe certified to understand proper food storage and handling, cross-contamination of food and sanitizing techniques.
"Pocono Produce prides itself on our state-of-the-art culinary services department while continually providing quality and support that is unparalleled in our industry," Petruzzi said in a statement. "We take the time to understand the needs of our customers and treat them with personal, individualized service and attention to detail.
"We offer complimentary product demos and menu planning services, as well as ServSafe certification and other training courses and seminars. At Pocono Produce, our kitchen brings something new and exciting to the table each and every day. We test every ingredient we sell to ensure that we are delivering only the freshest products. After all, fresh products and fresh ideas are two of the things that our customers have come to count on from us."