Pocono ProFoods strives to be the independent food distributor of choice along the East Coast by staying on culinary trend and implementing new services.
Marking its 76th year as a family owned broadline foodservice distributor, Pocono ProFoods attributes its success to staying true to its founding principles while looking to the future and driving the evolution of the company. "We have grown steadily over the past 76 years," owner Terry Snyder says. "Staying family owned is very important because it indicates a great deal of stability on our end to our customers, our associates and the industry."
Edward Driebe and his wife, Mary, moved to Stroudsburg, Pa., from Scranton, Pa., in the 1940s to operate what was then called the Park Market. Driebe's brother, Jim, started Pocono Produce Company, a fresh wholesale fruit and produce house, which Driebe purchased five years later. The company supplied fruit and produce to resorts in the Pocono Mountain area of northeastern Pennsylvania.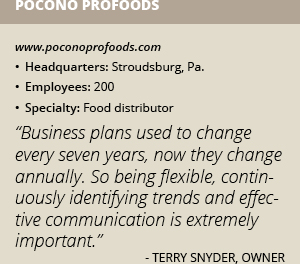 In the 1950s, Driebe added frozen foods to Pocono Produce's already established fresh line. This brought new opportunities, and the company expanded its delivery area to Allentown, Bethlehem and, Easton in Pennsylvania and into northern New Jersey. In addition to its resort partnerships, the company began offering frozen foods to schools and healthcare facilities. Pocono Produce added groceries in 1964 by acquiring a canned and dry foods distributor and two years later joined Atlanta-based Frosty Acres, a nationwide cooperative of independent foodservice distributors.
Paper products and janitorial supplies were added in 1976, turning Pocono Produce into a full-service distributor. Today, the second and third generation is at the helm and in 2013 rebranded the company as Pocono ProFoods to reinforce its position as a premier full-line food distribution company. The company continues to grow, servicing customers throughout 14 states in New England and the Mid-Atlantic.
"We are very proud that we have been able to maintain the same family run business, now run by the second and third generations, for 76 years," Director of Business Development Drew Snyder says. "Being a family run distributor isn't the most common thing to come across today and especially in this global economy. We still operate by the same principles the company was founded on, continue to be successful, continue to modernize and evolve into what we need to be."
Staying Relevant
Pocono ProFoods focuses on what is important to its customers and stays ahead of the trends by attending culinary and industry events, and interacting with its clients. "We have long-term customers who have partnered with us for more than 50 years and those relationships are incredibly important to us," Drew Snyder says. "We also stay on trend and current with our food offerings to attract new restaurants and potential partners that are opening."
The company maintains these relationships through a concerted effort to be a culinary-driven company especially as demand for new products, trends and ideas changes constantly. "The ability to communicate has improved, which allows us to change directions quickly," Terry Snyder says. "That's been driven by the need to be flexible and stay current, trying to look ahead and be forward-thinking. Business plans used to change every seven years, now they change annually. So being flexible, continuously identifying trends and effective communication is extremely important."
Opening a new facility in Philadelphia is one of the ways Pocono ProFoods continues to meet its customers' needs. The location allows the company more cooler and storage space, as well as increased flexibility to serve the area. "Out of our facilities we are delivering to customers in 14 states, reaching customers from Maine to Virginia and Ohio to West Virginia," Drew Snyder says.
Although that footprint is not new for Pocono ProFoods, Drew Snyder says it is continually evolving and the Philadelphia facility will allow it to expand with the help of additional satellite facilities. "We are constantly looking to saturate that market and add more customers," he adds. "That's always an evolving picture."
The company also opened The Market at its headquarters, a wholesale retail market offering an added resource where customers can come in and purchase its products. The Market offers gourmet cheeses, high-quality shrimp and crab, hors d'oeuvres, food-related party supplies and more. "The Market allows us to provide smaller-quantity items to our local customers and local community," Terry Snyder says.
Pocono ProFoods also stays on trend by adding more local and sustainable products to its inventory. This is especially important in the produce and fresh categories. Pocono ProFoods is a member of Pro*Act LLC, a national network of local fresh and produce distributors. As part of this organization, Pocono ProFoods is able to offer its customers a local and sustainable produce program called Greener Fields Together, which provides their customers large and small access to responsibly farmed local produce.
As another example, the company also partners with Fossil Farms in Boonton Township, N.J., for all-natural and farm-raised game meats. "They supply anything from traditional organic burgers to bison, elk, caribou and some other funky cuts of meat that customers are asking for," Drew Snyder says. "The animals are raised responsibly and that's key thing in the market today. It's important to our customers and it's important to us to be stewards of the environment."
Improved Service
Timely and accurate delivery is the backbone of Pocono ProFoods. A tracking portal on the company's website offers customers real-time delivery information. "We like to be an open book," Drew Snyder says. "Things happen on the road and this way customers know when they are getting their delivery. It allows them the ability to plan accordingly for when the truck will arrive."
Two years ago the company added same-day delivery, which has met customers' demands and set it apart in the industry. Customers must place their order by 11 a.m. and be within a 40-mile radius of Pocono ProFoods to receive this service.
Pocono ProFoods added voice-activated pick-and-pack technology to its distribution center about a year-and-a-half ago to increase efficiency, accuracy and allow for faster picking. The system is not language-specific so employees can choose their primary language, which allows for greater flexibility in hiring. "It has definitely improved the product selection accuracy," Snyder says.
Moving forward, Pocono ProFoods has set its sights on being the independent distributor of choice from Maine to Virginia. "We are a phenomenal option for independent and multi-unit chains," Snyder says. "We want to be the option to the big-box distributors and we feel we have excellent service capabilities. We offer a family atmosphere and a personal touch that sets us apart."