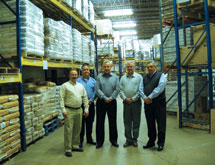 Some companies like to find cheaper ways to get jobs done, but Pohl Food Service Inc. is not interested in shortcuts, President, CEO and co-owner Paul Bratland says. "Our customers know what [level of quality] they're going to be delivered," he says.
Pohl Food Service makes sure it provides high-quality products to its clients and not cheaper substitutes. When a company goes the easier route, "Your quality goes down and your business goes down," he explains.
Based in Minneapolis, Pohl Food Service provides restaurants in Minnesota and Wisconsin with tomato products, cheeses, pizza boxes and toppings, flour and dough, and produce. "By specializing, we offer more options to the specialty restaurant," Bratland says.
His father-in-law, Jim Palewicz, founded Pohl Food Service in 1977. Previously, Palewicz held positions at Kraft Foods and Old Home Dairy, where he had gained experience with cheese products for foodservice. "That's what got us into pizza, Italian, Mexican and Greek products," Bratland says.
When Palewicz retired in 1994, Bratland took over Pohl Food Service. At that time, Bruce Cronk became a partner. He is involved with the company's sales and office staff, and has been with the company since 1988.
Pizza products account for more than 70 percent of the company's business, but that was not always the case. "Back in the early '90s, we were almost split right down the middle with pizza and Mexican," Bratland says. "Italian foods have really grown."
He adds that the company's focus on quality is reflected in its own cheese brand, Retaggio. "Our tag line on our brand is, 'Quality is our heritage,'" Bratland says. "That's really what it is [all about] – we sell quality."
A Positive Environment
After finishing school at the University of Minnesota, Bratland worked for the Minneapolis Parks System, where he worked in the management program. However, he became dissatisfied with the job. "I was looking for other options," he recalls.
He joined Pohl Food Service in 1985, which started his education in the food industry. "I've been here 27 years," he says, noting that the firm enjoys longevity among other employees, too.
This loyalty is largely due to the way Pohl Food Service treats its workers, Bratland says. "We have a positive working environment," he stresses. "We feel treating our employees with respect is the preferred way. We act as one here at Pohl!"
Bratland says he strives to lead Pohl Food Service with common sense. "I think I speak for everybody here when I say that nobody dreads coming to work," he states. "[This approach] has worked for me."
Bratland also praises his employees, including Cronk. "He is a really hard worker [and] a good, honest guy with a lot of background [here]," Bratland says.
Another important team member is Paul Lockhart, who has been with the company 12 years and oversees its human resources and IT departments. "He does a wonderful job for me," Bratland says. "He is [also] involved in sales and marketing."
Strong Survivor
Pohl Food Service survived the recession thanks to its lean operation, Bratland says. "We really bucked up," he says. "We made it through what the media says was the worst recession in 100 years.
"We cut spending, and lived within our means," he explains. "Yes, it would have been nice to expand and have everything we need, but those things will happen in time. We currently need more operating space on all fronts."
Additionally, the company has avoided the trap of consolidation, unlike many of Pohl Food Service's competitors. "You've got the big guys all getting bigger, [while] the small guys are getting devoured," Bratland says.
"It's not the way the world was 25 years ago," he explains. "This market [had] 30 different companies."
Bratland also admits that Pohl Food Service's market has become more competitive with fewer players. However, Bratland is looking forward to an eventual upswing. "We're the next phase," he predicts.
"We're naturally the guys that are going to grow and hit the next plateau," Bratland says. "Not everybody likes the big guys."
For example, "There is a huge perk that you get when you do business with companies of a certain size," he states. "You get answers, not voice mails!"
A Good Foundation
Pohl Food Service plans for continued success, Bratland says. "If we keep growing at the rate we're growing, I see a great future for the next generation that's going to come in here," he says.
"There's a good foundation here for when that next generation [takes over]," he says. "Going forward, I think [that] will not change."¬
Bratland also adds that Pohl Food Service will maintain its dedication to both service and its relationships with its customers. "The customer is not a number," Bratland asserts. "They're treated like [people here]. That has a lot to do with why we're successful."