Polar Leasing's geographic footprint and emphasis on service make it the leading freezer and refrigerator rental provider.
Polar Leasing prides itself on the availability and simplicity of its products and services. "When someone has a need in any market, we want to be available to meet that need," says Rob Henry, marketing director for the Fort Wayne, Ind.-based company.
The company rents walk-in freezers and walk-in refrigerators to restaurants and foodservice providers, as well as customers in other industries. All of the units rented from the company are pre-wired and pre-assembled and delivered to their destinations by a standard roll-back tow truck.
"We are very easy to do business with," Henry says. "Each of our units are ground-resting and electric-powered. A roll-back tow truck rolls them into place; our clients connect them to their electrical source and within an hour, they are in business."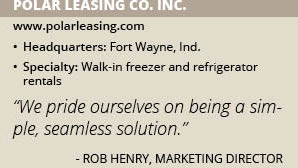 Each unit offered by the company is sanitized prior to delivery. Polar Leasing uses an antimicrobial gel-coat in the units' interior that is proven to prevent and inhibit the growth of microorganisms, the company says.
A Deep Footprint
Polar Leasing's freezer and refrigerator units are available in two sizes: 8-foot by 10-foot and 8-foot by 20-foot. However, select markets have other sizes readily available as well. Restaurants and foodservice companies use the units for a variety of reasons including events, catering, emergency situations and temporary food storage during kitchen remodels and repairs.
"If the client needs more capacity for events, seasonal needs, grand openings, remodels or emergencies, they call us," Henry says. "If our customers need to extend their rental period because a project goes longer than anticipated, that isn't a problem for us."
Polar Leasing offers roughly 1,000 units available for rental at more than 100 depots across the United States and Canada. The company manufactures its units in Fort Wayne, Ind., and ships them to depots, which are independently owned and operated.
"We offer the largest electric freezer and refrigeration fleet in North America," the company says. "As a service-oriented company, the goal of Polar Leasing sales representatives is to educate our customers about our products as well as provide them with the best solutions for their temporary refrigeration and freezer needs."
Future Growth
The company was founded in 1995 as an outgrowth of Polar King International, an outdoor, fiberglass walk-in freezer and refrigerator manufacturer. At the time, "Polar King was seeing a growing demand for walk-in rentals and wanted to expand its market," Henry says.
"Having Polar King behind us gave us a leg up on the competition when it came to our infrastructure," he adds. "Many of our competitors can't create the infrastructure we already have."
Polar Leasing is seeing a growing demand for its products, which it intends to meet by expanding the number of available units. "We continue to build new equipment, invest in onboard tracking and diagnostic technology and partner with new depots across the United States," Henry says.
Upcoming Events
Exhibiting at trade shows is a large portion of Polar Leasing's marketing and growth strategy. The company's recent show appearances included the National Restaurant Association Show in Chicago in May and the Texas Association for School Nutrition (TASN) Annual Conference in San Antonio, Texas, in June. The company will next exhibit at several industry events including:
• The American Society for Healthcare Engineering (ASHE) Annual Conference and Technical Exhibition on July 15 in Seattle, Wash., in booth 2708;
• The Texas Restaurant Association Marketplace July 15 in San Antonio, Texas, in booth 500;
• The Western Foodservice & Hospitality Expo, set for Aug. 19 in Los Angeles, Calif., in booth 1400;
• The 16th Annual Quality & Productivity Center (IQPC) Cold Chain Global Forum Sept. 24 in Philadelphia, Penn.;
• The Healthcare Facilities Symposium and Expo, Oct. 8, Austin, Texas, booth 500; and
• The IQPC Global Forum Winter Dec. 3 in California.