Poly Print's strategy to tackle waste packaging is pioneering sustainability for the food industry
THE PERFECT PACKAGE
Established in 1992 by the Genova family, Poly Print's purpose is to offer high quality flexographic printing, adhesive lamination, laser perforation, and pouches. By applying its experience, and resources, the business is proud to provide solutions within the flexible packaging market. Its core market is food packaging which extends to bottle labels, tea, coffee, pet food, salty snacks, produce, nutraceuticals, lawn and garden, and industrial sectors, among others. "We are located in Tucson, Arizona, and have significantly grown the company since our inception," begins Joe Genova, Owner and Vice President of Poly Print. "I would consider us to be a leader in the flexographic printing and flexible packaging space, with a customer base that expands across the US."
This year, the business celebrates its 30th anniversary, and we hear from Joe about how the company has revolutionized its operation over the last three decades. "Maintaining perfect supply continuity requires delicate planning, millions of pounds of inventory, capacity and more," he says. "Our passion and expertise in flexible packaging, as well as our focus on customer service, is what sets us apart from others in our industry, and we are committed to striving for excellence, respect, and integrity through our interactions with customers, employees and vendors."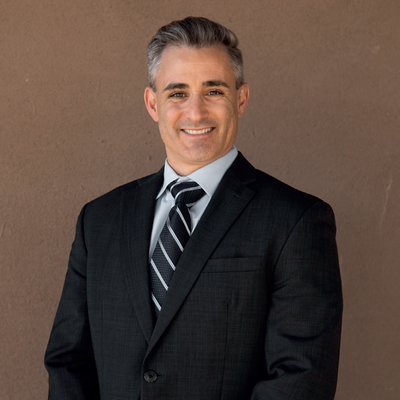 Poly Print has been SQF certified since 2014 and earned a perfect score on one of its most recent audits. In addition, it is GMI certified, maintains high print quality standards, is registered with the FDA and complies to the strictest GMP standards. Joe is proud to share that Poly Print focuses on 100 percent on-time delivery. "We understand our place in the food chain; without packaging, our customers cannot deliver product to consumers," he tells us. "We've built a custom ERP software program that is production and planning intuitive and helps us avoid mistakes along the way."
Continuing the topic of innovation strategies, the business is recognized as one of the most innovative in the food packaging industry. Poly Print is renowned for its state-of-the-art manufacturing facility, which was propelled by nearly 20 million dollars' worth of capital investment. "We have expanded our facilities and added more printing capacities, along with new packaging technologies such laser perforation and pouch converting," Joe goes on. "In addition, we now house more raw materials to meet our customers' demands quicker. Much of the investment was also channeled into technology, which allows us to solve problems in new markets, print higher resolution graphics, and puts us ahead of the latest printing and packaging trends, which range from higher print quality standards to sustainable packaging solutions."
Staying on top of the latest pre-press technologies in artwork, printing plates, anilox rollers, and film is just as important as the printing presses themselves. "It is not just the press equipment, it is the material that goes into the converting equipment as well," Joe says. "We are capable of printing high definition, 225-line process images, which is a big deal by comparison. A short time ago, printing a 133-line process image was considered the norm, setting a new bar. In addition to printing high line screens that deliver photo-like images, special effects such as registered matte and soft touch can offer a distinctive look, and feel to the package. Many of our customers love that these options highlight areas on the package they want consumers to see, and the creative visuals make the package feel timeless.
Sustainable solutions
Innovation of this level has given Poly Print some fantastic recognition and awards. Most notably, Poly Print was placed on the Inc. 5000 list of fastest growing companies in America. "It is a pretty big deal for any business to make the list, but even better is that we are the only flexo-printer and flexible packaging company to ever make that list," Joe admits. "This is a wonderful acknowledgement of the hard work that goes into the operation we're running here but also creates positive exposure for our industry."
Poly Print also received an award from Inc. Magazine for being 'Best in Business' for the Food and Beverage category. "What made this award particularly special is that it is not only based on the business' impact within its industry, but also the impact on communities and humanity as a whole," Joe comments. "We are truly an integral part of the food supply chain and considered essential. The recognition did not stop here as Poly Print was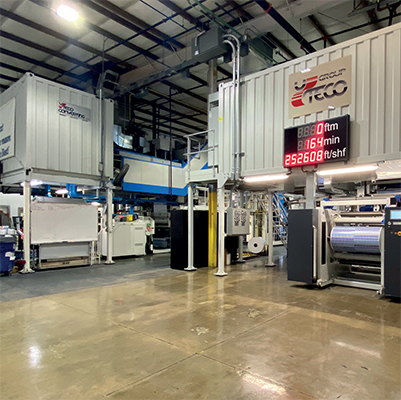 recognized by the Arizona Manufacturing Council, and the Arizona Chamber of Commerce, as 2022's 'Best Manufacturer of the Year'. Being recognized in the state we call home since 1992 is something that I am particularly proud of. I also love being an advocate for the flexographic printing and packaging industry and creating as much positive exposure as I can for it."
We then go on to discuss how the company is tackling its impact on the environment. "I can't say enough about how much focus we put on sustainability," Joe insists. "To demonstrate our commitment to the planet, Poly Print has always fostered a culture that embraces the importance of sustainability. In fact, in 2008, the company developed an environmental policy to reduce the carbon footprint of its processes, and to guide sustainable workplace practices. We also have a voluntary pollution prevention team that discusses opportunities for source reduction, sustainable product placements, and ensures compliance with environmental laws and regulations.
"We have spent millions of dollars to reduce our carbon footprint. For example, we installed an oxidizer that destroys 99.9 percent of harmful Volatile Organic Compounds (VOCs) and prevents the release into the environment," he adds. "VOCs come from the solvents in our inks, and an oxidizer captures these VOCs heats them up to extremely high temperatures, and essentially vaporizes them, preventing anything harmful from going into the atmosphere. In addition, we have installed a closed loop solvent recycler that allows us to recapture 85 percent of the solvents that are used in our process, and reuse them. Most of the materials in our process have an outlet to be recycled or reused.
"Currently, our most exciting and promising sustainable initiative is really focused on recycling the plastic waste generated in our manufacturing process," Joe reveals. "We are currently engaged with the city of Tucson and the recycling organization to test pilot a program where our waste plastic packaging undergoes a process of steam and compression, and it creates a very hard, dense block akin to a brick. They are then used to make items like benches for local parks around the town. The potential is so exciting. They can be used for so many different applications. If this is launched successfully, it will be a fantastic avenue to optimize on our plastic waste."
Moving forward, the company is determined to remain a leader in the flexo-printing and packaging industry, and is eager to stay on course with the vision it set itself back in 1992. "We do have plans in the works, continuing to expand our facilities and increase our capacity," Joe concludes. "Providing packaging solutions and being our customers' most reliable supplier is what we strive for everyday!"
www.polyprint.com