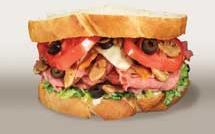 Sometimes yesterday's trend is tomorrow's mainstay market. The challenge facing businesses is how to determine which one of today's fads will pass the test of time. In managing its own restaurant brands and consulting others on key ways to grow in non-traditional areas, Pool's Restaurant Group has made it its business to discern which business trends lead to lasting growth and which lead to a dead end.
That has been the company's focus since 2002 when its founder and owner, Dan Pool, travelled the country scouting potential restaurants to franchise with.
Sub sandwiches seemed the way to go, but Pool was troubled by the lack of individuality between brands, until he found Gandolfo's Deli. His pick not only allowed him to capitalize on the quick-service restaurant (QSR) trend, which is still a strong market today, but also stand apart from other brands.
Pool not only began his own franchise, but went into partnership with its owner to expand the entire brand, launching Pool's Restaurant Group into the consulting arena.
Clients can trust the expertise of Pool's Restaurant Group because the company has tested the waters through its own brands, as well. With Gan¬dolfo's, the company developed a multi-unit operator strategy.
However, Gandolfo's isn't limited to the standalone brick and mortar shops – colleges, hospitals and airports are on its list of acceptable locations. It just inked a deal with Concessions International to open a corporate store in Atlanta's Hartsfield-Jackson Inter¬national Airport. By the end of the year 2020, there will be 520 Gandolfo's nationwide, including a new and popular trend – food trucks.
Like QSRs, Dain Pool, son of Dan Pool and vice president, explains that food trucks were spawned out of necessity. For owners, they are a lower-cost option to stationary facilities. And for consumers, "with the economy being the way it is, people are afraid to take an hour lunch anymore," Pool says. "They want to make a quick trip, get their gourmet food and go back upstairs."
Pool says It is similar to how QSRs evolved. "That market not only lasted, it's the No. 1 restaurant business around," he says.
Pool's Restaurant Group is taking its success in non-traditional models and applying it to a recently purchased brand – Petro's Chili Restaurant. The group purchased the Southeast brand in summer 2010. "We are keeping Petro's very regional," Pool says. "It's based in the Southeast in Tennessee and it has a very strong following … Our main growth is through franchising, but we are planting seeds out there through college stadiums at the University of Tennessee and other locations such as Auburn and Vanderbilt."
Using this strategy, the corporate team can test consumer response and better plan its growth strategy into other southeastern markets. By the end of 2012, the team's goal is to have 300 Petro's in the Southeast.
Pool's Restaurant Group has displayed its success in growing through a mixture of traditional and non-traditional locations within one brand. However, with its newest venture, the company is stepping off the beaten path of established restaurant evolution.
The Butcher's Son, which is a 100 percent corporate owned entity, is the first food-truck-only franchise in the nation, according to Pool. Pool and business partner Jon Wagner, part of the Johnsonville Sausage family, launched the Butcher's Son in October 2011 with a menu of gourmet sandwich creations using Johnsonville Sausages. Far from a promotional truck for Johnsonville, The Butcher's Son invents its own food items using what it finds to be the best ingredients around such as the New Frontier Slider using a Johnsonville Andouille Sausage link, naval pastrami, sautéed onions, Swiss Cheese and spicy mustard on a Brioche slider bun.
The company launched the chain in Dallas and currently has six trucks around the city. Pool explains that for the next two to three years, he and Wagner will keep to the region, but the end-goal is to have 200 trucks nationwide. The two are currently working on another food-truck chain to launch in Dallas this spring.