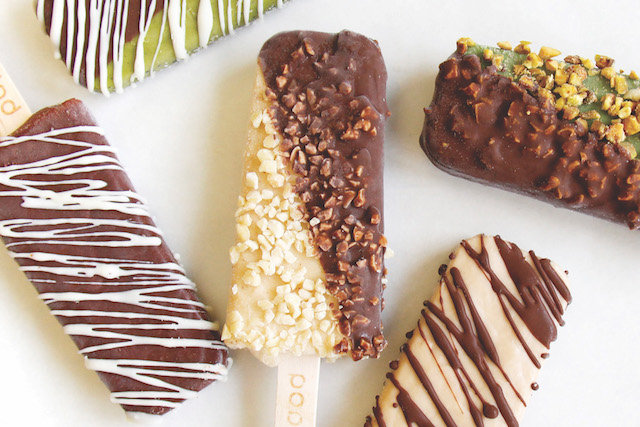 The quality of Popbar's unique gelato pops and other products distinguish it in the marketplace.
Popbar stands out from its peers in frozen treat franchising in more ways than one. First, the concept itself is unique – instead of scoops of ice cream or frozen yogurt, the franchise serves up frozen gelato pops that can be customized with various toppings and dippings.
"If you walk into one of our stores, you will see that there's a very captivating display case," Founder and President Reuben BenJehuda says. "You can choose not only your flavors, but you can create your own treats."
The freshness of the company's products also distinguish it within the frozen treat space. "In this day and age most concepts in the frozen dessert world are unfortunately made somewhere else in America then frozen, shipped and defrosted, so what the final consumer is eating is a few months or even years old," BenJehuda says. "What's unique about us is all of our locations are little mom and pop stores and we make our own pops in-house every day."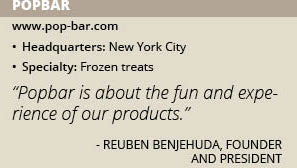 Popbar also has kosher, vegan and allergen-free options, and offers produtcts that are lower in calories than other similar desserts, giving it something to satisfy every sweet tooth. It also serves its products in distinctive trays to help them stand out.
"The biggest trend in our market is definitely having cool visuals. Offering a great tasting product is not enough; we also think our products should be Instagram-worthy," he adds. "When we're adding new products, we're trying to look at it from a visual perspective while not taking anything away from the taste."
Serving Fun Experiences
In addition to gelato, Popbar offers frozen yogurt and sorbet pops. In all, the company offers 50 flavors, including seasonal favorites such as pumpkin pie in the fall. Every franchise location has autonomy over the flavors they offer, though perennial choices such as vanilla and chocolate are kept in stock.
Popbar regularly introduces between four to eight new flavors and one to two dippings and toppings each year. Its most recent products include a "gelatoShake" – a milkshake with a gelato base that is made fresh in front of the customer instead of coming from a freezer or refrigerator. Flavors of the shake include vanilla, chocolate, strawberry, green tea coffee, and caramel vanilla. It also added a candy cane gelatoShake flavor for the holidays.
The company also has "Hot Chocolate on a Stick" – a stick with a cube of chocolate that is melted in warm or hot milk. "Popbar is about the fun and experience of our products; we try to keep our flavors as authentic as possible," BenJehuda says.
The company's vendors help it maintain freshness and quality. Popbar has worked with many of the same vendors throughout its eight-year history. "When we opened, the main rule we established for ourselves was that we want to only make and serve an all-natural product, which is very limiting. When you see chocolate sprinkles that are multi-colored, there's a 99 percent chance that they're artificial colors, because purple doesn't occur in nature," he adds. "Our chocolate sprinkles are all chocolate colored. To do that, we are pushed to have a special relationship with our vendors and do not switch vendors that much – we find the one we like based on a variety of factors and develop a long-term vision together."
A Passion for Growth
BenJehuda, who grew up in Italy, developed the concept in 2009 and opened the first Popbar location the following year in New York City. "The idea was to take a pop and put it into a new version," he says. "I grew up with gelato, so I thought we can make a gelato pop."
The concept began franchising in 2015 with a location in Anaheim, Calif. Since then, Popbar franchises have opened elsewhere in California as well as in Texas, Florida and North Carolina. Today, there are 22 Popbar locations in the United States as well as international locations. Twenty locations are scheduled to open within the next year, including five non-U.S. franchises.
BenJehuda credits the company's rapid expansion to the passion its employees have for the brand. "We like people to express what they think of the brand and don't confine them to what their particular role is," he says. "Everyone on our team is open to discuss anything Popbar related."
The company continues to seek new opportunities. "I would like Popbar to grow in a very smart way," BenJehuda adds. "You're not going to see locations every two blocks from each other, but at the same time there's definitely an appetite for this. We want to put Popbar in key locations with operators that have a passion for it."