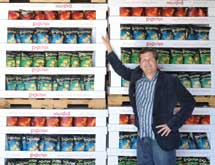 Self-proclaimed "avid snackers" Keith Belling and Pat Turpin grew tired of keeping their greasy delights out of eyesight of the health conscious types at the delis they frequented for lunch. And while the alternatives were better for them, Belling and Turpin's lofty expectations for taste were far from satisfied. "We were hiding our chips because they were downright embarrassing to be seen with," Turpin says. "As unhealthy as those were, baked chips had about as much flavor as the bag they were in."
Instead of settling for options that were lacking either nutritional value or taste, the duo set out to create a snack that would satiate the discriminating palates of their fellow snackers without expanding their waistlines.
After touring the snack aisles of countless grocery stores, a million-dollar idea "popped" into their heads. Instead of frying potato chips for the greasy aftermath or baking them into blandness, Turpin and Belling would pop potato bits to maintain the natural flavor while keeping the potato's healthy attributes.
"We had a eureka moment to pop the chip," Turpin says. "We discovered that popping kept in everything we loved about chips minus the bad stuff that gave chips a bad name."
Eighteen months later, popchips were born.
How it's Done
The process behind popchips mirrors that of popcorn. Choice potatoes are converted to nodules the size of a grain of rice or kernel of corn. Heat and pressure are applied to "pop" these nodules into chip-sized portions. The popping process creates the crispy texture of traditional chips without using the fat and oil needed for frying.
When potato is popped, there is nothing to control the shape of the resulting puff. Turpin and Belling wanted to make sure there was no question they were making chips, so they added a pressurized mechanism to keep the chip shape.
"It's a completely different category of chip," says Turpin, who has worked in the food and retailing industry for more than two decades. "We were looking for alternatives in a lot of different manufacturing processes and how one can make an all-natural chip that gives you a full-flavored experience."
Along with original, popchips flavors include barbeque, sour cream and onion, cheddar, sea salt and vinegar, and salt and pepper. Turpin says the company is set to unveil jalapeno in August and parmesan garlic nationwide in late 2011.
"If we don't think a flavor is incredible, we won't launch it," Turpin says. "It if doesn't taste great, it is not really a snack. There are several occasions where we were excited about a new flavor that was good, but not great so we didn't launch the product"
Spreading the Word
After 18 months of branding and packaging development, popchips was ready. The plan was to launch in one metropolitan area at a time with a combination of field marketing and in-store promotions. "Snackers love the taste of popchips, and then they turn over the bag and notice they have less than half the fat of a normal chip," Turpin says. "They connect first with the flavor, then they discover the health attributes."
Outside of major metropolitan areas, popchips has experienced growth in nontraditional channels like school vending machines. Popchips were in 19,000 vending machines by the end of 2010 – a 400 percent jump from 2009.
Along with these campaigns, popchips took an aggressive approach to social media. That's how TV and movie star Ashton Kutcher noticed the product and got involved.
After negotiating for a lifetime supply of popchips for his family, Kutcher signed on as "president of pop culture" for popchips, a role that has him overseeing social media for the company.
"He is one of the most influential digital marketers on the planet," Turpin says of Kutcher, who boasts more than 6.6 million followers on his personal Twitter account. "We love that Ashton is able to merge his passion for popchips with his digital media savvy."
When growing from nothing to more than $40 million in sales in just three years, there are bound to be hiccups. To better manage this growth, popchips has relied on third-party logistics (3PL) companies like Mid-America Overseas Inc. to facilitate its expansion across North America and control costs.
"Using a 3PL partner like Mid-America Overseas has been very helpful in managing growth," Turpin says.