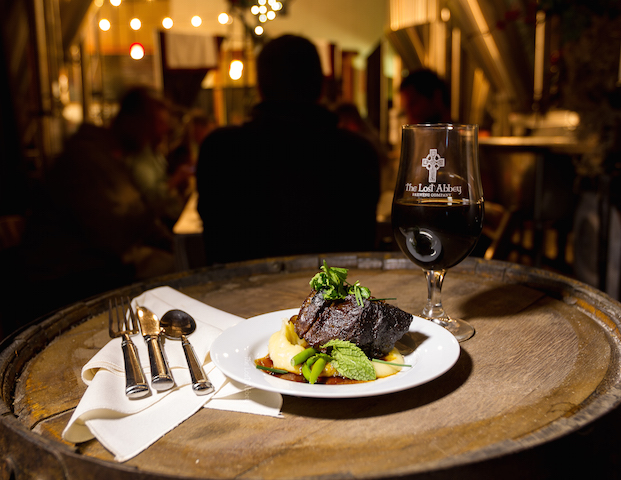 Southern California's Port Brewing continues to stand out in a crowded field of craft brewers.
In the ever-changing world of craft breweries, it can be difficult to stand out, even in one's own hometown. In San Diego County alone, home of Port Brewing/The Lost Abbey, there are more than 130 breweries.
Fortunately for Port Brewing/The Lost Abbey, it has one of the best brewers in Tomme Arthur. Arthur co-founded the brewery in 2005 with his partners, Vince and Gina Marsaglia, with one goal in mind. "We opened our doors with a strong commitment to innovation," Arthur recalls. "It was the innovation part that allowed us to build our brand equity."
This wasn't the first time Arthur had worked with the Marsaglias, who are siblings. They had hired Arthur in 1997 to brew at Pizza Port in Solana Beach, Calif. That was Arthur's first opportunity as a head brewer.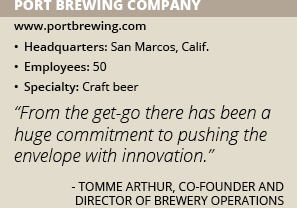 He had attended Northern Arizona University in hopes of becoming an English teacher, but during his college years discovered a passion for brewing. Once he started brewing at Pizza Port, things really took off. There, he released Dubbel Overhead Abbey Ale, which was the first Belgian-style beer ever brewed at Pizza Port.
Many other Belgian-style beers followed and Arthur gained a reputation in the industry for his interpretation of Belgian brews as well as for his artistic approach to brewing. Moreover, Arthur and Vince Marsaglia began formulating a vision to bring some of their unique beers to a broader audience, as the American craft brewery scene was really starting to flourish.
Their opportunity came in 2005 when Stone Brewing moved from its old facility, creating a space for Arthur and the Marsaglias to brew on a much larger scale. In early 2006, Arthur became head of operations at the newly formed Port Brewing Company.
"From day one, it has just been the three of us with no outside investors," Arthur explains. "This has allowed us the autonomy to pick and choose the opportunities we want to pursue."
The opportunities that Arthur is referring to are more accurately described as artistic endeavors. "From the get-go there has been a huge commitment to pushing the envelope with innovation," Arthur notes.
'Pushing the envelope' comes in several forms. The first is of course experimenting with different flavors. There are actually three brands: Port Brewing focuses on more West Coast-themed beers, while the Lost Abbey focuses on more Belgian-style ales and lagers. The third brand, The Hop Concept, launched in late 2014, is the group's foray into India pale ales (IPAs). Regardless of the brand or portfolio, the mission remains the same: to brew beers to everyone's liking in the most imaginative and flavorful ways possible.
As the popularity of craft beers has exploded, Arthur and his partners have remained true to their artisanal approach to brewing. "We had a mantra of never being in the volume-based beer business," Arthur notes. We have generally stayed away from the six-pack format. We are not found in grocery stores. We are definitely more of an independent specialist."
As Arthur and his partners have found, being an independent specialist does have some nice advantages. Whereas a lot of producers are moving away from single bottle formatting, the Port Brewing facility is uniquely positioned to excel in this area because its facility is built for it.
Barrels of Fun
One of the unique innovations that Port Brewing is known for is its use of more than 1,000 oak bourbon, brandy, sherry and wine barrels. Together, they make up one of the most extensive barrel-aging programs for a craft brewery of any size.
The concept is fairly simple. Wine contains tannin, which is a textural element that helps it taste dry. Tannin is an external element usually found in the wood in barrels.
According to Arthur, the same concept holds true for beer. "If you think about wine, spirits and beer, wine gains a softening with tannins," he explains. "The same with spirits. What we're starting to see is oak being an additive especially in former spirit barrels, which adds to the flavor of the beer."
Industry Awards
Arthur's willingness to try different methods has led to strong recognition from the craft brewing industry. Port Brewing was named 2007 Small Brewery of the Year at the Great American Beer Festival, and Arthur was recognized as Small Brewer of the Year. In 2008, Port Brewing won Champion Small Brewery and Arthur Champion Small Brewer at the World Beer Cup competition – one of the youngest breweries ever to win such honors.
For an industry that demands innovation, Arthur and his creative partners have a perfect mindset. "Consumers are demanding a high level of new batches and new experiments," he says. For Port Brewing, however, the goal remains to be more of a trendsetter, as opposed to following the crowd.
As for anyone looking to get started in this growing field, Arthur has a few words of encouragement. "I would argue that I'm mostly self-taught," Arthur says. "It's a great industry. If you want to learn, people will teach you."