In operation since 1939, Powers Distributing is dedicated to helping retail partners grow their business.
Powers Distributing knows the Innis & Gun oak-aged beer from Scotland pairs well with Haagen-Daz Dulce de Leche ice cream, and that IPAs work well with carrot cake. The company is dedicated to managing 85 brands from 54 different suppliers to serve customers in the Oakland and Macomb counties of Michigan, but its business is more than getting beer and other beverages from point A to B. Powers Distributing considers its fleet to be second to none in the beer industry, its delivery department has a combined total of 853 years in the industry and its overall knowledge of the market ensures it is able to help clients grow their business.
"The No. 1 thing we try to do is find win-win situations," COO Gary Thompson explains. "Our thought process is that if we help our customers succeed, they will pull us right along with them. If they sell more beer, we sell more beer."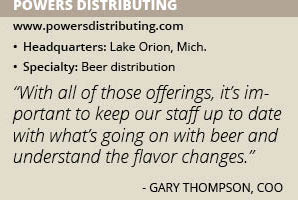 To this end, Powers Distributing focuses on education to help clients grow their business, which is why the company knows about pairing beers with desserts. The company believes that by educating its people and retailers, it can help consumers understand beer better, how beer works with their lifestyles, how it's made, where beers come from and more.
"We are professional beer consultants," Thompson says. "We send all of our sales employees to a very specific 10- to 14-week training period, depending on their background in beer. They learn how beers are made, what ingredients are used, what the different styles are and the appropriate way to serve different beers, until they understand beer backward and forward. Then, they can help our retail partners explain beer to their customers, help them make good pairings and ensure each of our partners has a good selection."
It's about ensuring partners have the selection that ensures the greatest ROI, working to help on- and off-premise clients balance what is on tap vs. what is kept in the cooler. Powers Distributing not only teaches its staff how to sell the beer, but also which beers are considered more upscale and which ones bring in the highest revenue. As a result, both the company's sales reps and its customers become more familiar with its selection and which beers lead in each style, so customers can select the beers that are best for their operations.
"The beer business is moving really rapidly and consumers are seeking variety, so we aim to capture that sense of variety and make sure it's available at retail," Thompson says. "With all of those offerings, it's important to keep our staff up to date with what's going on with beer and understand the flavor changes. A couple of years ago, flavored malt beverages and alcoholic sparkling waters took the market by storm. We are always keeping our sales reps abreast of new products, what they are made of and what portion of the market they match up well with so we can keep our focus on the retailers."
A Better Place
In business since 1939, Powers Distributing understands investing in its workforce is as important as investing in its fleet, which gets its beer where it needs to go. In 2009, Powers Distributing became the first beverage wholesaler in the country to convert 50 percent of its delivery fleet to a more fuel-efficient hybrid route tractor. The company also converted its off-premise sales team from V8 cargo vans to flex-fuel vehicles, and sales managers drive hybrids.
"We made a commitment in 2008 to make ourselves a greener organization," Thompson explains. "The first thing was to invest in a hybrid fleet. Calculations were made between us and our supplier partners to figure out how many tons of greenhouse gases we are saving, and it is significant. We also built the third-largest solar array in Michigan on top of our warehouse, and we reduced our water usage in restrooms. We recycle about 2 million pounds of material each year, including cardboard, plastics and wood. Our goal is to leave the environment in a better place than when we started."
He notes this also is an example of how Powers Distributing works to improve its community. "Our staff is really invested in this," he says. "In the last five years, we've donated more than $250,000 to charities. We also collect empties from the entire staff, and those deposits are counted by us and donated to the local fire department and other first responders. We probably give $500 to $1,000 a month to them. We are really engaged in being a positive part of the community, and that's part of being a business partner of choice."