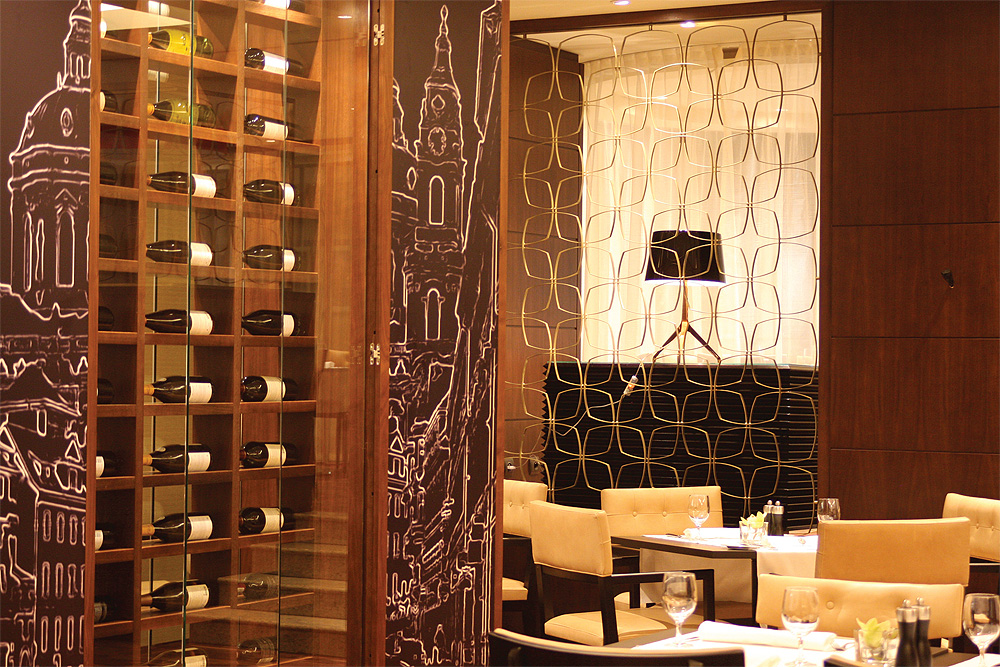 Service with style
In keeping with its reputation for luxurious elegance, the Prague Marriott Hotel has recently unveiled a major new refurbishment and unique dining concept for Prague
Situated just steps away from Old Town Square and other major city attractions, the upscale charm of the Prague Marriott Hotel is an attractive proposition for both the leisure and business traveller. Known for first-class service and conference facilities, the Prague Marriott Hotel has venue capacity for special corporate events, intimate gatherings, and large conferences, as well as 293 spacious bedrooms including 35 suites.
The hotel also benefits from additional facilities within the building structure itself. This includes an on-site casino, Espressamente coffee shop serving Illy coffee, and the World Class Health Academy – a haven for relaxation and fitness. "Compared with standard hotel fitness centres, the Academy is significantly larger as it is effectively a free standing facility. As well as numerous pieces of fitness and gym equipment, there is also a swimming pool, sauna, steam room and Jacuzzi – all of which can be accessed through the hotel elevator," adds Rick Enders, general manager of the Prague Marriott Hotel.


Refurbishment
Just weeks ago the Prague Marriott Hotel completed its new ground floor refurbishment programme, which covers many key reception areas such as the lobby, lounge, bar and front desk. Rick elaborates on what this brings to the business: "One of the strongest points of the hotel is that we have the largest rooms within the city. The other is from a product perspective I believe that we are in the best shape having carried out our last room renewal in 2008, renovated our entire banquet hall in 2009, and having just completed the entire ground floor, the hotel is effectively brand new again."
As part of this recent refurbishment, the Prague Marriot Hotel has proudly launched its new restaurant concept – the 'Midtown Grill.' "This is a unique offering in Prague, which is based upon over 100 consultations carried out with our current clientele where we discussed the type of food and beverage outlet they would like to see. In terms of the direction we should take, the majority of comments came down to steaks, grills and seafood, so the Midtown Grill is serving fantastic quality food in a targeted combination of these three areas," describes Rick.
The ultimate machine
He continues: "We have invested in a leading broiler from the US, which creates 1200 °C heat and is the ultimate machine for cooking steaks. Alongside this we are importing specialist beef, including tenderloin, sirloin, rib-eye and T-bone steaks, from the US through Holland, which has a much more intense flavour."
This customer rapport and commitment to quality is also present in the day-to-day running of the Prague Marriott Hotel – standards which Rick is keen to maintain: "In terms of the management team, from a department head level there is not a lot of fluctuation and therefore our current team has been in place for several years. This means in the case of our regular repeat customers there is a certain bond and the staff are able to greet them by name. This is particularly important, as the level of service should be one of the main points that make customers want to come back to the hotel. Generally hotels offer the same core products and therefore we are focused on always increasing our service and ensuring that the way we deliver it is different to our competitors."
Certainly the hotel market within Prague is a competitive one, not least since the opening of several new hotels in 2008 and 2009 – a growth in supply which has not yet been matched by an influx of additional visitors to the city. This increase in choice of establishment 43also contributes to a potential decrease in rates in order to attract clientele.
In this respect, Rick outlines his strategy for maintaining the Prague Marriott Hotel's outstanding reputation with the guests of today, whilst also steering it towards the market of the future: "Our hotel tagline is 'Creating Crystal Moments' and certainly throughout the hotel we have some concepts that are very much related to the Czech Republic. Ultimately our vision is to be the leading hotel within Prague when it comes down to providing service, having the right product in place and ensuring that we correctly cater to our business clientele.
Staying abreast
"However, these requirements are changing on an almost daily basis nowadays and therefore we need to stay abreast of this because the consumer is also changing as well. If you look at additional services from some years ago, today these are considered the standard, so it is important that we not only satisfy our customers needs, but exceed their expectations, whilst at the same time maintaining good relationships with our shareholders."