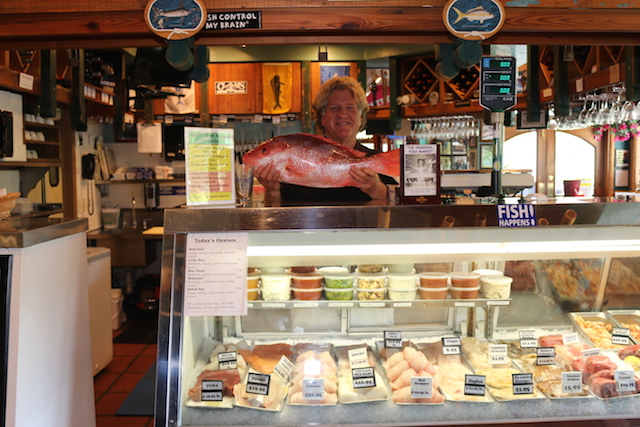 Prawnbroker Restaurant Group
As a multi-concept seafood restaurant group, Prawnbroker focuses on its existing locations and trains employees to maintain its success.
In 1978, The Timbers – now The Timbers Restaurant & Fish Market – on Sanibel Island in Florida became the first restaurant to open under what is now The Prawnbroker Restaurant Group.
The success of The Timbers led Matt Asen, brothers Kipp and Jim Foster, as well as brothers Michael and Jim Schilling, to open nine other fresh seafood restaurants they now operate on Florida's southeast and southwest coasts: The Black Marlin, Shrimpers Grill & Raw Bar, The Prawnbroker Grill, Palm City Grill, The Magic Oyster Bar & Seafood Grill, University Grill, The Prawnbroker Restaurant & Fish Market, Matzaluna the Italian Kitchen and The Sanibel Grill.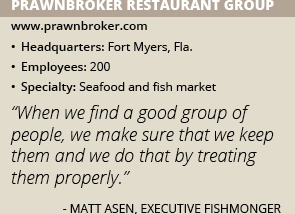 "I started working with the company in 1978," Executive Fishmonger Matt Asen says. "My partners and me all have our own strengths and we manage to get along despite our differences because we appreciate and take advantage of each other's strengths. It benefits the restaurants because we make a good team and make the best effort so that we are successful."
Celebrating Multiple Legacies
The Timbers Restaurant & Fish Market recently celebrated its 38th anniversary. Prawnbroker Restaurant Group's long-lived success differs greatly from that of its competitors. Most of its nine other restaurants are at least 20 years old.
"Prawnbroker Restaurant & Fish Market just celebrated its 35-year anniversary and Matzulana just marked its 22-year," Asen says. "If you added all of our restaurants' history together, it's more than 200 years in the industry combined.
"It's a one-in-a-million realization, as a lot of restaurants don't stay open for a long time," he continues. "With us having all of these restaurants having 20- to 30-plus-year anniversaries, it's hard to believe that we have done it. But we got through it one day at a time, with hard work."
Asen and his partners are still hands-on in all of the restaurants' day-to-day operations, keeping their "fingers on the pulse" of the multi-concept seafood restaurant group, Asen says. The work that goes into running the various restaurants is enough to keep them busy and focused.
"We are all in our 60s, so we are not looking for extreme growth," he says. "It's more important to us right now to manage the existing properties that we own and operate to keep them making money, as opposed to investing big money in something that may not take off in the future."
Close Collaboration
Since opening its first restaurant in 1978, Asen notes, Prawnbroker Restaurant Group has had good managers and employees who have been with the Myers, Fla.-based company for many years.
"We treat our employees like our family, and if they're successful so are we," Asen explains. "When we find a good group of people, we make sure that we keep them and we do that by treating them properly. Courtesy and respect goes a long way in this business. So if you show them you care, they'll take care of you and your restaurant."
Many of the company's employees are millennials, so communication was a barrier until Prawnbroker figured out the best way to get through to them: hard work. "We have found that the best thing is when employees see that you know how to do what you're asking them to do," Asen says. "I'm 64 years old and can do anything in the restaurant that my employees can do. Half of my employees weren't even born when we started these restaurants, so they see my partners and me working alongside them and they know we know what we are doing because we have been doing it for so long. This has helped us earn respect with employees."
Prawnbroker also engages with its staff by using social media to contact them for scheduling. "We also asked them to use their social networks to promote the business with their Facebook and other social media," Asen added. "It's been a good form of communication on both ends, making it easier and more efficient. Ultimately, we teach them about restaurants and they teach us social media, as we are still learning.
I received my degree in secondary social studies from State University of New York (SUNY) at Cortland – way back when, I used to be a high school history teacher – so I'm always trying to teach new things and learn new things as well from others."
Ultimately, the goal for Prawnbroker Restaurant Group is to train people to continue the business, and keep the brand successful and relevant, Asen concludes.
"When it is time, we will teach whomever we pick to take over the business all that we know," he says. "It's no secret that it is hard work and being able to adapt to new things that come up, like the new labor laws and insurance issues. It's more about sustainable seafood, changing palates, adapting to new menu items and keeping old favorites. So staying consistent is the key.
"We have to keep the customers satisfied and make the customers feel at home," he continues. "That means when they come in, they are recognized and know what they are going to get with the food. And if there is a problem, we'll take care of it; however, we need to ensure that the customer is happy."