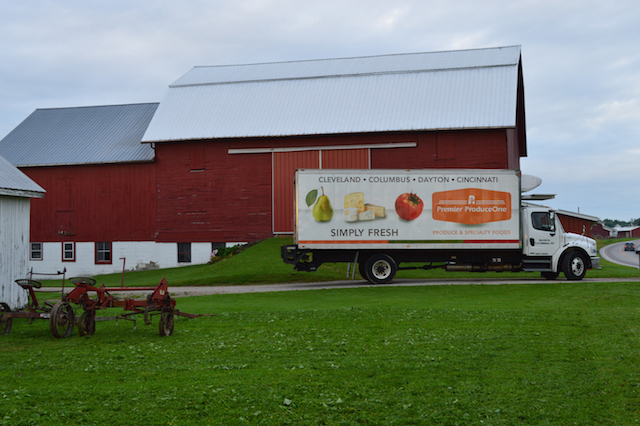 Food distributor Premier ProduceOne boasts the greatest pantry in Ohio.
When Tony Anselmo was growing up in the produce business, his father would say he'd rather give his money to someone he knows than a stranger across the country. It's a belief that fits conveniently into current consumer demand for locally grown products.
Anselmo is the co-owner and chief marketing officer of Premier ProduceOne, an Ohio distributor of produce and specialty foods. The company is carrying on the lesson his father taught him so many years ago by working primarily with Ohio-based suppliers.
"We continue to try to find local farmers and local manufacturers as we try to promote as much Ohio product as possible," co-owner Erv Pavlofsky says. Finding nearby suppliers keeps the economic engine running in the communities where Premier ProduceOne does business, while also reducing the company's carbon footprint by shortening the length of the supply chain.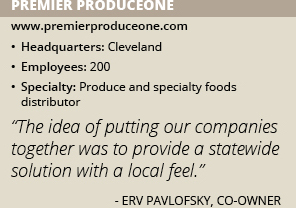 "We're supporting our neighbors, our friends and our family," Anselmo adds.
Cornering Market
Premier ProduceOne was born from the merger of two of Ohio's major produce distributors: Premier Produce and ProduceOne. Dayton-based ProduceOne was originally founded as Mush & Sons in the basement of a family grocery store and became a leading distributor for the Columbus-Cincinnati region. Premier Produce was the younger of the two companies, having started in 1998 before growing to encompass the Cleveland and northeast Ohio market.
The two companies recognized the potential in each other when they met in 2009. The relationship began to grow closer and in 2011 the businesses formed a partnership aimed at creating better service for customers.
Two years later, ProduceOne owners Gary and Erv Pavlofsky and Premier Produce owners Anthony Rossi and Tony Anselmo formalized the relationship by merging the businesses into one company, Premier ProduceOne, with distribution centers in Cleveland, Columbus and Dayton. "The idea of putting our companies together was to provide a statewide solution with a local feel," Erv Pavlofsky says.
The merger created a single food distributor capable of covering all 88 counties in Ohio plus many border counties in West Virginia, Kentucky and Indiana. That footprint is expected to grow in the coming years as Premier ProduceOne explores expanding to Pennsylvania and Michigan.
With a larger market, Premier ProduceOne can leverage its customer base to secure more products and better adapt to emerging food trends. "We have become a full-service produce and specialty food company," Anselmo says.
In addition to produce, Premier ProduceOne offers a complete line of specialty products such as cheese, oils, pastas, breads and deli meats. So when a university dining provider wants to introduce a non-GMO corn chip into the menu, ProduceOne can find a supplier to accommodate that request. "It's very driven by our customers," Anselmo adds. "We go out, we source and find and we bring it to our customer."
In all, the company offers nearly 5,000 products, from basic potatoes to smoked sea salts and minerals and gluten-free breads. "I like to say we have the greatest pantry in the state of Ohio," Anselmo says.
Premier ProduceOne prides itself its range of foodservice customers. Anselmo says the company is large enough to provide for Ohio's college campuses and healthcare dining services, but can still operate on a local level to suit individual restaurants or grocery store deli departments. "We serve everybody who cares about food," Anselmo says. "From our smallest café and catering companies to some of the largest arenas in the states."
A restaurant can have a savory cut of pork or a fine fish, but protein alone does not make a dish until it's combined with truffled mash potatoes or another produce item. "Until we get to the plate it's just a piece of meat," Anselmo says. From the lemon in the ice water, to the fruit that tops the cheesecake, produce accompanies the entire meal and brings vibrancy to the plate.
Access to information has made consumers more educated about health and wellness than ever before. The desire to eat healthier has increased the prominence of produce in everyday diets. In the old days, fruits and vegetables were never the center of the plate, but today's food trends are putting a greater emphasis on produce, Pavlofsky says. "There are more creative ways to use fruits and vegetables than ever before," he explains.
Embracing Technology
Ensuring a high-quality and safe product in today's food distribution market means being able to quickly identify the source of every item sold. Over the past few years, Premier ProduceOne has invested millions of dollars in software, technology and hardware to improve traceability and create secure facilities and trucks.
"Traceability" is a hot word right now in the food industry, but Anselmo says it is not simply a trend for Premier ProduceOne, but rather integral to the fibers that bind the company. Every product is scanned throughout the supply chain so that if an issue arises it can be tracked back to the field it was picked within hours, Anselmo says.
The benefits of technology don't end with food safety. In 2015, Premier ProduceOne was the first food distributor in Ohio to roll out an ordering app for smart phones. Chefs can now look at their account history and past purchases and use the app to easily place new orders while reviewing current stock. The app is an example of how technology is used in the foodservice industry to improve the customer experience. "Make sure you are keeping up with the bells and whistles to make it as easy as possible," Pavlofsky says.
Technology is helping Premier ProduceOne become even more indispensible to its customers, but the company is in no hurry to expand its services outside of Ohio. Instead, it prefers to grow by reaching more clients within the Ohio market and increasing its capabilities. "Where we see our greatest opportunity for growth is looking at new product lines and new opportunities in something like new production facilities that would include processing facilities and a USDA kitchen," Pavlofsky says.