Premier Proteins provides top-grade beef and pork to markets throughout the world.
Premier Proteins CEO Tim Haas had worked in the meat industry throughout his professional career when he decided a decade ago to open his own company. Haas started Premier Proteins with his wife, Jamie, and today the company is a successful family owned provider of specialty meat to markets throughout the world.
The Kearney, Mo.-based company started out in 2005 by tapping into markets throughout the Midwest. The markets were competitive but Premier Proteins relied on a single, simple differentiator. "We sell quality meat," Haas says. Indeed, Haas responded to rising consumer demands by offering all-natural, hormone-free beef and pork held to the highest USDA standards, he says. "The demand for grass-fed cattle is growing," he says. "Humane handling is a big thing."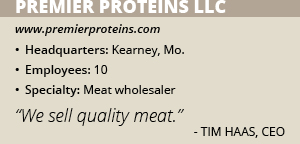 Premier Proteins has grown significantly since its inception and today serves retail and distribution markets throughout the United States and around the world. International markets include South Korea, Japan, Taiwan, Canada, the Caribbean and Hong Kong. Retail customers include major grocery store chains and small butcher shops, which make up about 60 percent of the company's business.
Restaurants comprise the remaining 40 percent, Haas says. Premier Proteins ships the bulk of its meats out of a facility located in Omaha, Neb. The company also operates a smaller distribution facility outside of Kansas City, Mo., which specializes in smaller-volume shipping via FedEx and other carriers, Haas says. Premier Proteins sells American Kobe/Wagyu beef, Berkshire pork and American grass-fed beef, Haas says. "We're kind of a hybrid," Haas says. "We work with producers from beginning to end. We're more of a packer and wholesaler."
Choice Cuts
In fact, the company is the second-largest producer of Wagyu beef in the country. Cattle come from a single rancher and are source and age verified. All cattle are under 30 months of age. The company hopes to double sales by the end of 2017, he says.
Premier Proteins' American Kobe/Wagyu beef comes from Wagyu cattle that were brought from Japan and raised in the United States. Wagyu cattle are a Japanese breed that has the ability to marble unlike any other breed on earth, Haas explains. The fat from these cattle is physically different from other breeds and offers a buttery flavor that is healthier than regular beef fat. The meat has a fine texture that is tenderer than other cuts, Haas says.
The cattle are fed traditional Japanese diets and their feeding process is closely monitored at a single family farmed Iowa feed lot for consistently high-quality American Kobe/Wagyu beef, he says. "Increasingly, people are thinking about what they are eating and how it is produced," Haas says.
For beef cattle, grass is the most natural feed available. Premier Proteins' grass-fed beef comes from cattle that roam their entire lives on open pastureland in California and Missouri, eating only a diet of fresh grasses and plants, Haas says.
The Ranches
Ranchers who raise the cattle make a full commitment to sustainable farming practices. "We raise our cattle on grass alone," Haas says. "The program delivers cattle free of grains, starches, antibiotics, hormones and steroids for some of the most natural meat."
Additionally, Premier Proteins' animals are tested humanely and raised in low-stress environments. The cattle are never fed animal byproducts or grain-based feeds.