Using fresh meats, cheeses and breads helps Primo Hoagies make high-quality sandwiches that attract repeat customers.
The biggest difference between a sandwich from Primo Hoagies and one from elsewhere is clear the second one of its customers begins eating. "The lunch meats and cheeses we use are of the highest quality and consistency standards," President and CEO Rocco Fiorentino says. "We've learned time and again that quality is extremely important for our brand, and we will never sacrifice quality for price."
The Westville, N.J.-based sandwich franchise believes in using only the finest ingredients and products on its sandwiches, including fresh prosciutto on its Italian sandwiches. All meats and cheeses are sliced fresh to order. "Our customers really get the feeling of freshness, knowing everything was just sliced," he adds. "It's almost like you get a smack in the face when you take a bite of that sandwich; the flavor profile is second to none. That is what we believe our differentiator is in the industry."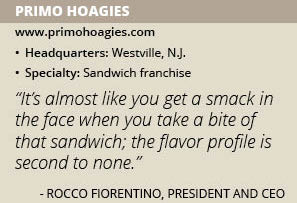 The bread, meats and cheeses in Primo Hoagies' sandwiches are unique to the restaurant. Meats and cheeses are prepared by a single vendor using proprietary spice blends and recipes, and the company works with a bakery in New Jersey that prepares bread that is par-baked and flash frozen before being shipped to stores, where they are baked to store specifications. Bread is typically baked fresh every half-hour. "Our bread is baked to the right color, right temperature and right feel, and has the right 'snap' when you bite into it," Fiorentino says, crediting the bread's quality to the unique water quality and atmosphere in the Northeast.
Primo Hoagies' other vendors include one distributor that supplies all of its locations in seven states. "We work with a very limited number of vendors and suppliers, who we call our partners because they invest in our brand," he adds. "Everything we do is from the Northeast and shipped out, to retain consistency."
In addition to its Italian Hoagie sandwich, the company is known for its Philly cheesesteak. The company's newest menu items include lettuce wraps and boxed lunches, which are offered through Primo Hoagies' catering operation. The company's plans for the immediate future include introducing a food truck and adding to its customer loyalty program. "I am proud of the products we serve and in the markets we serve them in, as well as our relationships with franchise partners and vendors," Fiorentino says. "Collectively, we have a lot of fun and are building an amazing organization."
'An Amazing Family'
The first Primo Hoagies store opened in 1993 in Philadelphia. The company began franchising in the Philadelphia and southern New Jersey markets in 2003 after visitors to its original location asked where else they could find Primo's products. Today, the brand has locations throughout the Eastern United States seaboard, including its newest location in Mount Pleasant, S.C.
Primo Hoagies continues to expand in the region, with locations in Bel Air, Md.; Atlanta; northern New Jersey; Raleigh, N.C.; and a Florida location anticipated to open in 2019. Many of our franchise candidates have visited our stores as customers and have been very excited and enthusiastic about joining our brand. "Strategically, we believe most brands in foodservice have to be careful when they expand. Opening in the Midwest or California would take a lot of resources from our corporate support center," Fiorentino says. "We're conscious about support and building a brand with enough units within a certain time frame so we utilize our resources and support efforts efficiently."
Primo Hoagies has proven to be a positive investment for many of its franchisees. In addition to offering franchisees support and a proven, successful business model, the company includes its franchisees in important corporate decisions including research, product testing and marketing. "We are fortunate to have an amazing corporate team to work with, as well as an amazing franchise family," he adds.