Primo Water is experiencing a revenue surge as more Americans turn health conscious.
The negative health effects of sugary drinks and growing concerns about toxins in tap water are driving many Americans to re-examine what they drink.
According to industry tracker Beverage Marketing Corp., Americans now drink more bottled water than soda. Bottled water consumption in the United States reached 39.3 gallons per capita in 2016, while carbonated soft drinks slipped to 38.5 gallons.
"Consumers across the country are making better decisions about what they put in their body," says Matt Sheehan, president and CEO of Primo Water Corporation. "I don't know any reason why that trend would not continue."
Winston-Salem, N.C.-based Primo Water Corporation defines itself as a company that helps its customers live healthier lives through better water. It is the largest provider of water dispensers, pre-filled exchange water and self-service refill water sold through major retailers in the United States and Canada. "There's no other company that does all three," Sheehan says. "We're very focused on bulk water. I think that matters to both consumers and retailers."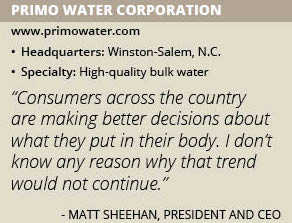 Brick and Mortar
Primo Water is focusing on increasing its brick and mortar business, while also growing its online and e-commerce business. Buying bulk water and accessories can provide retailers with new revenue streams, Sheehan says. An average water dispenser costs roughly $100 and customers who purchase them will need to refill them on a regular basis.
"The dispenser is a big-ticket item," he adds. "Retailers are looking for big-ticket items, but mostly they are looking for traffic and consistency … Our exchange business has seen a 6 percent same-store sales growth for 21 quarters, which is actually remarkable."
Retailers that have a bulk water exchange service generally experience an increase in store traffic, he says. Consumers who buy bulk water will generally buy 35 five-gallon bottles per year, which drives them to make an extra one to two visits per month to a retailer. This also creates improved household loyalty as shoppers return to retailers offering bulk water solutions. "Consumers will determine where they shop based on a commitment to a water solution like Primo Water," Sheehan says.
In addition, their bulk water purchase triggers a larger basket size as most consumers shop in-store for their water purchase. This increases the basket revenue by an average of 8 percent compared to a normal shopping trip, Sheehan says. Finally, retailers that have a bulk water service will have the ability to serve as an emergency provider of purified water in the event of natural disasters.
Green Benefits
Bulk water exchange solutions and self-service water refills also trigger environmental benefits. When some of Primo Water's retailers, like Walmart, Kroger and Meijer, decide to offer a self-service refill, Primo Water installs a small water treatment plant inside their stores. This means that water does not have to be delivered via truck, saving energy.
Although the water exchange does require a truck to deliver bottles, Primo Water estimates that its five-gallon bottles are used 40 to 50 times before being recycled. "That's the equivalent of 1,500 single-serve bottles and 1,000 of those bottles generally end up in a landfill or a garbage patch," Sheehan says. "We feel pretty good about keeping those bottles out of the landfill."
The average Primo Water consumer buys 35 of the five-gallon bottles per year, he adds. Buying water in bulk also saves the consumer money. "A pre-filled one-gallon bottle on a shelf, the cheapest you can get, costs about 88 cents," Sheehan says. "Our pricing ranges from 27 to 37 cents per gallon. That's more than a 50 percent savings."
Making History
Primo Water was founded in 2005 by Billy Prim, who is also the founder of Blue Rhino Corp., which runs America's largest propane tank cylinder exchange service. Prim is Primo Water's current executive chairman. "After he sold Blue Rhino, he was asked if he could do the same thing with water," Sheehan says. "The idea of a five-gallon water exchange didn't really exist."
Primo started as a water exchange business, but quickly grew into more. In 2007, the company entered the water dispenser business. "We realized that you can't put a straw into five gallons of water," Sheehan says, meaning consumers needed a dispenser to make smaller serving sizes. In 2010, Primo Water started its self-service water business.
Following its 2016 acquisition of Glacier Water, a market leader in the self-service refill water space, Primo Water is now available at 46,000 retail locations across North America.
"We are located in close proximity to all consumers, making high quality, affordable water available and convenient for millions of American families," Sheehan says. "I am proud to know that we will be here each and every day to help people and families make water a bigger part of their lives and their homes."