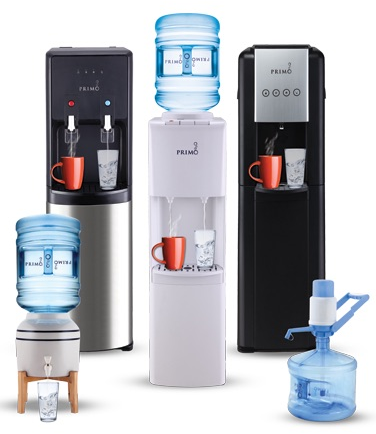 Primo Water Corporation is seeing Americans turn more health conscious.
Winston-Salem, N.C.-based Primo Water Corporation defines itself as a company that helps its customers live healthier lives through better water. It is the largest provider of water dispensers, pre-filled exchange water and self-service refill water sold through major retailers in the United States and Canada.
Food & Drink International asked Primo Water's President and CEO Matt Sheehan about the company's best practices, productivity, food safety and marketing.
Food and Drink International (FDI): Who founded your company?
Sheehan: The company was started by Billy Prim, who also founded Blue Rhino, in 2006. Prim, now executive chairman of Primo Water. FDI: Tell us about your products and services? Sheehan: Primo offers refill water, exchange water and dispensers. Refill allows individuals to take empty bottles to a machine at a local retailer and refill them with fresh Primo Water. The exchange option allows individuals to return and recycle their empty Primo bottle for a new, pre-filled bottle. Primo also offers a wide range of home dispensers.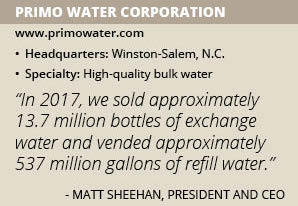 FDI: How much water do you deliver on an annual basis? Sheehan: In 2017, we sold approximately 13.7 million bottles of exchange water and vended approximately 537 million gallons of refill water. FDI: Tell us about innovation and R&D?
Sheehan: In order to meet and anticipate the needs of our consumers, we have developed and continue to develop new and innovative dispensers. We have released the hTrio dispenser which has a built in Keurig machine with hot and cold-water options, a pet dispenser that includes a pet bowl for your furry friend and an e-pump for on-the-go, easy dispensing.
FDI: How is your market changing?
Sheehan: The market is changing rapidly. In addition to the many issues surrounding the quality of our tap water, we are starting to see people think and buy with an eco-friendly mindset. One of our 5-gallon bottles is reused up to 40-50 times, saving nearly 1,100 single-serve plastic bottles over the course of its lifetime.
FDI: What distinguishes Primo Water Corp from its competitors?
Sheehan: We like to think of our main competitor as tap water. Primo exchange water undergoes a nine-step purification process to remove harmful contaminants that most filters leave behind. We are competing against age old habits that we hope to change. Getting families to switch from tap to Primo is the greatest success we could ask for.
FDI: What are the challenges in your industry?
Sheehan: The thing that we see as a major challenge not only to our business but to the wellbeing of our families is the assumption that tap water is fine. It's just not. Every day we see a story about the high levels of lead in school water fountains or boil alerts popping up across the country. We see Primo as a solution to the tap water challenge.
FDI: Talk to us about investments and acquisitions.
Sheehan: We acquired Glacier a few years ago and since then, we have consolidated our efforts under one brand name: Primo. We have made this investment in Glacier to build Primo as a leader in bulk water refill, exchange and dispenser solutions.
FDI: What links does Primo Water Corp have with the community?
Sheehan: We are still a relatively small company but in 2018 we have worked to build our philanthropic approach. We sent hundreds of Primo bottles and handpumps to the North Carolina coast after Hurricane Florence, we have worked with local and national events including the Pan-Mass Challenge, BikeMS: Tour to Tanglewood and the North Carolina Folk Festival to reduce single-serve plastic waste.
FDI: What do you see in your company's future?
Sheehan: I believe Primo will be the sign of a healthy home. We know that drinking more water is good for you but sometimes we don't know how. Primo is the answer.