Primo Water brings bulk water to health-conscious consumers wanting to commit to water who are concerned about what's in their tap.
Fears over tap water contamination are rising throughout the United States. A 2015 study from the Water Quality Association (WQA), conducted by an independent market research firm, surveyed 1,200 adults and found that 56 percent of respondents – 4 percent more than in 2013 – were "concerned" or "very concerned" about the quality of water in their homes.
The study was released as water contamination made news headlines. In 2014, economic pressures forced Flint, Mich., to switch its water source from Lake Huron to Flint River. The river was a lower quality water source contaminated with harmful bacteria and lead and the city faced outbreaks of Shigellosis and Legionnaires' disease. People are now guarding themselves against contamination. The same WQA study found that 48 percent of respondents purchased a water filtration device after receiving a "boil-water" or "unsafe for use" alert. Further, 77 percent of respondents identified themselves as regular users of bottled water, up five percentage points from 2013.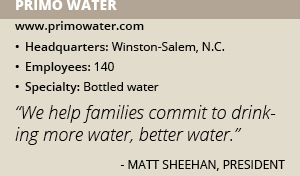 As that trend toward bottled water continues, Primo Water has grown and stands to grow a lot more. "We help families commit to drinking more water, better water," President Matt Sheehan says. "When families purchase a water dispenser, they are committing to water in a big way. Using five-gallon purified water ensures there is plenty of water for the whole family that's ready to drink. Primo is the only company that offers both dispensers and bulk water to make committing easy."
"It's a strong consumer proposition that really helps consumers live a better, healthier life," says Tyler Ayers, vice president of marketing. "It's a great product to be able to hang our hat on."
Primo Water's access to consumers grows every year. The company has 26,000 retail points across North America and works with about 200 plants to source and bottle its water. The water itself comes from municipal sources, but goes through a multi-step purification process that includes reverse osmosis to remove odors, chlorine and unwanted minerals, including lead.
Blades and Razors
The business model that fuels Primo Water was actually adopted from the propane industry. Before he founded Primo Water, Billy Prim started Blue Rhino, a propane exchange business that allowed consumers to purchase refillable propane gas tanks at retailers. As propane sales took off, Blue Rhino's retail partners asked if the company could do the same for water and soon after Primo Water was born.
Primo Water created the first deposit- free retail exchange program for pre-filled water in 2004. Seven years later, the company expanded on that concept when it purchased Culligan's refill water kiosk business, giving Primo Water access to the refillable water market. Sheehan likens the exchange program and refillable business to selling the blades for a razor, in this case water dispensers.
Eventually, Primo Water realized there was more potential if it sold the razor too. So the company began selling the water dispensers its 3- and 5-gallon bottles hook into. Most competitors are only in one of the three parts of the market: pre-filled exchange, refills or dispensers. But because Primo Water is involved in each segment, the company can afford to take lower margins on the dispensers.
The goal of the dispenser business, Sheehan says, is not so much to generate profit but to encourage adoption and get Primo water into more homes. The company's pricing reflects that goal. A basic manual water pump costs as little as $9.99 while countertop dispensers are under $40. Even the most feature-rich full-sized dispensers with built-in drip coffee makers sell for less than $300. "We want to make it easy for consumers to commit to water by offering dispensers that fit every budget and décor," Sheehan says.
Having a wide range of price points allows for a low barrier of entry into the world of bottled water, but then allows consumers to upgrade incrementally over time. A person who starts with a hand pump might eventually realize they want a dispenser capable of heating and chilling water. "We allow our customer to graduate over time with us," Sheehan says.
Design is equally important to price in penetrating the potential market. As more families try to add healthy elements to the kitchen they want those devices to look good. Primo's water dispensers are made from high-quality materials like black and stainless steel look that would slide right into any modern kitchen.
Expanding Footprint
The company is in the process of closing on a deal to purchase Glacier Water Services, a competing provider of refill water kiosks. Once the estimated $263 million acquisition closes, likely later this year, Primo Water will nearly double its number of retail locations to 46,000. Many of the new Glacier self-service refill water machines will be located outside of retails, allowing the company to reach even more customers.
Because the two companies share an industry and know each other as competitors, Sheehan believes that Primo Water will be successful integrating Glacier's business. "We feel confident we will integrate smoothly," he adds.
Only about 5 percent of American households have water dispensers today, which leads to a big opportunity, but Sheehan believes that number will rise as more consumers turn to bottled water. "It's really important for folks around the country – not just in Flint – to have access to great water," he says. "We think even after this acquisition, there is a lot of room to grow in retail."