PrimoHoagies is bringing gourmet deli sandwiches to the entire East Coast.
Most of the corporate leaders at PrimoHoagies come from Italian families and they all think their mom made the best meatball. So when the sandwich deli company decided to add a meatball hoagie to its menu they were not willing to settle for a commercial meatball.
It took two years to find a supplier that could deliver the home-style taste PrimoHoagies wanted. "We're not putting something on our menu unless we could all say, 'This is the best you could put out there,'" Vice President Mike Aruanno says.
"In Philly and New York you can't get away with average because we're big food cities," Aruanno says. "We have a higher expectation of food here." The company's most popular sandwiches are the Italian with prosciutto with provolone cheese, hot capicola and natural casing genoa salami. Other favorites include the spicy Turkey Diablo and the Sharp Italian, which substitutes provolone for sharp provolone.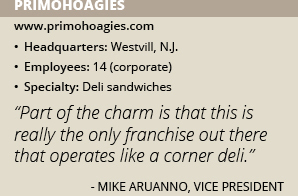 The first PrimoHoagies opened as a traditional corner deli in an Italian section of south Philadelphia in 1992. The deli was immediately met with overwhelming popularity and PrimoHoagies opened up five more locations in Philadelphia and the Jersey Shore. Customers soon began asking about opening their own locations so in 2002 the company began franchising.
Aruanno joined the company in 2004 to support PrimoHoagies' franchise development effort. Thirteen years later, PrimoHoagies is working on its 94th location and has operations in Pennsylvania, New Jersey, Delaware, Virginia, South Carolina and Florida. "Now we've exploded throughout the region," Aruanno says.
Although it has expanded rapidly over the past decade to become a regional brand, PrimoHoagies has been able to maintain the feel and quality of a local deli. All of its franchisees start off with only one store, making them owner-operators who are invested in the day-to-day operations of the business.
But to reach the next step, PrimoHoagies will begin seeking area development deals for franchisees with experience running multiple stores. "We're going to be looking for area representatives and area developers," Aruanno says. "Part of the charm is that this is really the only franchise out there that operates like a corner deli. Doing these types of deals will be new for us."
PrimoHoagies may be moving away from the owner-operator requirement, but it still wants to be seen as each community's corner deli. Aruanno says two factors are key to that reputation: consistency of product, and training franchisees to be part of their community.
The company wants its owners to participate in local chambers of commerce and support organizations such as little league and other youth sports. "We encourage owners to be part of the community," he says. "If you become part of the community you are a corner deli."
Demanding Consistency
The consistency PrimoHoagies requires from its franchisees begins with extensive training. Each new owner must complete three weeks of intense training at the company's location in Sicklerville, N.J. Aruanno describes it as a soup-to-nuts process where franchisees learn everything about operating a PrimoHoagies sandwich deli. "We stay with them as long as we feel they need," he says.
Consistency ensures that a Big T sandwich bought in Boynton Beach, Fla., tastes the same as one bought in Philadelphia, but what makes it good is the quality of ingredients used. PrimoHoagies prides itself on using gourmet meats and cheeses that no other company would think to put into a commercial-grade sandwich. "We were told early on the franchise market is how cheap and fast you can get it to the customer," Aruanno explains. "We don't fit that mold. Our quality is huge."
Many of PrimoHoagies' meats come from Thummann's, a supplier of many of the most expensive cuts of luncheon meats on the market. The close relationship PrimoHoagies has with suppliers such as Thummann's allows the deli to secure exclusive products such as a 99 percent lean roast beef and the highest-quality turkey. "Everyone talks about quality," Aruanno claims. "We sincerely have quality."
Bread is often thought of as the simplest part of the sandwich, but good bread is just as crucial to a good hoagie as the meat. It's no surprise then that PrimoHoagies prioritizes its bread, working with its suppliers to procure seeded Italian rolls that are crisp on the outside and soft inside. "We could get a lot cheaper bread but that's not who we are," Aruanno says.
Franchise Support
Where food comes from affects its tastes. It's why wine from the Champagne region of France is so highly valued and why Florida is known for its oranges. For a company that prizes quality as highly as PrimoHoagies, sourcing is an important element of growth. The water used to make the dough for the company's bread, for example, comes from New Jersey and helps give it a distinctive taste.
But just because PrimoHoagies looks and tastes like a corner deli doesn't mean the company has to operate like a small-town business. As a growing franchisor, it can put new technologies in the hands of its owners and customers. PrimoHoagies recently released a smart phone app that enables customers to order online, earn rewards for discounts, and buy and send gift cards.
For the franchisees, PrimoHoagies has the systems in place that make the ordering process easy. Further, the company's tight relationships with suppliers such as Pepsi and potato chip maker Herr's mean that locations can have confidence they will receive products and supplies on time.
As it nears its 100th store, PrimoHoagies' goal is to double or triple its location count in the next three to five years. Aruanno says the company is careful to grow at a rate that will allow it to support restaurants with the same level of service it offers today and provide customers with the same high-quality sandwiches. "We're in a position to expand more rapidly but we don't want to overdo it either," he explains.
The company is staying on the East Coast, although it is also considering location in Ohio. Aruanno says PrimoHoagies will eventually expand west during its next phase of growth.
Using area developers will allow PrimoHoagies to reach its expansion goals more quickly and having multiple locations will better grow word of mouth within a new market. But it wants those new kinds of owners to have the same devotion to the ideal of the corner deli that has made it a success. "Passion about the product – that will help you be more successful," Aruanno says. "Every single one of our owners now was passionate about the product before they became a franchisee.
"There's nothing more exciting than to own your own business and be passionate about it and say, 'I'm the best,'" he adds.