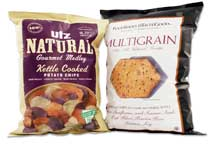 When J. Erskine Love Jr. founded Printpack in 1956, he was the sole employee operating a used cellophane bag machine in the basement of a Georgia office building. Today, the Atlanta-based company – led by Love's oldest son, President and CEO Dennis Love – is one of the largest packaging converters in the world, with approximately 4,400 employees and 22 manufacturing plants throughout the United States, along with two facilities in Mexico, two in the United Kingdom, one in Poland and one in China.
There are a number of factors that have contributed to Printpack's success, but one of its most prevailing attributes is its commitment to innovation, Director of Business Development Tom Seidel says. "Printpack has a history of firsts in the market," he notes. "A big differentiator for us is that we are willing to make investments. The philosophy of the Love family is if you keep putting money back in the business, it will grow. Printpack has enjoyed healthy growth as a result."
Custom Solutions
Printpack is a major converter of flexible and specialty rigid packaging for the world's biggest brand owners in the food and beverage industry as well as the household, lawn and garden, personal care, pet foods, tobacco, towel and tissue, and medical device markets. It offers leading-edge technologies such as high-performance film and laminations, state-of-the-art metalizing, advanced rigid sheet thermoforming, proprietary pre-press processes and high-fidelity printing to create customized solutions to meet the unique needs of its clientele.
"We connect what's possible with packaging technology to what's needed in order to support the growth ambitions of our customers," Seidel explains. "If you're a brand owner and you need to grow an existing product or launch a new product, and you're not sure what to do with packaging, where do you start? We help brand owners consider all of the possibilities and connect the best solution for what they're trying to achieve with their brands. We are in constant communication to learn what their challenges and opportunities are."
'Open Innovation'
Through its "open innovation" process, Printpack continuously scouts the global marketplace to identify emerging technologies and establish new partnerships. "We evaluate these potential solutions and ask questions like, 'Could this have an application in the salty snack or cereal market?'" Seidel says. "Then, we engage with our customers to see what they're trying to achieve with their brand."
Printpack's Innovation Center was designed to facilitate collaboration, idea generation and prototyping by highlighting market trends and showcasing new and innovative Printpack products. "We're giving the customer the confidence that we are thoroughly canvassing the marketplace for solutions that will help them win in the marketplace," Seidel says. "Every customer has their own process for how they screen ideas to get down to the best few. Once they make their decision, we go into the product development stage where we specify materials for testing, scale up and ultimately start large-scale commercialization."
Introducing MATS
There are five marketplace drivers that Printpack uses to guide its innovation activities, according to Seidel: cost reduction, product protection and preservation, "winning at the shelf" (getting products noticed at point of sale), improving the consumer experience and sustainability. The company continuously strives to create new products that meet all of these objectives.
One of Printpack's more recent innovations is its investment in microwave-assisted thermal sterilization (MATS), developed through the work of Washington State University and an industry consortium. Printpack, in partnership with Food Chain Safety, formed MATSpack™ LLC to commercialize a patented microwave sterilization system for prepackaged foods.
Using industrial microwaves in a patented, FDA-accepted process, MATS can achieve consistent in-pack sterilization of foods in a much shorter time than traditional processing methods. This rapid volumetric heating method delivers a safe product that not only looks more appealing and has better texture, it also tastes better and offers greater nutrient retention, Seidel says.
Industry Conundrum
One of the greatest challenges that flexible packaging companies like Printpack face is creating products that are environmentally responsible, affordable and can perform well. "We have to balance out the cost and the performance of products with regard to sustainability," says James Taylor, manager of business development – sustainability. "Our customers want more sustainable packaging, but we can't compromise the primary drivers, which are the economics and performance."
It is nearly impossible to create a product that meets all three objectives of performance, sustainability and affordability, but Printpack may have found a solution. The company recently partnered with Braskem, a producer of thermoplastic resins based in Brazil. Braskem's resins are derived from renewable resources rather than petroleum-based products. "They look and behave like regular polyethylene, but they are using a renewable resource," Seidel says. "We are taking that resin technology and incorporating it into the types of packaging materials we make so that our customers can benefit from it."
Sustainability Focus
In 2011, Printpack developed its first corporate sustainability report, which outlines its strategies for reducing its environmental footprint. "We have environmental metrics in place to monitor our greenhouse gas, waste and water usage on the operational side," Taylor says. "So, outside of the sustainable products we make, we also are tracking those inputs and outputs for consumption, and from those baselines, we'll be developing initiatives to reduce or optimize those metrics."
Printpack currently has five full-time, corporate-level environmental professionals who are responsible for providing services in the areas of regulatory interpretation, auditing, environmental engineering, environmental data management, permitting, environmental policy development and legislative affairs. In addition, each Printpack manufacturing facility has a full-time environmental coordinator who is responsible for policy compliance and oversight of regulatory environmental reporting, the company says.
In addition to products and operations, the third pillar of Printpack's sustainability focus is the company's commitment to social responsibility, which was instilled in its people by founder J. Erskine Love.
Impossible to Imitate
Printpack's overall success can be attributed to one ingredient – its people, according to Taylor and Seidel. Founder J. Erskine Love Jr. knew this when he said, "We believe that whatever future we have is almost completely dependent upon our people because our people represent the only advantage we have over our competition."
"The one thing nobody could ever duplicate is the culture of Printpack," Seidel says. "It is very much a culture of engaged employees that are entrepreneurial in nature. We are very customer-focused, and we have a very flat organization. Decisions can be made quickly to react to the quickly changing needs of the marketplace."
The proof is in the pudding, he adds. "We've been told on numerous occasions that it is just easier to work with Printpack," Seidel says.