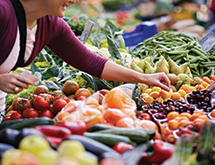 Founded in 1996 with a membership of just a single distributor, Produce Alliance LLC has grown to become one of the country's largest produce-buying and management services groups.
The Buffalo Grove, Ill.-headquartered Produce Alliance today has a membership of more than 45 fresh produce distributors covering 46 states. In addition to its headquarters, the organization has locations in Chicago, Atlanta, Nashville and Salinas, Calif.
Produce Alliance's members are independent owner-operator produce professionals, each with their own experienced sales and customer service departments, trained warehouse crews, refrigerated trucks and delivery drivers. Each member offers an integrated computerized inventory and product pricing system, as well as online order entry.
All Produce Alliance members are required to meet and maintain high company standards. "Our established criteria in service, safety and integrity are qualities you depend on from your produce supplier," the organization adds.
'Superior Access'
Produce Alliance's members own more than 60 facilities and purchase more than 25 million packages of fresh produce annually. "That kind of buying power allows us to leverage our volume to obtain the absolute best prices available," the organization adds. "Our longstanding agreements with a diverse base of growers also enable us to guarantee a constant supply of the highest-quality fresh produce packed under the strictest safety standards."
The organization has long-term contractual relationships with more than 400 produce growers. "These relationships enable us to enjoy superior access to fresh produce supply, commodity expertise and new product innovations for the foodservice industry," Produce Alliance says.
Meeting Varied Needs
The organization's group of produce specialists works closely with foodservice operators ranging in size from large, multi-unit national operators to regional independent restaurant groups.
Produce Alliance's network of produce specialists can design a program geared to an operator's individual needs. "We ensure program consistency from one market to the next and from one location to the next and allow operators to establish, monitor and control their produce requirements from field to table," the organization says. "Our national marketing managers profile every customer and offer customized programs to meet the demanding needs of today's foodservice operator."
The organization also invests heavily in business processes and systems that provide information services to customers. "These services are delivered in the most efficient and flexible way available," Produce Alliance says. "We customize these solutions to how our customers do business and make them available at the corporate management level as well as concept locations where applicable."