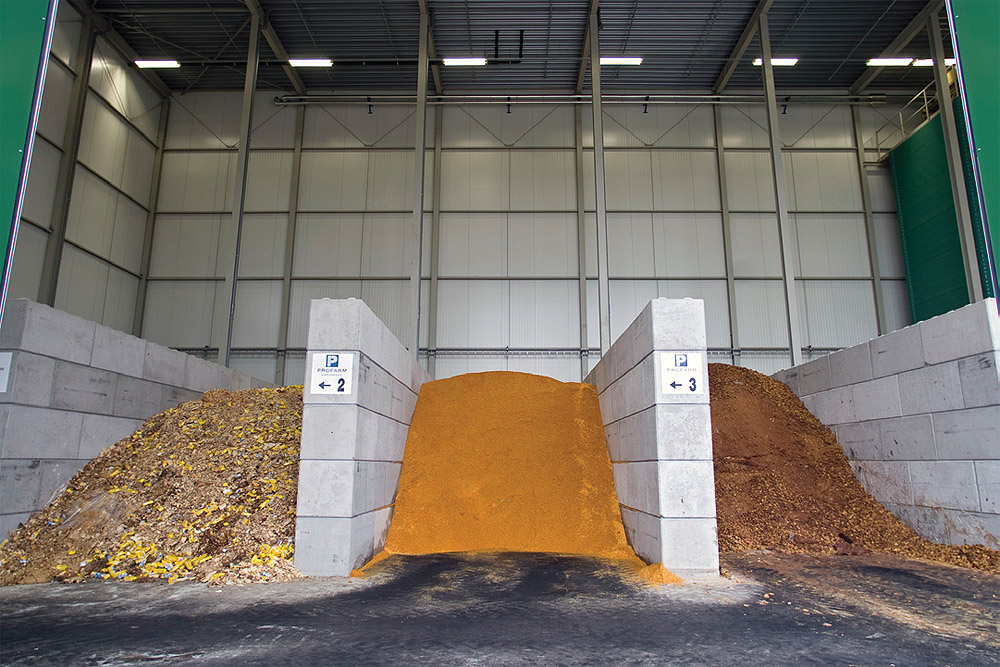 Processing power
Profarm offers greater value and lower risks for manufacturers through the specialist processing of surplus food products into animal feed
Regardless of how efficient their operations are, all food manufacturers face the issues of production residue, waste, and even returns. Traditionally these would be disposed of in landfill, yet they hold a marketable value of their own as feed.
Profarm started with surplus food in 2004, and recognised that by the year 2050 the world could be facing a crisis in securing enough food to sustain both its human and animal population. It therefore began to look at ways of maximising the use of raw materials and methods in which to turn waste into product appropriate for animal feed. After looking at animal feed as nutrients, and identifying the dietary requirements of each individual animal, Profarm turned its attention to the items being produced by the food industry.


Although manufacturers strive to create the best possible product, it is inevitable that sometimes goods don't meet the necessary size or weight specifications, unsold items are returned, or there are excess raw materials. Profarm has identified these 'co-products' as an ideal source for processing into nutrients for the animal feed market. This typically includes products like bread, biscuits, crisps, and confectionary. Today, Profarm models itself as the perfect partner in linking these two supply chains.
Transparent
With the business growing rapidly from handling 3000 tonnes of co-products per annum, to 150,000 tonnes, managing director Erik Lammers highlights how the food industry is benefiting from this concept: "One of the main drivers behind the success of Profarm is the transparent way we work with our partners. We specialise in identifying the value of co-products and translating this back to the companies we work with in the food industry. It is not a case of buy as cheaply as possible and sell as high as possible. Instead we take the value of these co-products and deduct our costs in the supply chain and processing to provide the customer with a fair price."
Profarm is not only fully transparent about its pricing structure, but is also open about exactly what happens to the co-product offering substantial risk reduction for the food manufacturer. "By coming to us, there is no danger in clients' products ending up on the black market or being used for any other purpose. On receipt of the goods, we immediately process them in such a way that they are only suitable for use in animal feed, which ensures that they are being used in a safe and legal way. This is a very sustainable solution for dealing with these co-products as opposed to them being sent to landfill as waste. In turn, this ensures that the initial raw materials are being used in the best possible way," explains Erik.
Complete service
As a specialist in the re-processing of such items, Profarm is able to offer its partners a complete service from initial advice on which products are actually suitable for use in compound animal feed. The company offers several different technical solutions for the processing of products depending upon whether they are liquid or dry. Each solution is customised based upon the most cost-effective option for the customer in question, which in turn ensures it receives the highest possible return on its surplus produce. Profarm also takes responsibility for the entire supply chain – from collection and logistics to final processing and quality support for its partners in both sectors.
As with any business operating in the foodstuff industry, Profarm is well aware of the requirements of quality assurance. These are in no way lessened in the animal feed sector. To date, Profarm is certified for GMP+, HACCP, ISO 9001, Skal and Trust Feed. In fact, the business is a founding member in Trust Feed, which is a co-operative alliance for food safety in animal produce.
Unique technology
Within its plant processes, Profarm has developed a unique technology to separate and discard any packaging or foreign materials from the co-products, which ensures that the final animal feed component is free from any contaminants. As a fully automated system, the technology offers very low personnel costs. It has been developed in collaboration with many of Profarm's own employees based upon its experience and expertise in these activities.
Once extracted from the co-products, the nutrients themselves are processed alongside other animal feed raw components and sold onto the classic compound animal feed industry. It is here that Profarm benefits from its relationship with its parent organisation, alongside its two sister companies Bongardt and Bonda.
Together with its sister companies Profarm is part of Agrifirm, a producer of superior animal feed. Agrifirm is a co-operative enterprise consisting of over 15,000 Dutch farmers and horticulturists, with over 100 years of combined history and experience. Agrifirm is not only a major user of the products of Profarm, but also is a key supplier to others in the compound feed market in Europe.
Locally in Europe
As a business, which has traditionally located itself close to its suppliers through facilities in Germany and the Netherlands, Profarm maintains a long-term ambition of having a production plant in every country in Europe. In order to achieve this, the company is heavily researching potential new suppliers within the international food industry, with the hope of securing resources for its next expansion strategy. "Earlier this year we established our first plant in France because we secured a supplier that guaranteed to deliver us co-products for at least a year. Therefore we were willing to invest locally in a facility to process these products and sell into the surrounding market. By locating ourselves close to our suppliers we can also save substantial amounts in transportation costs rather than shipping these products abroad to be processed. This model is something we are looking to achieve in every country within Europe where there is demand for our services," concludes Erik.