Professional Produce owner Ted Kaplan was raised in the produce business.  Being a third-generation produce individual has had its advantages, lending to an education and comprehensive understanding of the needs from grower to customer and everything in between. Kaplan draws from his own experiences as well as those of his father and grandmother as he leads the company into the 21st century. "Being raised in this kind of business, you just have a better understanding of what it takes to be successful in it," Kaplan says.
That deep understanding of the business has helped Professional Produce become one of California's most trusted suppliers of fruits and vegetables for retailers and foodservice customers across the country. Kaplan says the company continues to find new ways to distinguish itself from the competition as the marketplace becomes more hotly contested than ever. The high level of customer service and food safety standards that Professional Produce brings to the market are the company's greatest advantages and these have helped the company form long-term partnerships with customers and farmers.
Ted's grandmother, Dora Kaplan, came to the United States from the Ukraine. Dora was a pillar in the industry and first started peddling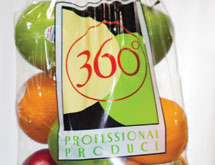 potatoes in Idaho in the early 1900's. It was Dora Kaplan who pioneered the transport of potatoes by railcar to Los Angeles. Through much determination Dora Kaplan worked closely with the mayor of Los Angeles and the Union Pacific railroad.
Eventually, in 1912 she opened up her first produce house on the then 9th street produce market. Over time, the operation grew and by 1965 Kaplan Fruit and Produce had become one of the largest distributors of produce in Los Angeles. Kaplan's father, Milt, grew up in the produce world, only taking time off from the family business to serve in World War II. Eventually, he started his own produce distribution company to serve the Southwest. Ted Kaplan started Professional Produce in 1994, and his father continues to work six days a week with the company.
Around the World
Professional Produce has established partnerships with growers in California, Arizona, Florida, Mexico, South America and even New Zealand to provide its customers with fresh produce all year long. The company's offerings range from chili peppers and cabbage to mangoes and limes. The company also provides repackaging for fruits and vegetables such as tomatoes and citrus. Its distribution network reaches points in the United States including Anchorage, Alaska; and New York City, as well as international customers in places such as Japan, South Korea and the United Kingdom.
The competition in the wholesale distribution market is intense and it helps Professional Produce to have a strong culture of customer service. According to Sales Manager Alexander Ersoff, being attentive to customers' needs and working closely with them can mean more to customers than simply offering a lower price – customers are willing to spend a little bit extra if it means they get peace of mind along with their produce. "This business is a nickel-and-dime business, so at some point it's not going to be about the price because prices are fairly similar," he says.
"I think that's the real benefit of what we do because we really try to focus on what our customers' needs are," Kaplan says.
Safe and Sound
Another way in which Professional Produce works to set itself apart from the competition is through its food safety measures. "We've always been on the forefront of food safety and traceability," Kaplan says, but the company has taken steps to improve its performance in that area even further.
For example, the company has initiated a program to achieve full SQF certification from the Safe Quality Food Institute (covered under the Global Food Safety Initiative), which includes new protocols for how produce is handled and a complete redesign of the company's warehouse space. Kaplan says the new warehouse layout will improve the company's traceability for every single fruit and vegetable that passes through its facilities. This initiative also includes an extensive training program to ensure every employee within the company knows what is expected of them. "Everybody in the company from A to Z has to know the program," Kaplan says.
As consumers become more conscious about where their food comes from, retailers need to be able to give them the peace of mind that comes from knowing that every item of produce they sell has been thoroughly vetted. Kaplan says doing so will be standard operating procedure for the industry going forward, and Professional Produce is working to stay ahead of the trend by implementing industry-leading safety and quality assurance programs throughout the company's entire operations.
"What do you really want when you're eating?" he says. "You want to know that you're going to be healthy and safe."
The Next Level
Although Kaplan says the recent stretch of drought and bad weather will have a noticeable impact on the produce industry as a whole over the next year, Professional Produce stands prepared to increase its presence in the marketplace. Thanks to the company's culture of hard work and customer service, he says, Professional Produce expects to continue building strong relationships with customers and continue to grow their family run business even more.
"Our job going forward is to try to sell it to the next level," Kaplan says.