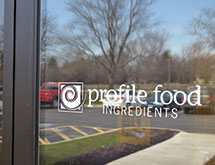 By keeping its operations under one roof, Profile Food Ingredients (PFI) can keep things efficient for its customers, CEO Ted Benic says. For instance, when making decisions, "We don't have to call overseas or another location."
"We can walk right down the hall and make a decision right there," he adds, noting this allows the company to have more flexibility. "We do it without any major productions."
Based in Elgin, Ill., PFI is a dry food packaging and blending company that provides stabilizers and emulsifiers for the food industry. Benic co-founded the company, which was incorporated in 2004.
A 35-year veteran of the industry, Benic previously worked for many companies, including Stauffer Chemical Co. "I started out in R&D applications for the food industry, [including] stabilizers, emulsifiers and protein blends." He notes that he moved into field technical services before going into sales.
After working for Continental Colloids, he started PFI, which now employs a staff of 35. "We went for many years intentionally trying to stay under the radar and slowly built our business up," Benic recalls.
"We have become a known player, but I don't think we could call ourselves a major player yet. We are probably a company that has had more growth over a shorter period of time than any other company."
As PFI celebrates its 10th anniversary, "We are going through our third expansion," Benic says. Previously, PFI had 45,000 square feet at its facility in Elgin and will add 22,000 more square feet.
"It's going to increase several areas." He explains that the company will add a special allergen processing room and double the size of its finished shipping warehouse, its office area and its applications lab. "It's quite an expansion."
PFI serves a broad customer base. "We work from all angles," Benic says. "We're just as happy with a $10,000 a year account as someone would be [with a larger one]."
The company's base includes local, independent dairy, bakery and confectionery companies, as well as large internationals. Thanks to the extensive experience of PFI's team, "[We] understand the systems and proper methods to work with those companies."
Adapting and Adjusting
PFI regularly copes with changes in its industry, Benic says. For example, "There are more hoops to jump through to get qualified as a vendor." He notes that these include product development with its clients.
"The development work we do with many of these companies can [involve] developing something that won't hit the market for a year and a half from now," he continues. "A lot of the work pays off down the road. The challenge there is making sure we're moving and working with each of the customers."
The company also has to work with food laws that are restrictive and antiquated, Benic adds. "We struggle with those," he admits. "It makes it difficult to work with many of the new innovations and new ideas."
Fortunately, "We have some very good relationships with our vendors that have allowed us to get through times when the market is in a big flux."
Custom Work
PFI has kept up with the desire for healthier, more nutritional products in the market. "People have been moving away from using the 'Greek' name but staying with high-protein claims," he says. "We've been on the forefront of that application for years."
The company also has concentrated on adding more fiber. However, "It is creating production challenges where the manufacturer finds it a little tougher to [make their products so] they hold up during processing," he says.
To adjust, "We work individually with these customers to develop and work within their parameters. All the manufacturers have a different method to making their products."
Rarely can PFI take a product it has developed for one customer and take it to another. "It is almost a custom developed system every time," Benic says. "That's something that has singled us out."
Safe and Certified
PFI has earned several industry accreditations, including being kosher, halal and organic certified. "We're also European Union-certified," he says, "and a grade-A manufacturing plant."
He adds that safety has not passed the company by. "We are SQF-certified," he says, noting that PFI follows the stringent rules of the Global Food Safety Organization. "It [requires] piles and piles of documentation and repeat training for our employees.
"We have four members here alone who are certified auditors and practitioners of food safety," he explains, noting that the company has avoided food recalls due to safety. "That is because we follow the guidelines and we believe in them."
An Open-Door Environment
As a small, privately held company, PFI maintains a close environment, Benic says. "[We have] an open-door policy. Everybody and anybody is accessible here. We don't discourage people from having contact with anybody from any different department. One of the reasons we like the small company [structure is] we can take care of our employees much better.
"We can help them out when they have their problems," he continues. "We want to make sure everybody's family is fed and taken care of."
PFI also has a "team" atmosphere. "There's a lot of people here willing to wear different hats," he says. "[They don't have a] 'It's not my job so don't bother me with it' attitude. The environment's very nice in that respect."
Key Associates
Benic is proud of his team at PFI, including Vice President of Operations and co-owner Greg Koch. "He brings 30 years of experience to the company and has a vast knowledge across all the operations," Benic says.
Koch has been a key part of the PFI's operations. "He's been our cheerleader. He's the one who's encouraging us and has always had the optimistic outlook since day one."
Another key associate is Doug Pawl, who manages PFI's laboratories. "He has helped us a great deal in the applications work," Benic explains. "He's our hardest worker here."
PFI also is preparing for another generation of workers, when Benic and Koch decide to retire.
"We're starting to bring some new, young kids in. We want to try to keep this business going."
But finding the right people is not always easy for the company. "I believe Purdue and Rutgers are the only universities that offer hydrocolloid science," Benic explains. "We have to bring somebody in to get them acclimated to the business."
New Opportunities
PFI enjoyed double-digit growth annually over the past seven years, Benic says. "I know, at some point, that can't continue," he admits, but notes that PFI sees growth for now. "In the next five years, we hope to be called a major player in the industry.
"We'll always stay in the food ingredients side," he predicts. "But the areas where we would see growth is outside of the dairy industry, in the bakery, confectionery and beverage industries.
"Every time we do an expansion, we say, 'This should be it,'" he adds. "Of course, we're on No. 3. It's hard to predict that as long as our field is out there, producing new opportunities."
Acquisitions may lay in the company's future. "We would be looking at purchasing companies that are food ingredient companies," he says. "I don't think we're looking to be more vertically integrated, but I think there are some companies out there that are going to be in a position to be acquired."