Purdue's residential dining program has adjusted to students' dietary needs.
If there is anything that today's college student needs before taking on the educational rigors of homework, tests and exams, it is a well-prepared meal. Purdue University's Dining & Culinary program makes sure that it provides those to its population of 43,000 students on a daily basis.
Purdue currently has 14,224 students on meal plans. "We really cater to the students, providing great food and variety," Jack Kennedy says, noting that Purdue's offerings include its "all you care to eat" program. "The students can come in and fill themselves up."
Kennedy is the executive chef of the residential dining program for the West Lafayette, Ind.-based university, which is currently celebrating its 150th anniversary. Over the years, he notes, Purdue has operated its food program on its own.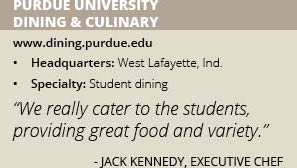 "We're very proud of that," he says, noting that the residential and retail dining program often makes food with the assistance of 2,000 students. "We really enjoy having them come in and help us prepare and serve."
New Additions
Kennedy manages Purdue's six executive chefs in its dining courts, which recently made some additions. This included the opening of an outdoor seating patio section for its Wiley dining court, which was built to accommodate 50 people.
"It's new to us, [because] no other dining court has an outdoor seating section," he says, adding that Purdue recently opened its All-American Dining Room, which was built to seat 150 people and serves Italian food.
Purdue also made additions to its menu to meet students' culinary needs, including its Purple Diamond program, which is currently active in one dining court and will roll out in Wiley as well. Through the program, the dining courts feature a purple diamond that students with special dietary requirements can stand on.
This alerts a staff member to approach them, "find out what their allergies are and what we can prepare for them," Kennedy describes. "They also can email ahead."
In addition, as more international students come to Purdue, "We are working now towards providing more vegetarian foods," he adds. "The students are desiring more plant-based items."
A Great Environment
A professional chef, Kennedy joined Purdue nearly four years ago after working in fine dining in Chicago for 25 years. Although the work can be difficult, he has enjoyed his time in Purdue's residential dining program.
"It's really a fun place," he says, praising the campus' culture. "We're busy when we get pressed during certain hours, but the team responds very well to some of the pressures we have.
"We get to do some great food and we do scratch cooking that the students love," he says, praising his team of professional chefs, who are all American Culinary Federation-certified.
"We've made that one of the requirements for being a chef here, which has proven very successful," Kennedy says. "It gives the chefs insight in developing some great food products."
He also praises his team leaders and production coordinators, which includes some who are longtime veterans of Purdue. "They stick around because it's a great environment to work in," Kennedy says.
Ready to Grow
Kennedy predicts growth ahead for Purdue and its residential dining program. "There will be 1,300 more beds on campus in 2020," he says. "We're going to have to react with our residential dining and make more space available to keep the students fed."
Purdue currently has a location for Cosi, a national casual restaurant known for its flatbread, but will add a location for Sushi Boss, a custom sushi concept based in Indianapolis. Kennedy notes that Purdue will offer sushi on-the-go locations.
The residential dining program also has seen the addition of technological advancements as well, with the addition of robots that provide delivery of food items to students on campus. "We are able to deliver pizza through these robots," he says, noting that Purdue currently has 30 robots that serve up to 200 customers daily.
Photos by Abby Kaeser