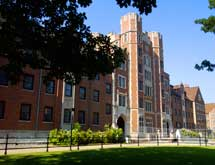 Purdue University Dining Services
In the world of heavy industry, a boilermaker is known as a trained craftsman who produces steel fabrications for commercial steam and hot water boilers, bridges, blast furnaces and mining equipment, among other applications. In the Big Ten, however, the Boilermakers are better known as the nickname for Purdue University. Because Purdue offers more than 200 major areas of study, its Boilermakers are not necessarily training to enhance their skills in the art of steel fabrication, but they are working to advance the craft involved in the particular degree they are seeking.
Purdue University Housing and Food Services and its Dining Services program are there to help maximize each Boilermaker's college experience.
"We strive to serve the university community through excellence in facility and program management, promoting customer satisfaction while ensuring financial viability," the Housing and Food Services department explains. "We believe that aligning our goals with those of the university at-large will provide a healthy, diverse and engaging environment that supports the academic, social and cultural needs on campus."
Purdue's Dining Services program operates five dining courts in the university residences, as well as three on-the-go locations and four restaurants and mini-marts. In the Purdue Memorial Union, there are 10 dining choices, as well as eight satellite locations of the Union's offerings throughout the campus.
In coordination with the staff of The Gathering Place in Meredith Hall, Dining Services offers catering services to students, staff, halls, hall clubs and conference guests, as well as the greater Purdue community. The program commonly caters tailgate parties, coffee breaks, buffet meals, picnics and commencement receptions. The Athletic Dining Room located in the Cary Quadrangle also is available for catered functions.
Dining Services estimates that it serves approximately 3.5 million meals each year, and most of the food is purchased directly from the manufacturer. The program uses an extensive list of name brands, such as Kellogg's, Campbell's, Kraft, Pillsbury, Smucker's, Pepperidge Farm, Schwan's, Sara Lee, Dole, Hershey, Hormel and Quaker.
Informed Choices
To help ensure students have the best-possible experience while at Purdue, Dining Services focuses on educating students about nutrition and sensible eating. Through its NetNutrition program, for example, students can gain information to help them make healthy decisions when eating in the dining courts. Students can view nutritional information based on items being served in the dining courts each week.
"The NetNutrition program, which provides students with comprehensive nutrition information on menu items in the dining courts, can be used to track a student's personal nutrition goals," Dining Services says. "NetNutrition allows students to group their food choices individually or as an entire meal. They also can track their choices throughout an entire day. For create-your-own items, such as pizzas at Earhart Dining Court and the various salad bars, students can pull individual items from a complete list of ingredients to get the nutrition information."
Dining Services continues to upgrade NetNutrition with more information by verifying the nutrition data of all items offered in the various establishments. It also is working to develop a filter in NetNutrition that will allow students to filter out menu items that have their specific allergens.
Additionally, Dining Services strives to provide a variety of dishes for those who can't or wish to not eat meat, and vegans, who refrain from consuming any animal products. Fresh fruits and vegetables are served at each meal, vegan Boca burgers are served at several locations and vegetarian entrees and soups are listed on each location's online menu.
Green Dining
Just as Purdue University Dining Serv¬ices works hard to encourage students to make nutritious dining choices, the program also wants to improve overall health by supporting environmental sustainability on the campus. The Dining Services department has been dedicated to recycling, plate waste control, sustainability education and equipment efficiency for more than 15 years. In 1993, the department formed a Waste Awareness Committee to promote waste education with the "Eat What You Take. One Scoop or Two – It's Up to You" campaign.
Some of the department's sustainability programs include:
Food Share – Beginning in August 2009, Dining Services began working with Greater Lafayette's Food Finders and the Park County Food Pantry to redistribute foods to the less fortunate in the greater La-fayette area. From August to Decem¬ber 2009, the school diverted more than 23,300 pounds of food from the landfill, which equaled 0.5 percent of the food consumed on campus.
Reusable bottles and mugs – In August 2008, the department began selling reusable bottles and mugs in the mini mart and retail restaurant locations. Reduced prices are available to students who refill the bottles and mugs in the retail or on-the-go operations.
Disposable cups – When serving customers with disposable cups, Dining Services uses "Ecotainer" compostable Coke cups and Solo Duo Shield insulated paper cups, which have replaced its use of Styrofoam.
Dining Services' efforts are in addition to the university's overall sustainability goals and programs, including the annual Green Week. Each fall, the campus celebrates Green Week with initiatives aimed at reducing energy use, increasing recycling, minimizing waste and conserving water. During Green Week, Dining Services offers free coffee to students using reusable mugs and encourages students to take only the food they will be able to eat.
"Our current sustainability committee has overseen implementation of several programs over the last two years: Plate Waste Education through Wasteless Wednesdays, participation in Purdue's Green Week and education presentations to our staffs, resulting in increased plastic recycling in the kitchens," Dining Services says. "Our latest program, in conjunction with reuse and recycling, is the trucking of post-consumer waste to the West Lafayette Water Plant to power that facility's electricity through methane production."