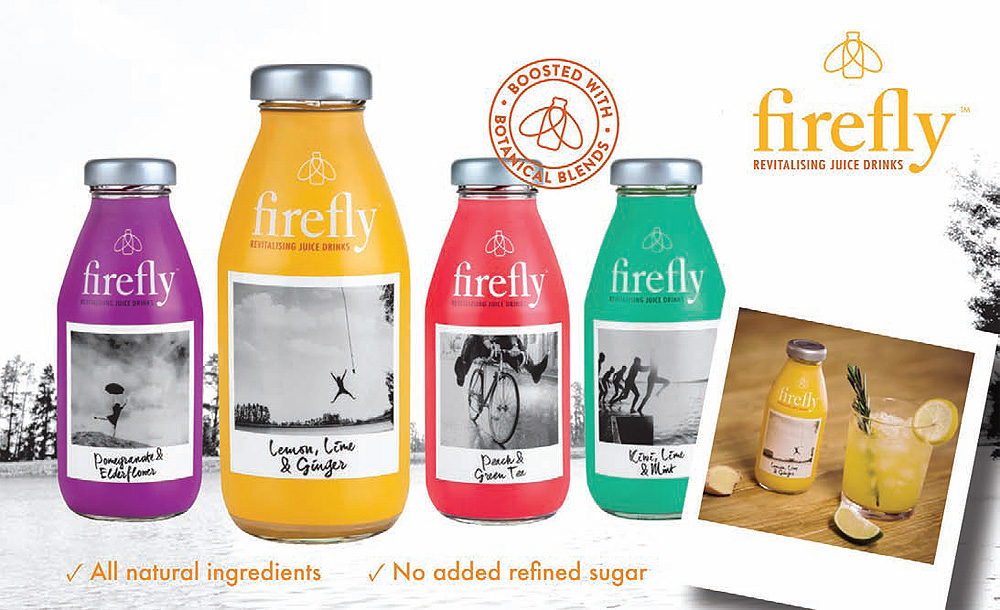 In a healthy position
Purity Soft Drinks produces Juice Burst, Juice Burst Skinny, and Firefly drinks, all of which are healthier, no or low added sugar alternatives to the traditional soft drink options
Purity Soft Drinks is a small drinks company with a big presence in the industry. It has taken a modern approach to a sector that is changing rapidly in the face of new regulations and new consumer demands. These have been centered on sugar and health, and there has been a growing social awareness of the impact sugary drinks has – particularly in regards to young people. Purity has carved out a niche in the growing drinks market for its healthy refreshments.
The company has developed at a rapid pace, increasing its staff numbers by approximately 25 per cent over the last two years, and recording a growth of more than 20 per cent per year on its own brands. The company has recorded revenue of £20 million net sales across 25,000 outlets in the UK and internationally and expects to double the number of stockists in the next three years. This goal has been supported by significant investments that Purity has made in factory improvements, which have seen the company invest £4 million in the past three years. The funding went into securing a new production line, which enabled its drinks to be produced at a greater pace, and these developments were elaborated upon by CEO David Bell: "We are looking to continue to invest in our production lines and increase capacity, plus we are adding to the size of our sales and marketing team to support the new customers and channels we are going into."
David then went onto discuss another investment into Purity's facilities: "Previously, we have shipped in the bottles we use for our drinks. But now we have the kit to blow those bottles in our factory – small plastic preforms come into the factory and we blow the bottle. This makes it much more environmentally friendly, due to the massive reduction in the number of lorries moving
around carrying empty bottles. It also means that we are able to speed up the whole production line and run things increasingly efficiently, and that means we keep costs low and consequently prices low too."
Low in sugar
All of these factors help to support the manufacturing of the most important strength of Purity – the drinks. The keyselling point of Purity's drinks is that they offer customers the enjoyment and taste that is traditionally associated with sugar intensive options, but is a fruit based healthy drink. Seventy five per cent of the range is no added sugar and the whole range will be no added sugar before the sugar levy comes in 2018. Purity and its various drinks brands offer a new form of soft drink, using fruit and increasingly vegetables as well, to make drinks that offer real competition to fizzy drinks. This is a massively significant factor, as with the introduction of a sugar tax, and increasing social awareness of the issues surrounding high sugar intake, consumers want alternatives to the classic soft drinks. That is what Purity does, within all of its drinks, whether it is Juice Burst or Firefly. It provides people with drinks that are just as enjoyable, but without the same levels of added sugar and at everyday prices.
The key product that aims to succeed in this area is the company's Juice Burst and its Juice Burst Skinny range. These are predominantly aimed at 16-24 year olds, and offer one of the recommended five a day, in a range of 13 flavours – some of which include fruit and vegetable combinations. Also, due to the drinks being low in added sugar or having none at all, there is also a range that is school compliant and one of the approved drinks for children at school. The results of this have been impressive, and now Purity products are in about 50 per cent of colleges and universities, as well as in one in three secondary schools, and Purity has 20 new schools ordering its drinks every week. All of which demonstrates the significant niche that Purity has filled, offering healthy drinks that parents and schools approve of, but that children and young adults still enjoy. Juice Burst is an increasingly popular choice, not just those within the UK and Europe, but also for those in Hong Kong and the Middle East.
Versatile and flexible
While Juice Burst is the largest selling drink that Purity sells, the company also produces FireFly, which is targeted at the premium adult market. Firely offers all the taste of popular cocktails without any of the alcohol, and one that David highlighted was the kiwi, lime and mint flavour – effectively a non-alcoholic Mojito. This is still a growing part of the business, and these drinks are popular sellers in bars and restaurants, both domestically and within international markets. However, while it offers an enjoyable option for those that are not drinking or those that are driving, it can also be used by those that want a ready made cocktail that only needs the appropriate spirit added. It is a versatile and flexible option, offering a great taste for its customers, however they want to prepare and drink it.
This flexibility is a characteristic of Purity that runs throughout the company, whether in its production, product range, or marketing, and it is an area which it excels. There are a number of examples of Purity demonstrating its adaptability, whether it is the fact that in just 12 weeks it was able to create its new range of drinks that would be schools compliant, or its modern marketing strategy that aims to engage with its customers in an innovative and authentic manner. It has taken this approach in several ways, within its Juice Burst range it created a downloadable game that its audience can play, and for its Firefly customers it launched a personalised bottle campaign, where they could get their pictures on the front of its drinks.
Much like its creative marketing, its drinks also display an innovative flair, with distinctive flavours and focus on reducing added sugar they appeal to the health conscious consumer. Purity offers a clean, healthy, and modern approach to the soft drink industry that is needed in the 21st century. Whether through its Juice Burst for the younger consumer and young adults, or Firefly for the more premium adult market, Purity is listening to what people want and what people need, and creating tailored refreshments suited to a wide range of different tastes and preferences.