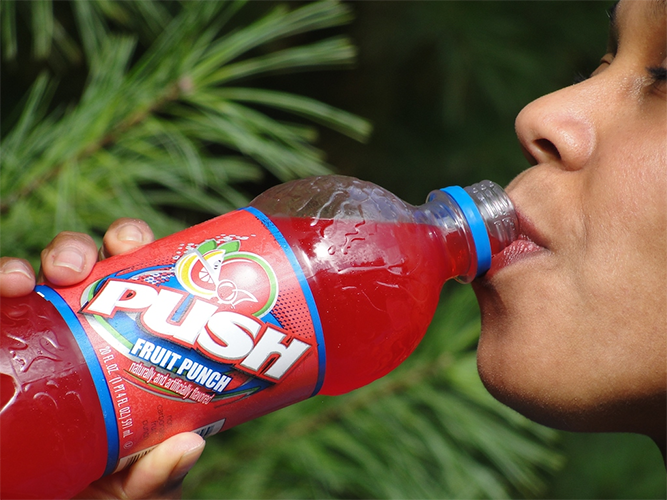 PUSH Beverages has evolved from humble origins to become a growing force across the United States.
For the first few years of its existence, PUSH Beverages had a simple mission: to keep its founders' vending business profitable during the Great Recession in 2008.
"We were working harder for less money because our clients who used to have 300 people in one facility now had 100, but wanted the same service, and the major brands kept raising their prices," CFO Laurel Whitney says. "With the economy being where it was, we were unable to raise prices to our customers, but wanted to keep the company intact and avoid layoffs."
Whitney and her partner Moti Almakias, then president of New Jersey-based Full Service Vending, began looking into starting their own beverage brand to offset the cost of the other brands. The company served customers in New York, New Jersey and Pennsylvania. "We were reading studies that said when the economy went bad, people lost their brand loyalty. If it was a good product at a good cost, people would buy it regardless of the name," she adds. Whitney, who has a background in public relations and marketing, and Almakias, who has a Wall Street background, felt they had the skill set and experience in the food business needed to make this happen.
PUSH Beverages launched in early 2009 with four flavors –orange, pineapple, ginger ale and grape – sold exclusively in Full Service Vending's machines alongside four other brands. "We did this seamlessly, and with no pushbacks from our customers," Whitney says. "The products were good, and we had a built-in, captive audience."
Word quickly spread of the quality and value of PUSH Beverages, leading the vending company to introduce new flavors and offer products to local hospitals, YMCAs and restaurants. In 2010, the company introduced a gluten-free, cane sugar-based real-brewed tea, Tribe Tea. The Tribe Tea package featured a wild and edgy design that caught a lot of attention.
Soon afterward, PUSH Beverages was approached by one of the largest vending distributors in the region, which wanted to carry the brand because "everyone was asking for it," Whitney says. After initially declining the offer, PUSH Beverages then reconsidered, allowing the distributor to carry the brand and sell to other vending companies.
"Before we knew it, we made it on the Top 10 list of best-selling products for the vending distributor's branch," Whitney says. "Our PUSH Pineapple flavor was right next to Snickers and Doritos [on the list]."
Fast Progress
The success of the brand within the distributor's New Jersey branch eventually led its other branches to carry the product. "The brand just took off organically," Whitney says. "It was the right product at the right time in the right climate."
Today, PUSH Beverages are available in 38 states and sold into channels including vending, foodservice, wholesale and retail. The company sells solely through distributors. The brand is now the primary business for its founders, who sold the vending company in 2013. PUSH Beverages, a certified Women's Business Enterprise (WBE), is 100 percent self-funded, and carries no debt. "The product has grown without us really even trying," she adds. "We're now able to focus on it full-time with our team and making a lot of headway."
PUSH Beverages offers 30 SKUs including multiple flavors of its flagship brand, as well as Tribe Tea; PUSH-2-0, a water brand; and Arctic Rain, a high-caffeine citrus beverage. Recent products include a peach flavored PUSH soda initially requested by customers in Georgia that is now the company's second best-selling flavor nationwide.
Next spring, the company plans to re-launch Liquid Lightning, an energy drink brand from the 1990s but currently out of production for a few years.
The company continues to receive daily inquiries from distributors and others interested in the brand. One likely growth market for the company is in the convenience store market. Exporting is also likely in the company's future.
"People are seeing it in vending and foodservice locations, and want to know where they can buy it in stores," Whitney says. "Some flavors have almost a cult following."
PUSH Beverages' products have earned industry recognition including a Gold Ink award for Tribe Tea's packaging. Tribe Tea was also named "Product of the Year" for 2017 by Automatic Merchandiser magazine.
Community Minded
All of PUSH's beverages are gluten-free. "It was important to us to make gluten-free products because my niece has Celiac disease and it's so common," Whitney says. "We are able to do this with confidence since we have full control over our manufacturing and source all of our ingredients from the same suppliers every time for consistency."
PUSH's awareness of its customers' needs goes beyond offering gluten-free products. The company is involved in a number of community programs and charitable organizations including the National Federation of the Blind and WE Fit Wellness, which develops wellness programs for people with special needs. PUSH Beverages also participated in relief efforts to support Texas residents impacted by Hurricane Harvey earlier this year by donating $5,000 and sends pallets and trailers of PUSH-2-0 water to people impacted by natural disasters nationwide.
"We have a policy of giving back the community, and believe we can't get without giving," Whitney adds.